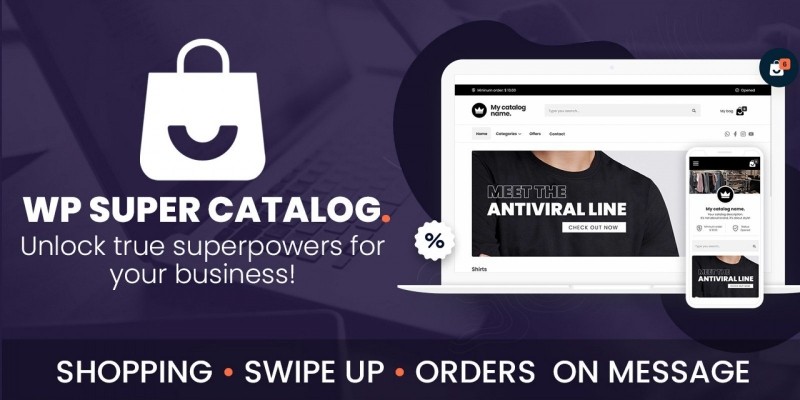 Overview
Unlock true superpowers for you business!
What is?
A super light and clean panel wordpress theme for you to create a fast, powerful and beautiful catalog.

Top features
True superpowers for your social networks.

Swipe up

Activate the Swipe-up (to your products) on your instagram with less than 10k followers.

Product tagging

Enable product tagging (from your catalog) on your instagram feed publications.

Shopping

All your products synchronized right on your instagram.

Orders on WA

Receive your orders directly on whatsapp and on your administrative panel.
Why choose us
Big differences in relation to current wordpress themes.

Complete catalog

Complete catalog with products (with variations), sections, banners and powerfull social integration.

Customizable

Customize colors, logo, cover and various configurations in a simple, light and elegant catalog.

Clean panel

Panel totally clean and intuitive using only the customizer.

Standalone

Fully independent without the need for third party plugins or heavy pagebuilders.

Responsive

Fully responsive to suit all devices and users. It looks like an app in the mobile version.

Multilingual

Translation model included, with en_US and pt_BR already completed.
Features
Instructions
Just install and activate.