Chicken VPN - Android App Source Code
Chicken VPN - Android App Source Code
Chicken VPN provides fastest secure connection to servers and unlimited bandwidth





Average rating of

3.0

based on

2

votes
Chicken VPN - Android App Source Code
Chicken VPN provides fastest secure connection to servers and unlimited bandwidth





Average rating of

3.0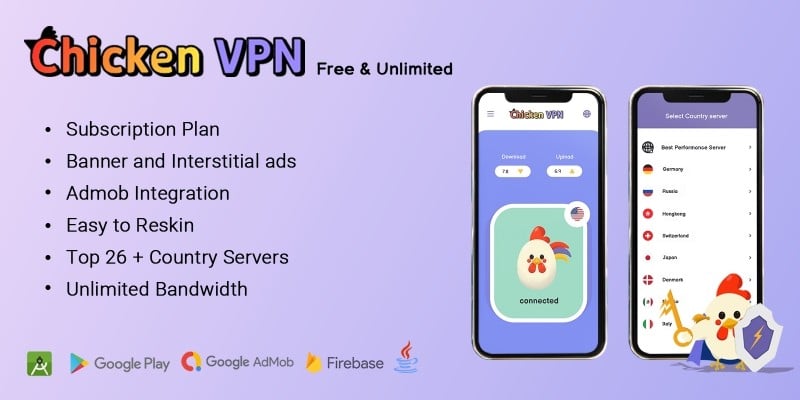 Overview
Chicken VPN provides free and unlimited Virtual Private Network proxy for all android devices. 
It can mask your IP address, unblock sites and any apps, access SNS, watch videos.User-Friendly manual about how to reskin, create Firebase project and admob integration is provided. This app can generate revenue by Interstitial ads, Banner ads, Subscription plan for users with Admob Ads integration.
Features
Features:
Single Touch for secure connection
Unlock Servers
Admob Integration
Share Apps/Privacy Policy
Premium Subscription
Banner/Interstitial ads
Free and Unlimited Proxy 
Android Studio Source Code
Rate App (Popup)
Push Notifications
User Friendly Reskin Manual Guide
Instructions
Documentation Included:
Reskin Manual
Firebase Guide
Admob Integration Guide
Reviews
10 months ago

Rating:

I bought Chicken VPN , but I was a little disappointed. Unlike what I thought, this is not a real VPN software, but a package of a third party software, and now the third party software can not be registered

Aug 5, 2021

Rating:

This application source code was a great purchase!
The application itself is very straightforward, making it extremely easy to reskin and work with.
I reached out to the developers to make some changes to the application, and they did so at no charge, which is incredible customer service. I highly recommend this application if you're looking for an Android VPN solution.