Phone Number Verification Plugin For Osclass
Phone Number Verification Plugin For Osclass
Phone Number Verification plugin for Osclass helps you to verify phone numbers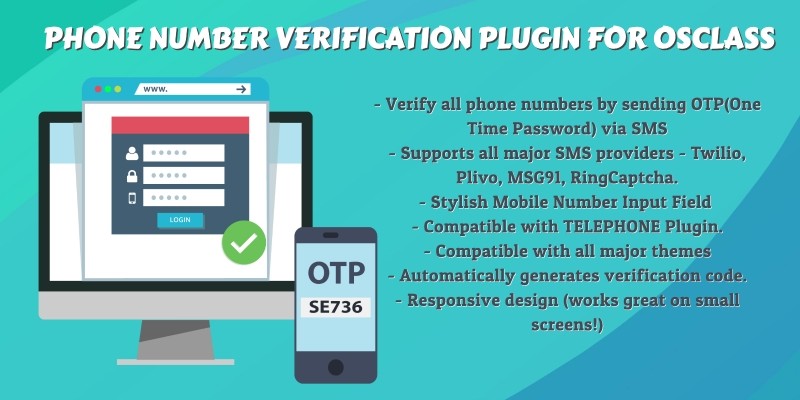 Overview
Phone Number Verification plugin for Osclass helps you to verify phone numbers associated with users and ads to make sure that it is valid and is owned by the respective user. SMS message with a unique verification code is send to the mobile number while registering a user or posting an ad. Users need to enter the code in the text box shown to verify their phone number.
Features
- Verify all phone numbers by sending OTP(One Time Password) via SMS 
- Supports all major SMS providers - Twilio, Plivo, MSG91, RingCaptcha. 
- RingCaptcha provides 1000 free verification SMS per month(Reconfirm on RingCaptcha website).
- Stylish Mobile Number Input Field with automatic country code selection.
- Exclusive styling options to match with all major themes.
- Compatible with TELEPHONE Plugin.
- Compatible with all major themes that have their own phone number input. (Please contact us after purchase if your theme is not supported, we will add support free)
- Automatically generates verification code.
- Admin have option to set the length of Verification Code.
- Customizable verification SMS
- Responsive design (works great on small screens!)
Benefits
- Avoid SPAM users and ad postings.
- Verify ownership of phone number.
- Developed by Osclass Team who always cares customers and provides best support.
Features
Features
- Verify all phone numbers by sending OTP(One Time Password) via SMS 
- Supports all major SMS providers - Twilio, Plivo, MSG91, RingCaptcha. 
- RingCaptcha provides 1000 free verification SMS per month(Reconfirm on RingCaptcha website).
- Stylish Mobile Number Input Field with automatic country code selection.
- Exclusive styling options to match with all major themes.
- Compatible with TELEPHONE Plugin.
- Compatible with all major themes that have their own phone number input. (Please contact us after purchase if your theme is not supported, we will add support free)
- Automatically generates verification code.
- Admin have option to set the length of Verification Code.
- Customizable verification SMS
- Responsive design (works great on small screens!)