Conference Calling Wordpress Plugin For Business
Conference Calling Wordpress plugin for business easily allows you to schedule your important calls anytime and anywhere in the wo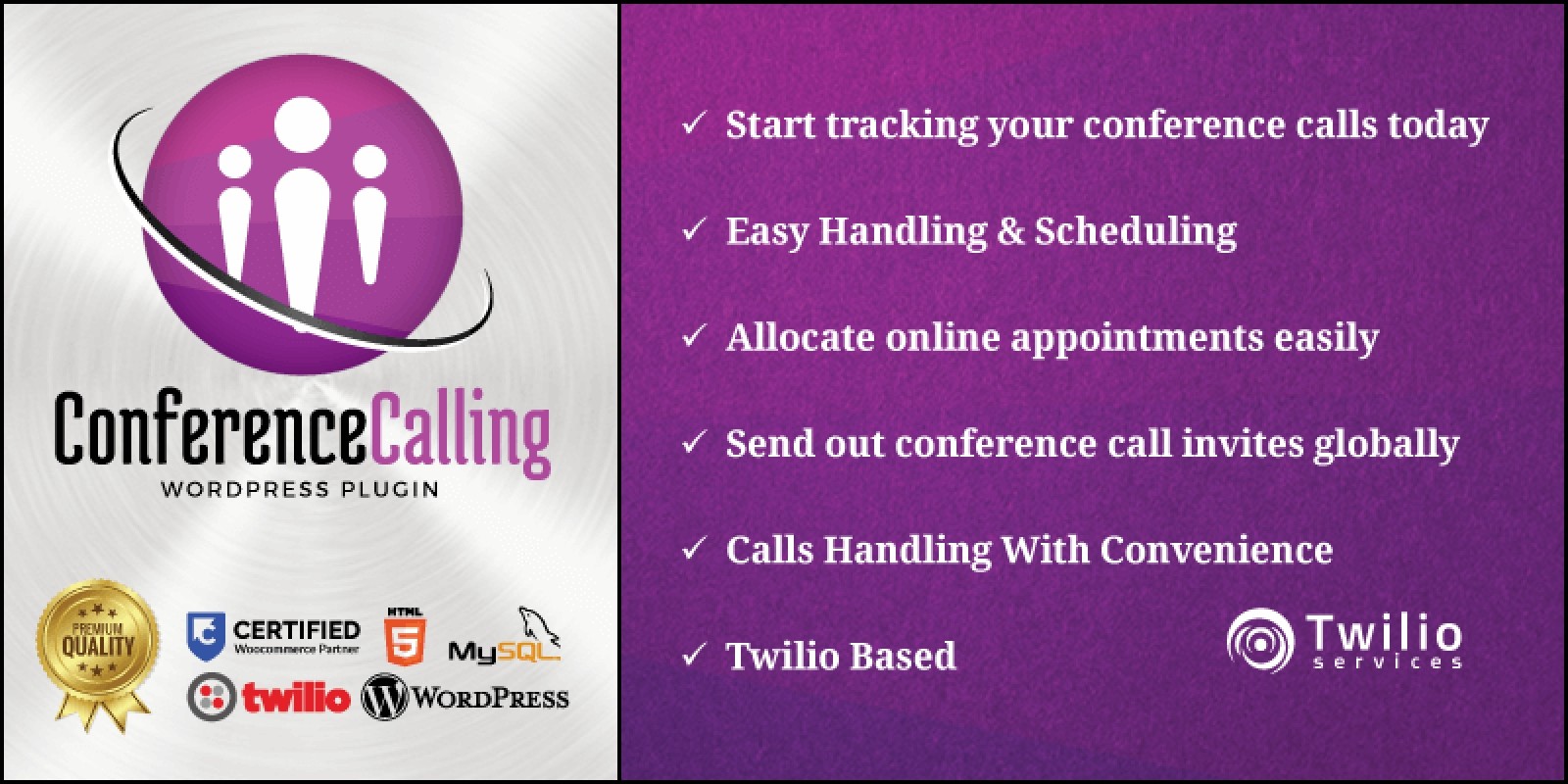 Overview
Conference Calling Wordpress Plugin Documentation: 
http://www.ranksol.com/documentations/wordpress_conference_calling_plugin_guide
Quickly schedule, start and track your conference calls with our exclusive Conference Calling Plugin For Business. It is simple to use and you can easily allocate online sessions and future conference calling demands with this plug-in. Deliver out business call invitations from your websites dashboard to any landline or cell phone in the world. Our conference calling plugin includes business contact details with briefly formatted style so you don't have to do anything but to add participants and start having a conversation with them.
Conference Calling Wordpress Plugin For Business provides you the ultimate freedom to enhance your meeting. Our plugin has new features which no other plugin posses. Unlimited conference calling for users and now with loaded phone conferencing service it has revolutionized the way in which local and international conferences can be organized in a much better way.
As we all do know that basically conference is widely used as a package for calls when applying hold, exchange, and burst. Our plugin is twilio based and is specifically designed and developed for high accessibility with International and Primary conference options.
For detailed pricing about calls please visit http://www.twilioservices.com & http://www.twilio.com
Credits
Buzz Apps | Buzz App | Ranking Solutions | SMS Marketing | Twilio Services |  
Features
·         Powerful Api (Twilio Based)
·         Advance Controls
·         Immense and highly efficient conferences
·         Resilient
·         Local And Toll Free Phone Numbers
·         Pay As You Go
·         PHP server side program included
·         No additional software or accounts required (Only twilio account is required)
• No database required
• 100% responsive user interface
• Widget System Enabled
• Word-press permission assistance
• Unique authorization system included
• Easily set up and un-install
• Calling via direct voice call
• Ability to play personalized message when meeting / conference calling initiated
• You can easily modify your welcome message
• Enable or disable conference calls anytime
• Track all of your incoming and outgoing calls
• Complete customer assistance (accept or decline the contact option)
• Elegant, simple to use and very eye catching UI/UX.
Requirements
In order to use this plugin in a perfect way. Please don't forget to create a cron job url. Which means that a cron url file is required in order to make a conference call. Cron url will be scheduled on cron file on every 15 minutes.
Our customer support team is standby and always striving for excellence. In case of any issue while installing any of our products or in case you would like to hire us for custom work. Please contact us at: http://www.ranksol.com/help and we will respond to your request within the most least possible time