Campoal - Petition Platform WordPress Theme
Compoal is a Complete WordPress theme to build Petition Platform, Social Movement and Non-profit website





Average rating of

5

based on

10

votes
Overview
Campoal is a Complete WordPress Theme used to create petition platform, foundation and non-profit website where anyone can be start a social movement, collect supporters and fundraising to change something in society. With many special features are designed to build a dedicated platform for social movements and fundraising campaigns such as sign petition features are deep integrated with Facebook to share at the same time when signing and save email into SendinBlue list to carry out marketing campaigns. It is also integrated with Give plugin - A highest rated plugin to build Donation and Fundraising platform with lots of payment gateways. One dashboard for each campaign to synthesize, analyze and control the campaign by charts and can export csv file with list of detail supporters. Account for the legislator, decision makers so they can respond directly to the petition. Users can follow topics that interest them and it will be displayed on Newsfeed tab and a trending tab showing the campaigns that the community is interested. Of course, the themes have intuitive design and responsive to display well on all devices, especially on smartphone.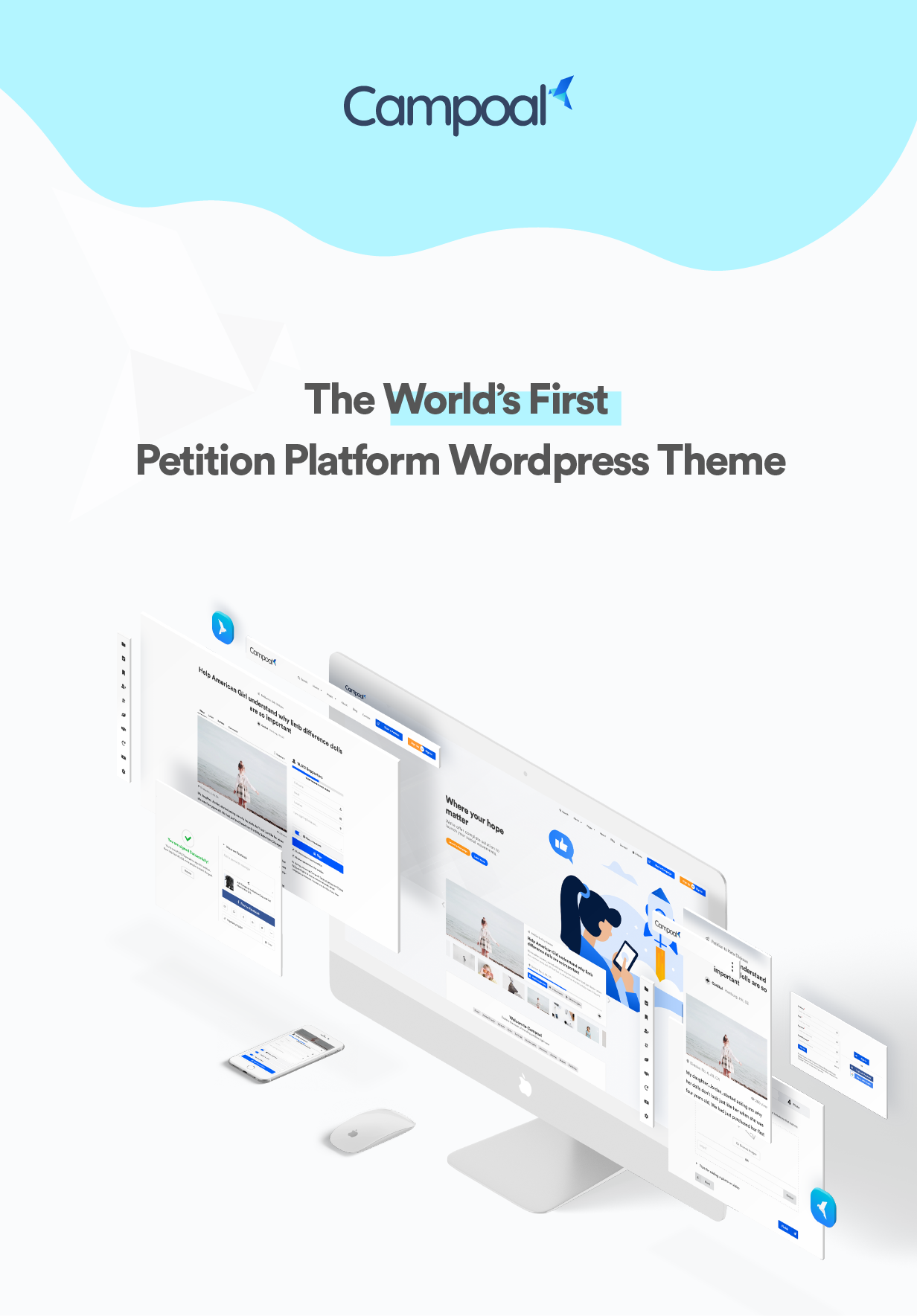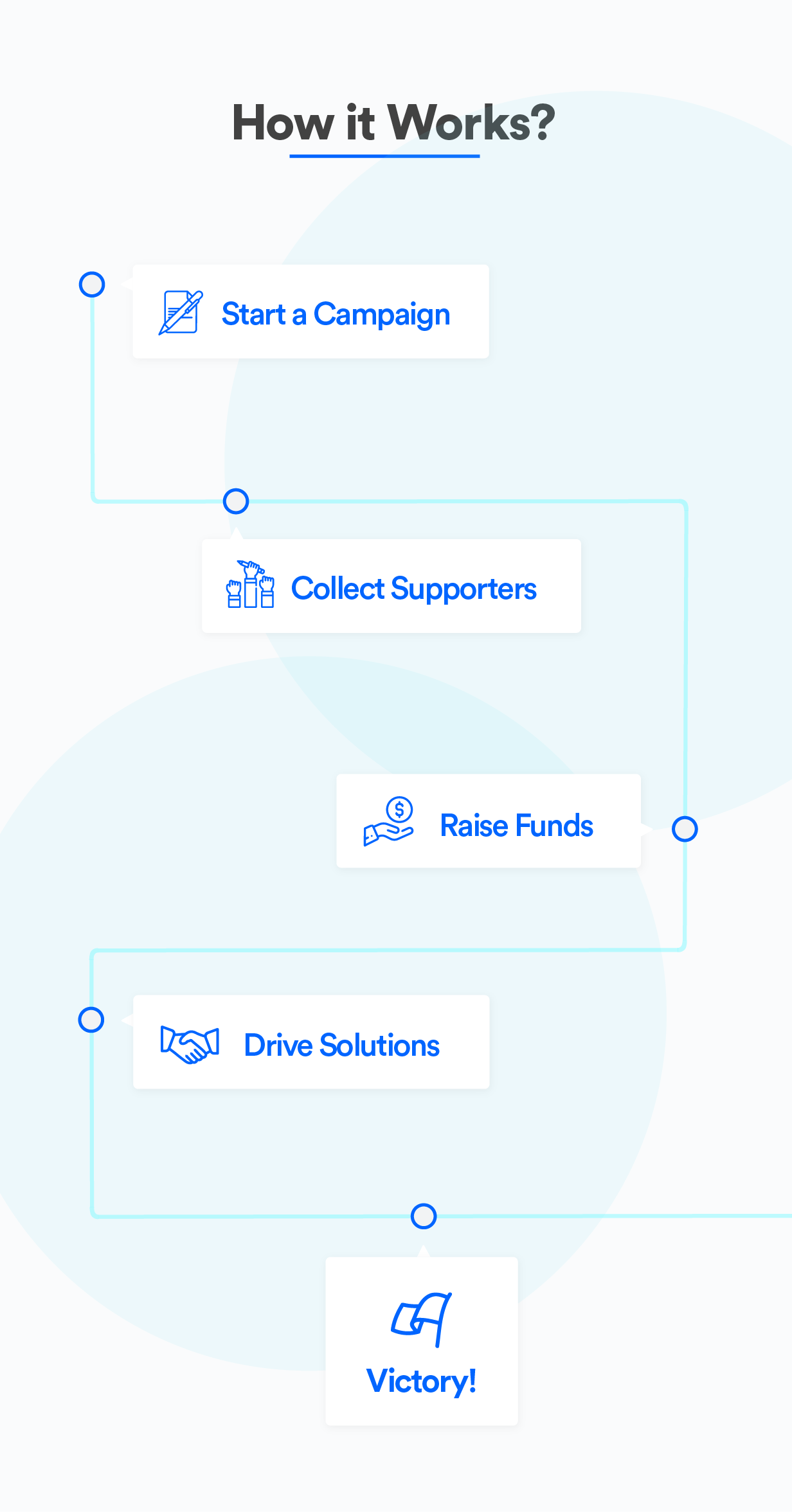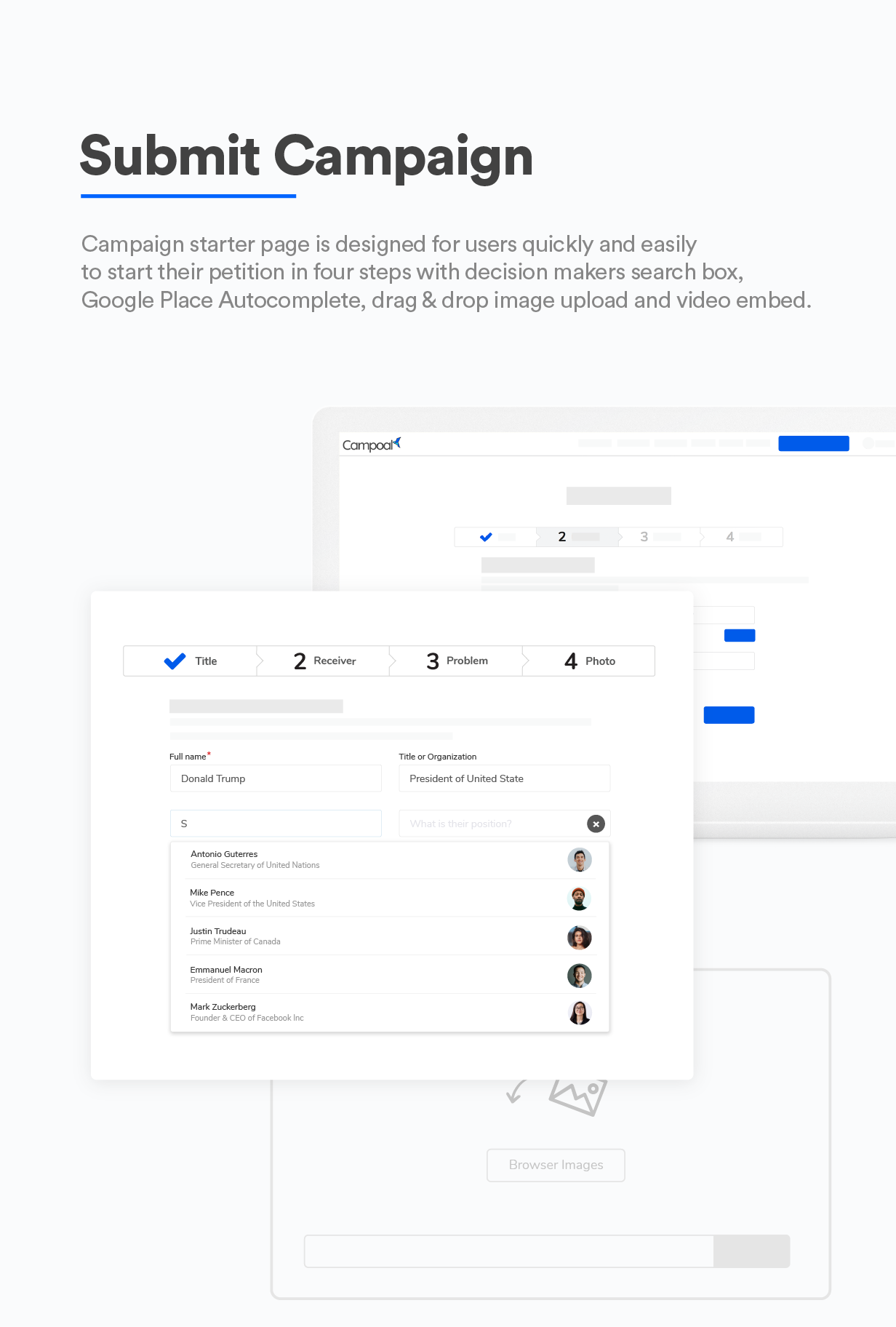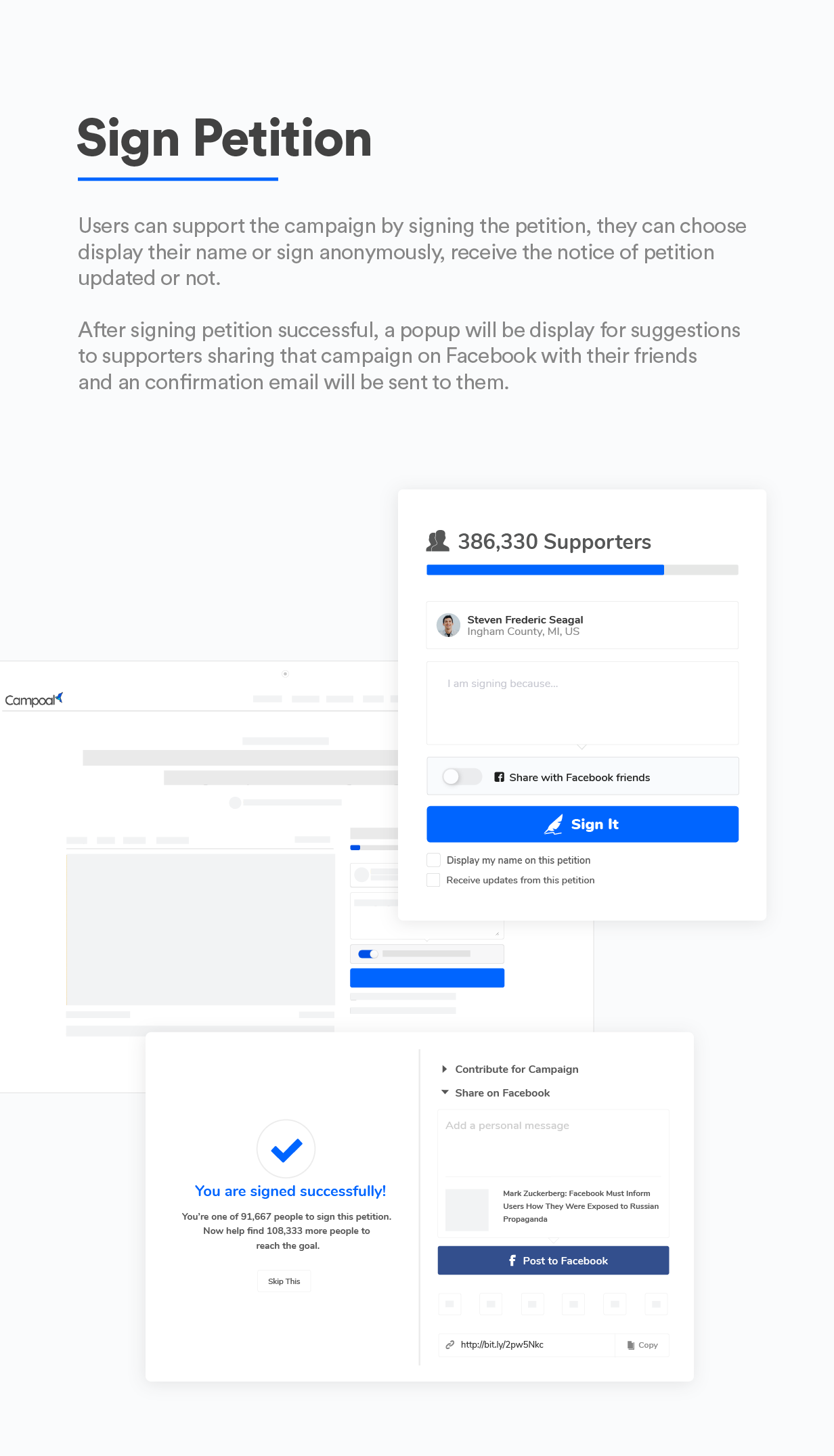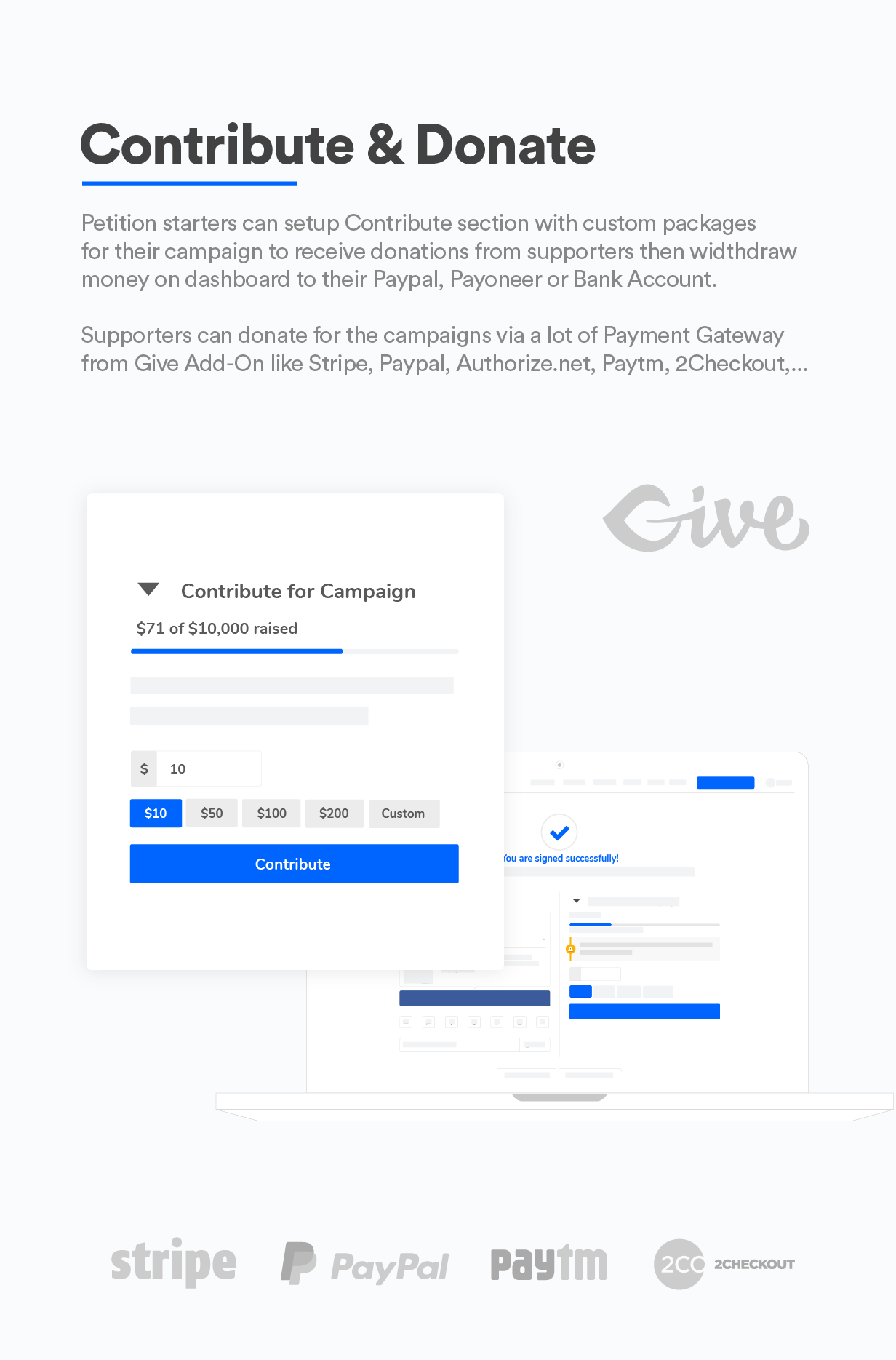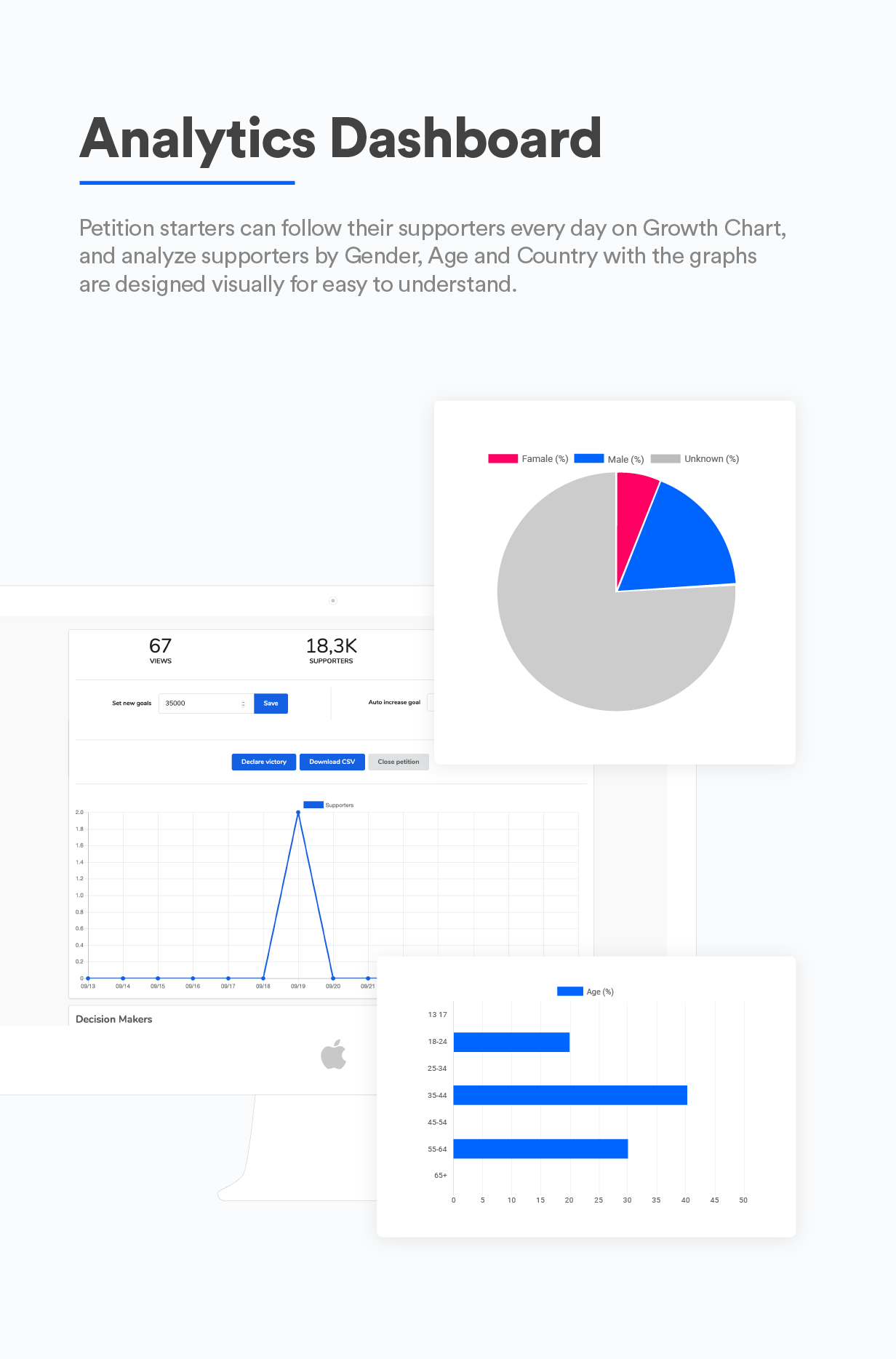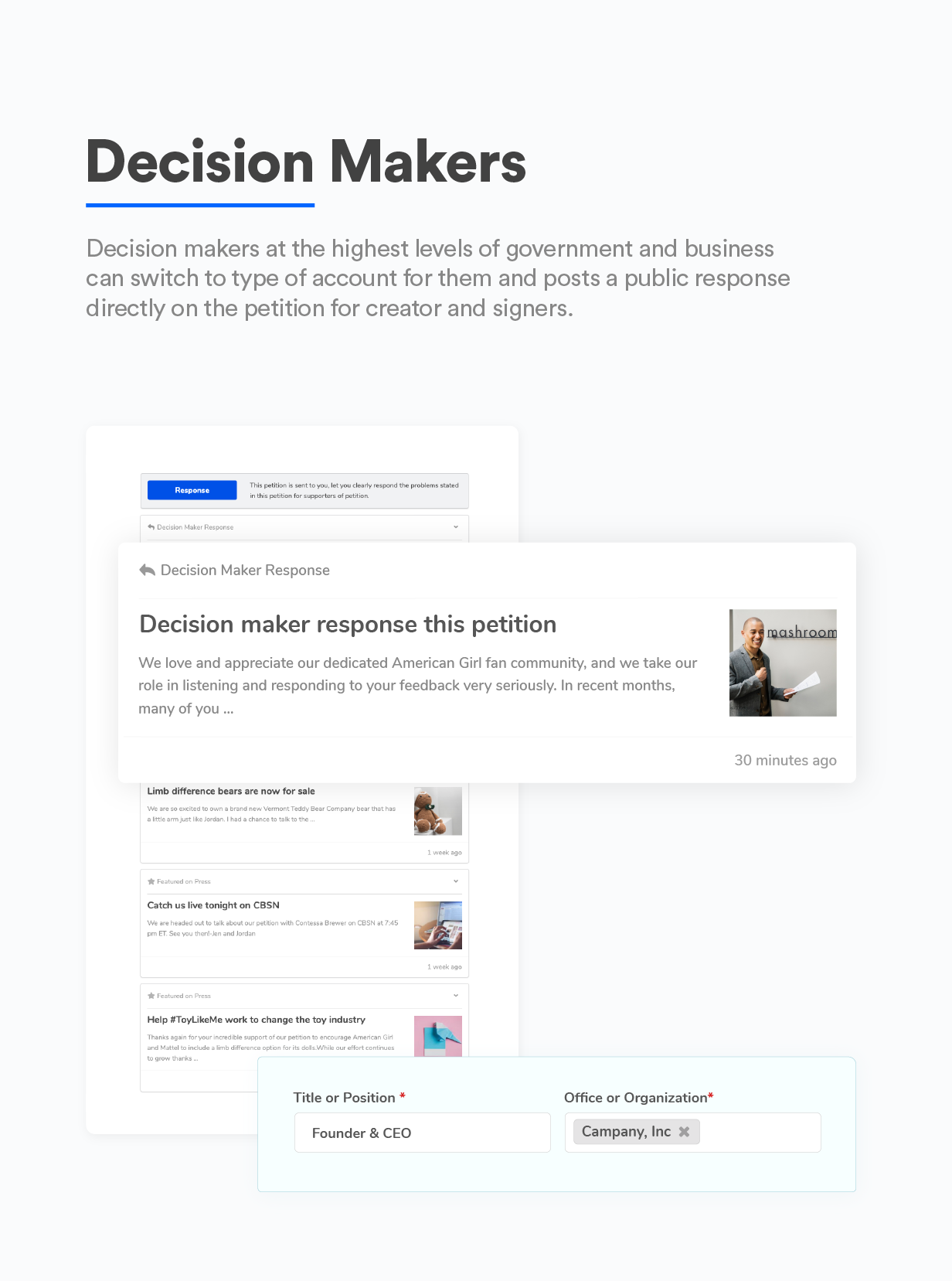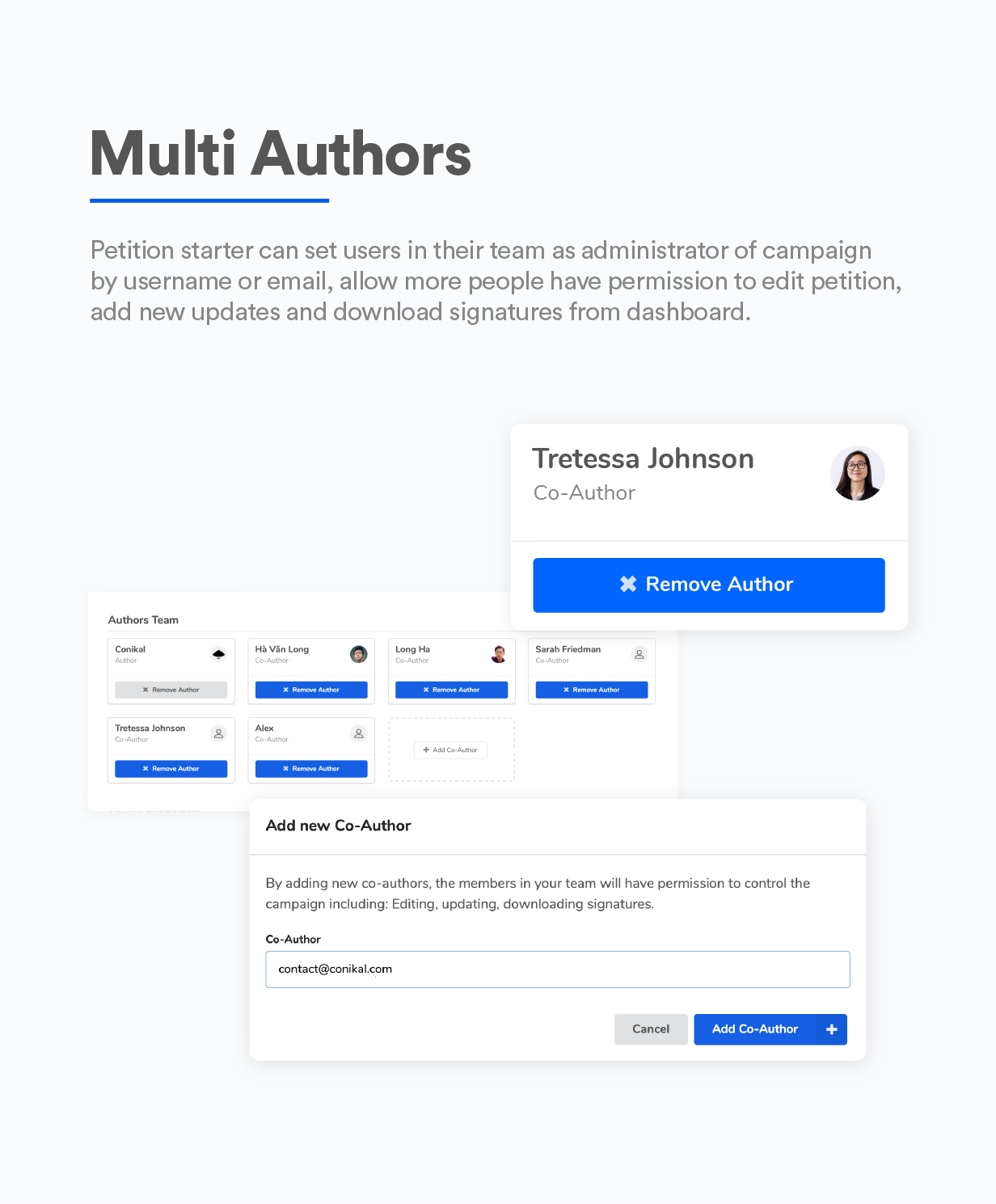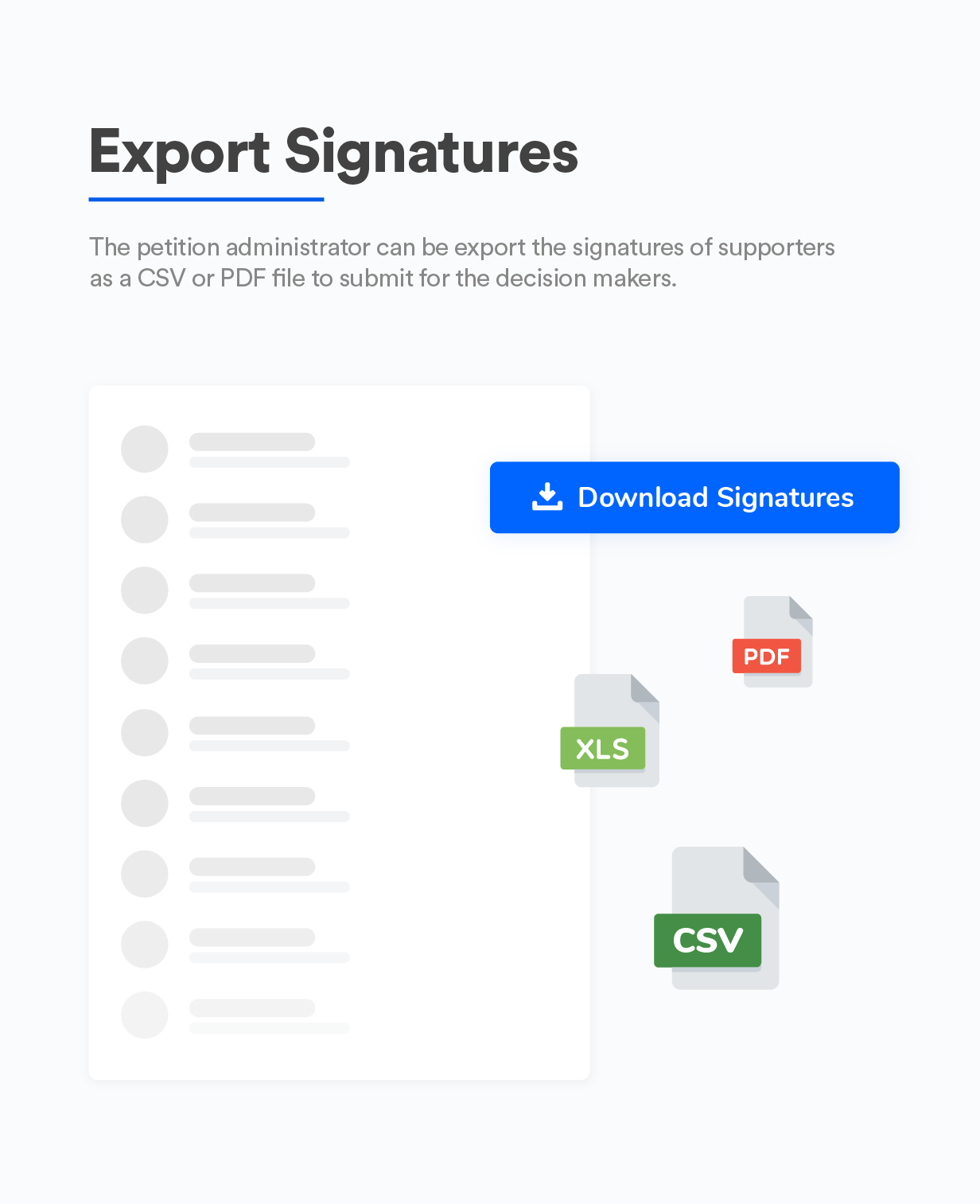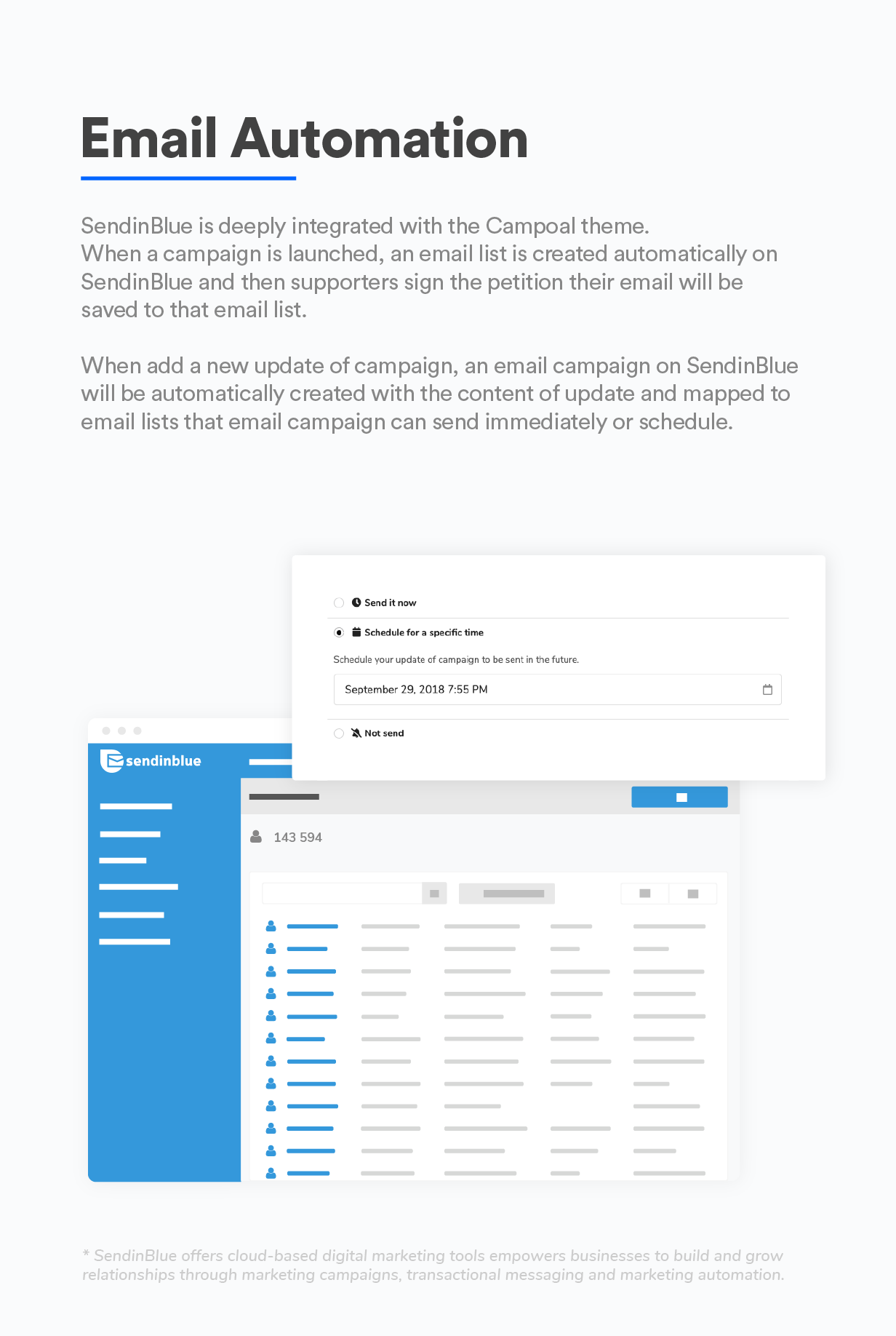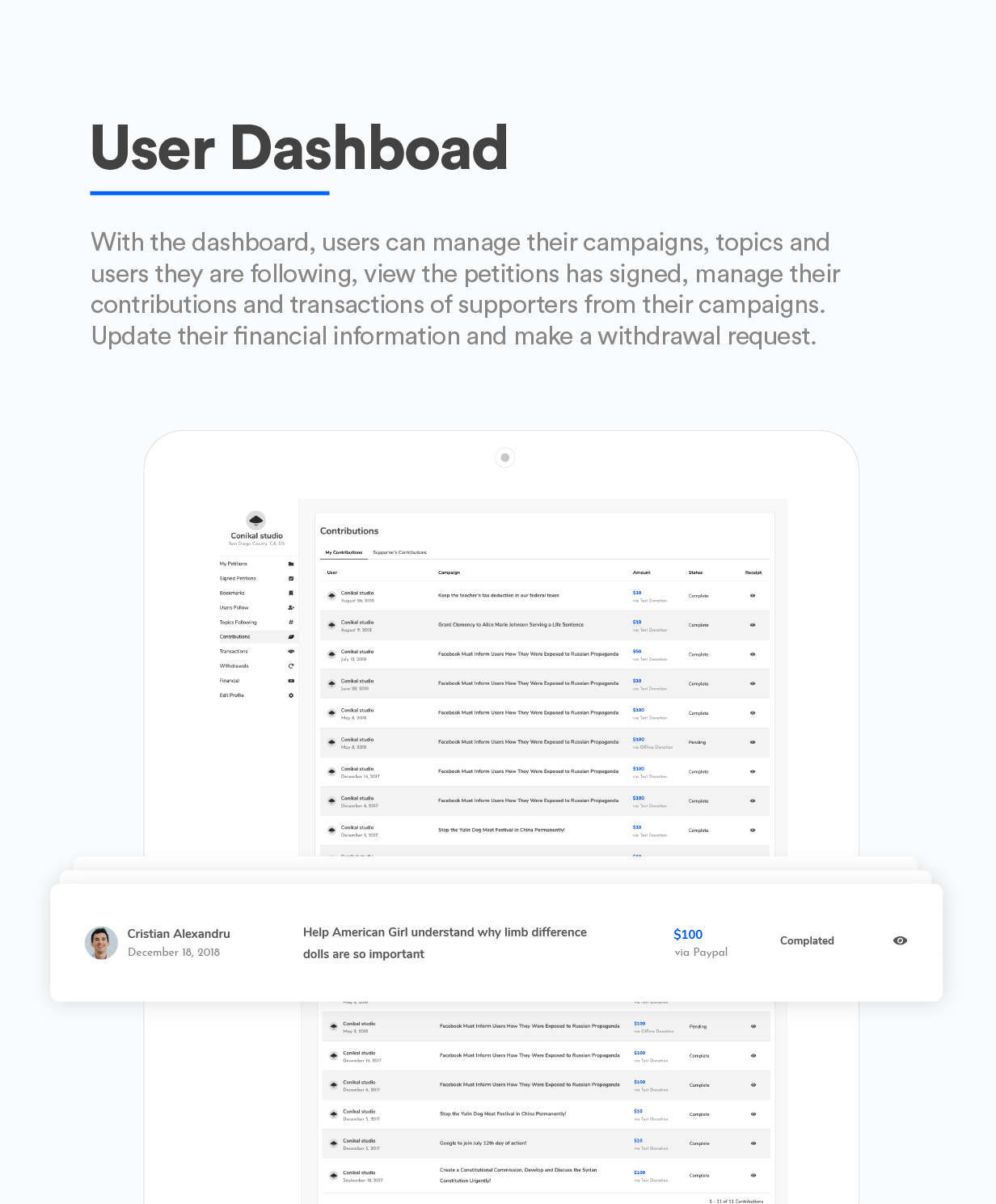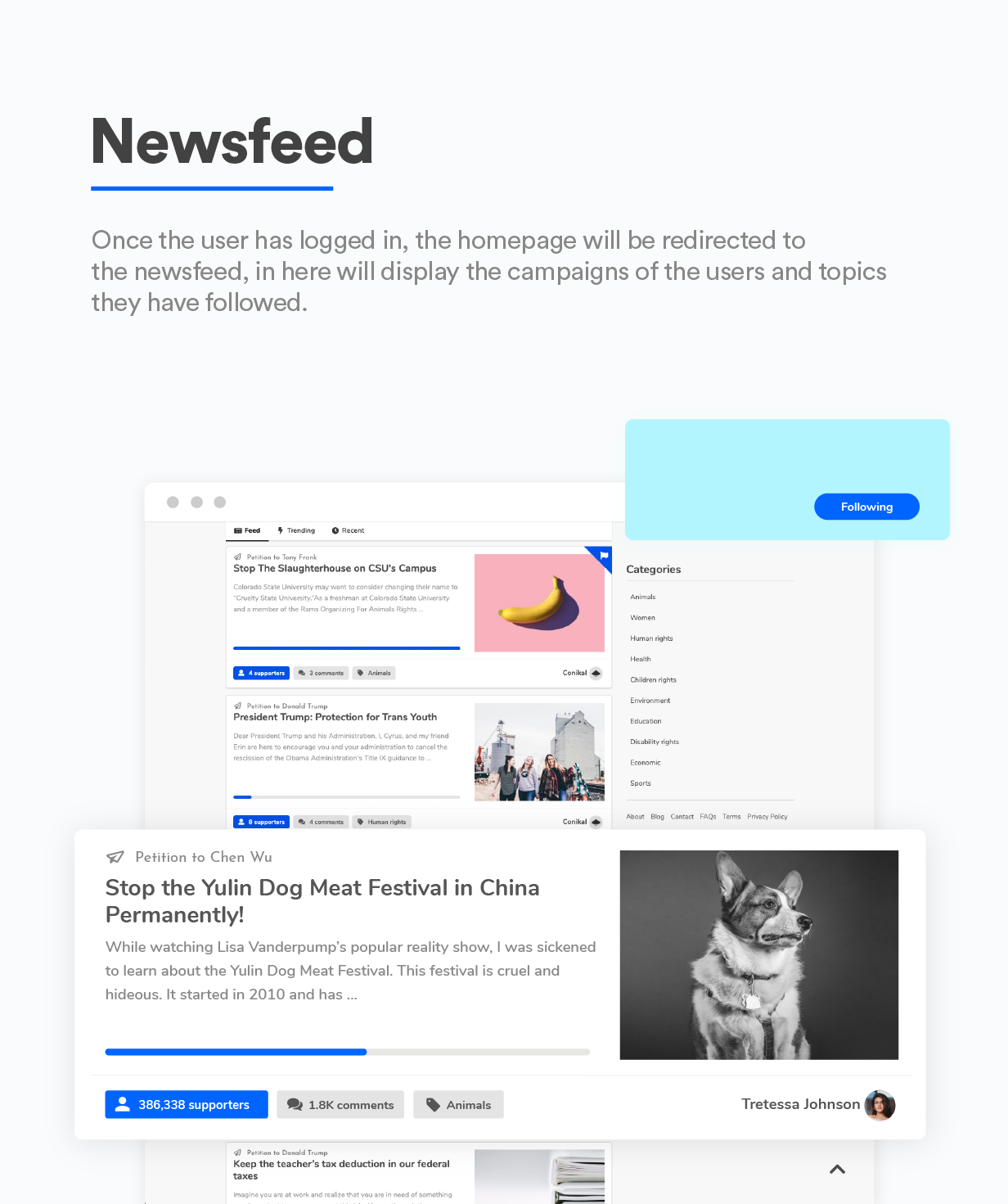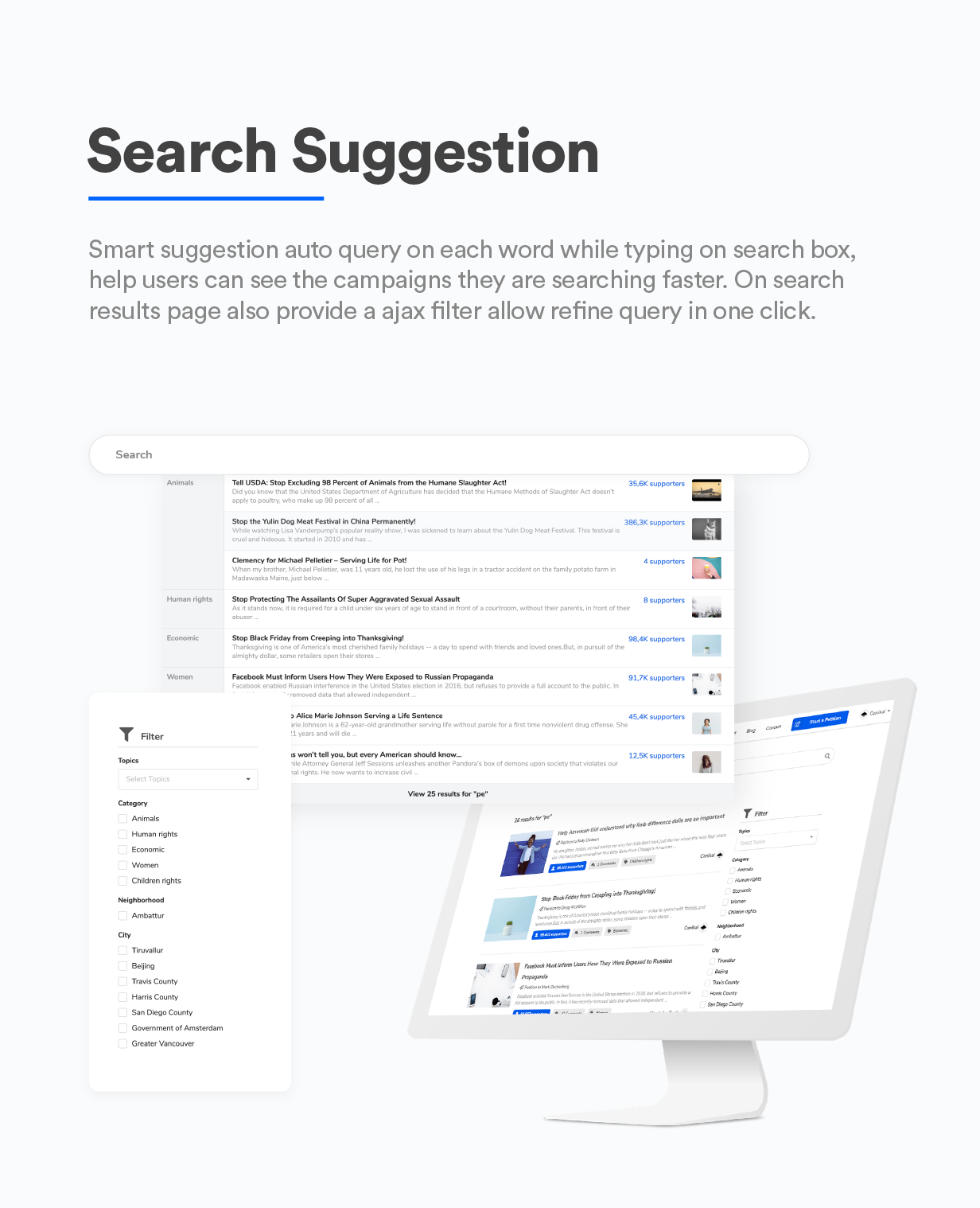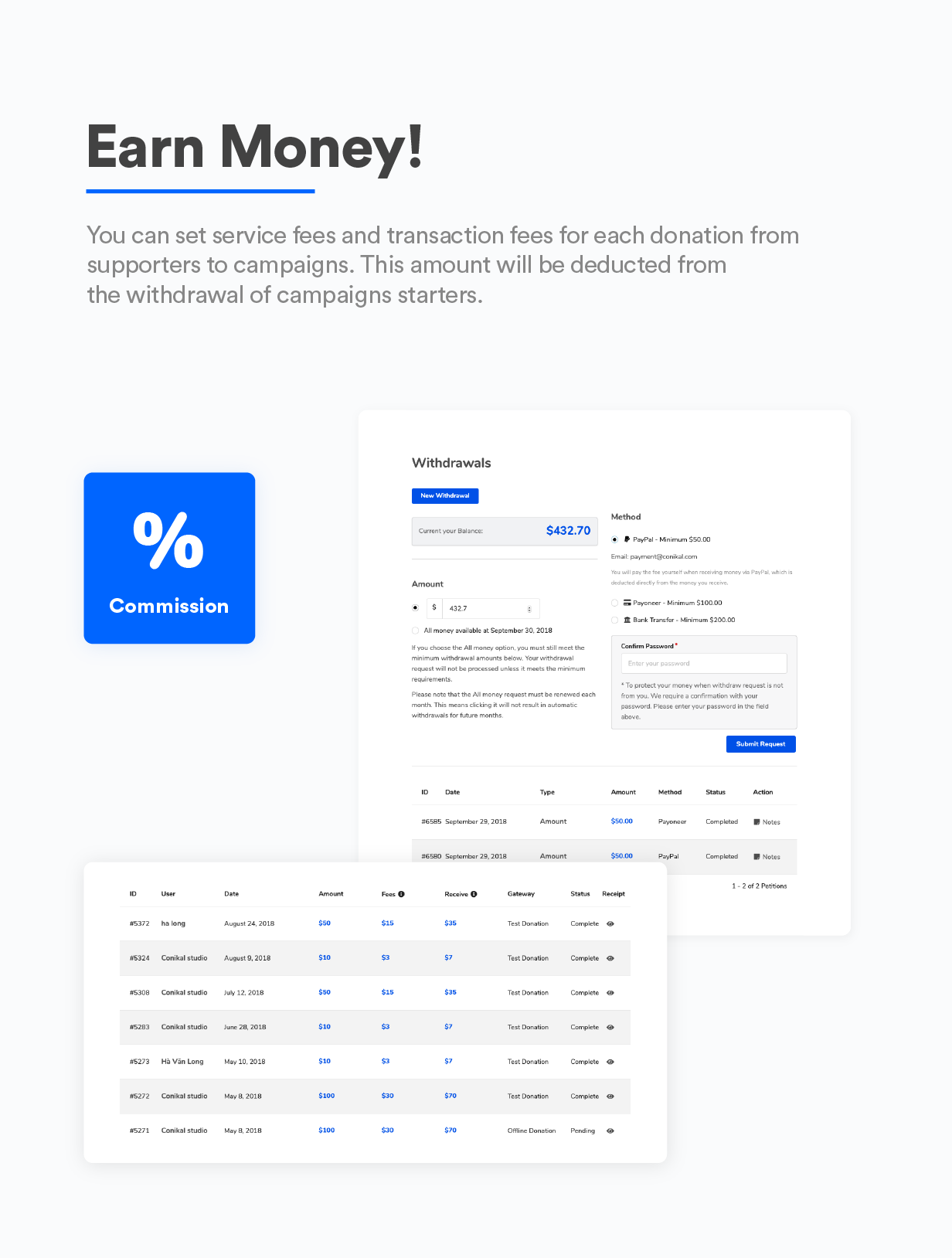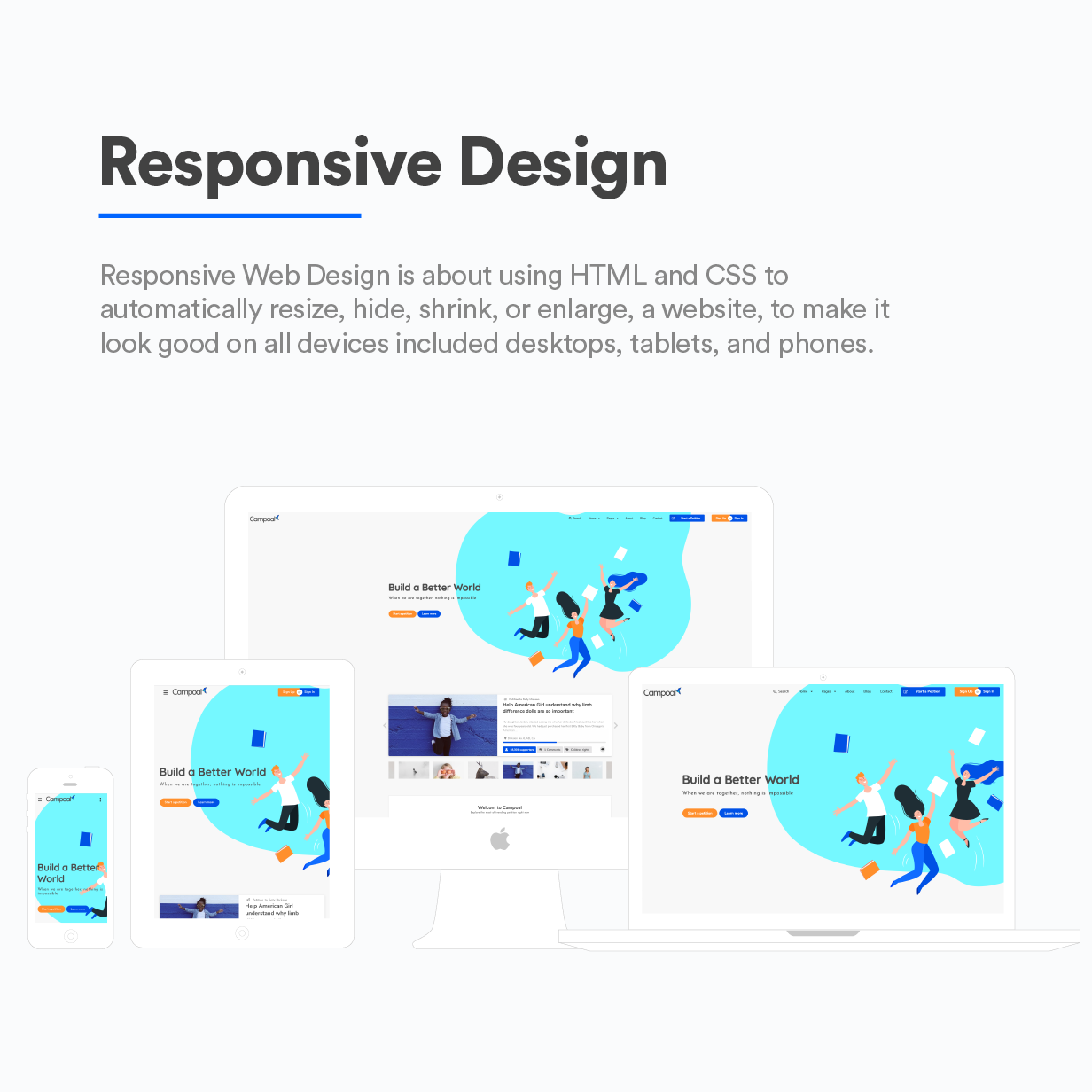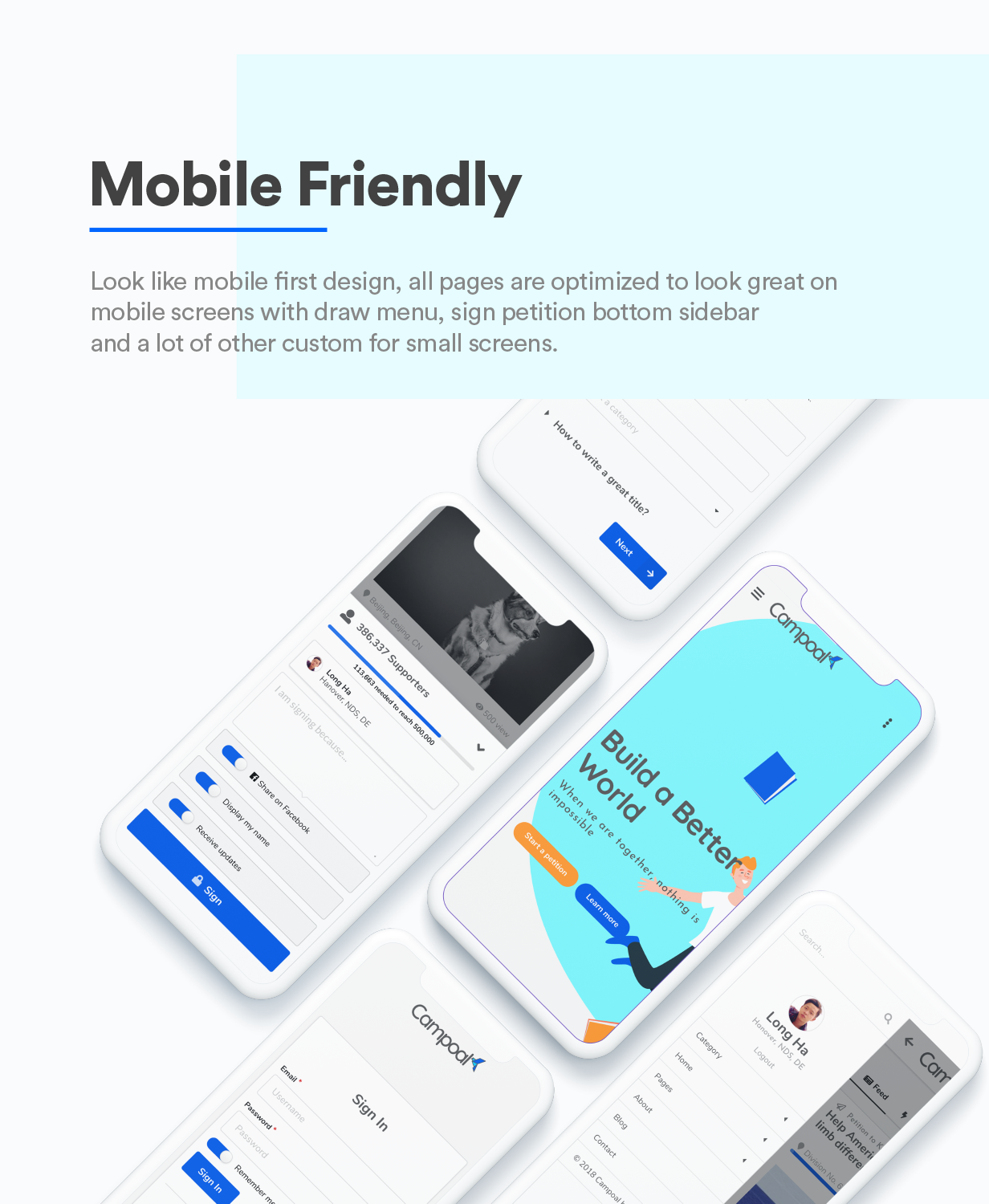 Core Features
Submit Petition
Campaign starter page is designed for users quickly and easily to start their petition in four steps with decision makers search box, Google Place Autocomplete, drag & drop image upload and video embed.
Sign Petition
Users can support the campaign by signing the petition, they can choose display their name or sign anonymously, receive the notice of petition updated or not. After signing petition successful, a popup will be display for suggestions to supporters sharing that campaign on Facebook with their friends and an confirmation email will be sent to them.
Contribute & Donate
Petition starters can setup Contribute section with custom packages for their campaign to receive donations from supporters then widthdraw money on dashboard to their Paypal, Payoneer or Bank Account. Supporters can donate for the campaigns via a lot of Payment Gateway from Give Add-On like Stripe, Paypal, Authorize.net, Paytm, 2Checkout,...
Decision Maker Account
Decision makers at the highest levels of government and business can switch to type of account for them and posts a public response directly on the petition for creator and signers.
Multi-Authors
Petition starter can set users in their team as administrator of campaign by username or email, allow more people have permission to edit petition, add new updates and download signatures from dashboard.
Analytics Dashboard
Petition starters can follow their supporters every day on Growth Chart, and analyze supporters by Gender, Age and Country with the graphs are designed visually for easy to understand.
Email Automation
SendinBlue is deeply integrated with the Campoal theme. When a campaign is launched, an email list is created automatically on SendinBlue and then supporters sign the petition their email will be saved to that email list. When add a new update of campaign, an email campaign on SendinBlue will be automatically created with the content of update and mapped to email lists that email campaign can send immediately or schedule.
Export Signatures
The petition administrator can be export the signatures of supporters as a CSV or PDF file to submit for the decision makers.
Social Login
Facebook and Google are integrated with theme to sign in via their social account with just one click, improve user experience, and increase the engagement of new users.
Newsfeed
Once the user has logged in, the homepage will be redirected to the newsfeed, in here will display the campaigns of the users and topics they have followed.
User Dashboard
With the dashboard, users can manage their campaigns, topics and users they are following, view the petitions has signed, manage their contributions and transactions of supporters from their campaigns. Update their financial information and make a withdrawal request.
Earn Money!
You can set service fees and transaction fees for each donation from supporters to campaigns. This amount will be deducted from the withdrawal of campaigns starters.
List Features
Responsive design
Based on Semantic UI
Retina ready
Cross-browser compatible
Valid HTML5 markup
Unique CSS3 animations
Front-end create petition
Front-end edit petition
Front-end add update on petition
Add Bookmark petition
Campain analytics
Raise funds by Give plugin
Export supporters as CSV
Search suggestion real-time
Advanced petition filter
Login with Facebook and Google accounts
Auto load more on page navigation
Video in page header
Custom homepage slideshow
Set blog post as featured
Set featured victory petition
Define user is Decision Maker
Add, remove, approve Decision Maker
Unlimited petition categories and topics
Change sidebar position
Set number of petitions per page
Set number of updates on petition page
Set number of comment on single page
Show similar petitions on petition page
Show related articles on blog post
Set contact details for contact page
Set footer copyright text
Set homepage header caption with call to action button
Set homepage spotlight area
Hidden slideshow, spotlight after login
Add testimonials
Custom Colors
Custom Typography
Useful shortcodes

Container
Divider
Button
Segment
Spaces
Parallax
Grid & Column
Infomation
Team
Testimonials
Recent Petition
Featured Petition
Recent Victory Petition
Featured Victory Petiton
Recent blog post
Featured blog post
Category

Custom Widgets

Campoal Contact
Campoal Recently
Campoal Featured
Campoal Post Recently
Campoal Post Featured
Campoal WP Social Networks
Campoal WP Topic Cards

Custom Page Templates

Contact Page
Submit Petition
Edit Petition
Add Update
My Petition
Petition Bookmarked
Petition Signed
Petition Search Result
User Account
Dashboard Petition
Instructions
Changelog

Version 1.0.1
- Fixed wrong plugin territory (analytics, social button, forms)
- Fixed all console errors
- Fixed admin bar is visible
- Fixed english grammar wrong
- Fixed gavatars display
- Fixed assigned sidebar not displaying
- Fixed inline script
- Fixed archive breadcrums
- Fixed Facebook get profile console
- Updated language translate file
- Updated TGM plugin
- Updated Facebook SDK version
- Removed contact page template
- Removed hero section on fullwidth template
- Moved Google Analytics Code option to General option

Version 1.0.2
- Fixed theme broken on activation
- Fixed plugin territory (wp_mail function)
- Fixed breadcrumb on archive page

Version 1.0.3
- Fixed admin bar styling on mobile
- Fixed certain sidebars not displaying on assigned locations
- Fixed Gavatar display
- Fixed bugs on PHP 7.2
- Fixed anonymous wrong display
- Fixed avatar url issue when change site url
- Fixed Facebook login, Facebook sharing
- Fixed bug count votes reply comment
- Fixed bug post widgets
- Fixed delete all users Sendinblue list when unsign
- Fixed search petition keyword
- Fixed comment hight
- Added link for comment in featured petition
- Added alert when petition id incorrect on supporter shortcode
- Added value on opt-in on Sendinblue
- Added multi authors
- Added auto increases goal
- Added GDPR option law
- Added search petitions by location on all petition page
- Added blog layout option
- Added compact supporters number option
- Improved default widget style
- Improved CSS documented readability
- Changed install via TGM PA as pre-packaged
- Upgrade Semmantic UI with Fontawesome 5
- Upgrade Visual Composer 5.7.2
- Updated language file

Version 1.1.0
- Change theme options panel to reduxframework
- Optimazed response time server
- Integrated One click demo import
- Integrated short url bit.ly
- Redesign blog
- Add Send update petition mail by Sendinblue
- Add custom slug option
- Add phone number field
- Add send icon option
- Add footer column option
- Add redirect homepage after login
- Add alignment option for page title
- Add height option for post, page hero
- Add login page redirect
- Add promo banner shortcode
- Add Until search switch option
- Add new demo
- Fixed load more bookmark
- Fixed search bar on all petition page
- Fixed petition's link on contributes user dashboard
- Fixed subheader typography
- Fixed victory section
- Ajax update of campaign loading
- Ajax supporters and donors section

Version 1.1.1
- Fixed Withdrawal not display on admin

Version 1.1.2
- Fixed searh suggestion link
- Fixed social login button styling
- Added email template signature confirm

Version 1.1.3
- Updated language file
- Improved design
- Fixed multi category on front-end

Version 1.1.4
- Added submit Give form template page
- Added level badget base on donations amount
- Added single donation page
- Added typography and hidden comments options
- Fixed incorrect escaping
- Fixed clear floats
- Fixed small bugs
- Improved default install style
- Styling depth menu on widget

Version 1.1.5
- Improved default install design
- Improved structure of files
- Fixed style issues
- Added user option hidden birthday and phone number
- Added theme option use custom font
- Added de, vi, ru language translation files
- Changed pagination style

Version 1.1.6
- Added sign button text option
- Hidden author section if bio is not set
- Hidden avatar on Pingbacks
- Improved shop layout design
- Fixed use protocol relative URLs
- Fixed escape data issues

Version 1.1.7
- Fixed footer submenu issue
- Fixed related product broken display
- Fixed excessive padding on 404 page
- Improved card dropdown and position
- Renaming language file

Version 1.2.0
- Add lazy load
- Add single blog style
- Add header style options
- Add blog options
- Add new feature blog style
- Add new meta box style (Meta Box plguin)
- Add main blog style option
- Add home tab default option
- Add two more demo
- Gutenberg support
- Improved overall design

Version 1.2.1
- Fixed campaign update video embed dispay
- Fixed wrong color options
- Removed target blank on demo preview link

Version 1.2.2
- Fixed Google sign in issue
- Fixed ajax page loader
- Fixed import demo warning error
- Removed all target blank on all link

Version 1.2.3
- Removed author link
- Moved one click demo import

Version 1.2.4
- Update demo data

Version 1.2.5
- Fixed small issues when active children theme
- Upgrade WB Bakery plugin

ROAD MAP
- Add notification center
- Add export signature from multi-petition
- Marge social login account
- Support multisite
- Support RTL
- Add export PDF
- Add cookie notice
- Add widget embed code
- Add report content
- Integrate Google reCapcha
- Add Video Popup shortcode
- Add SMS OTP