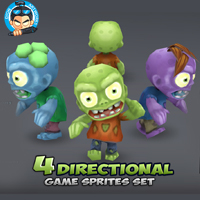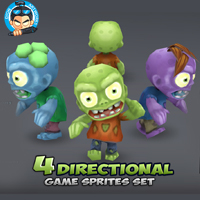 4-Directional game sprites
4-Directional game sprites
5 zombies with animations ,4-Directional game sprites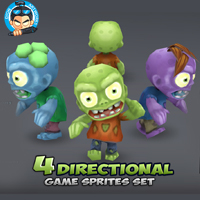 4-Directional game sprites
5 zombies with animations ,4-Directional game sprites
Overview
ANIMATIONS PREVIEW:
4 Directional Game Character Sprite Sheets
This assets is for developers who want to create their mobile game apps for IOS and Android games and need 4 Directional Game Enemies Character Spritesheets for their projects.
Best assets for game Like: 4 Directional Game, Shooting game, Running Game,Platform Game, and more side Scrolling games.
Features:
Animations Included: Animated PNG, FBX and 3D blender FILES ONLY!
Animations Included:Front, Back and Side
 IDLE
 WALK
 DIE
-Dimensions 500x500px to all animations
Requirements
TAKE NOTE! 
Animations and spritesheets are created in Blender 3D softwar and there is no AI or PSD for character sprites It's because Animation is created in Blender. But there is a high resolution Png images for every Animation sprites
I also included the Blender 3D files :-)