Online Flowers Florists Ordering Ionic Template
Online Flowers Florists Ordering Ionic Template
Online Flowers Florists Floristry Bouquet Ordering System Built on ionic with iOs App + Android App + Onwer App + Webite + Admin
Online Flowers Florists Ordering Ionic Template
Online Flowers Florists Floristry Bouquet Ordering System Built on ionic with iOs App + Android A...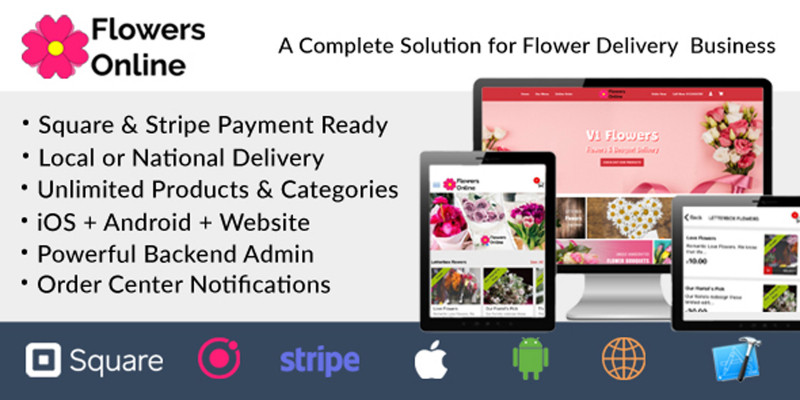 Overview
#1 The Only Complete Flower Ordering Solution with All Features Included
A complete solution for Online Flower Delivery Business, professionally developed and built with 1000+ features.
Designed for flower sellers, bouquet services, flower decorators and all kinds of florists and flower related businesses.

The system comes with Square and Stripe Payment Gateways and presents a professional bug free online ordering system that can be used via ios devices, android devices, desktops and laptops. It has 1000+ features built-in along with all real-time updates and notifications at every stage of the order.
There are NO REFUNDS once you have purchased and downloaded the codes.
Please note that you are purchasing and paying for the CODE ONLY. Support is not included for FREE. All the documentation, demo, screenshots etc are available to view and test before you make a purchase.

Admin Login Details
URL: https://flowers.v1tl.com/admin65453
Username is florist
Password is: florist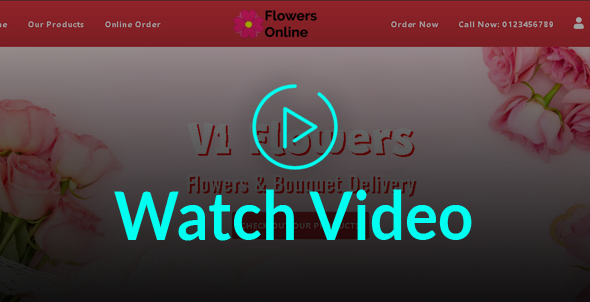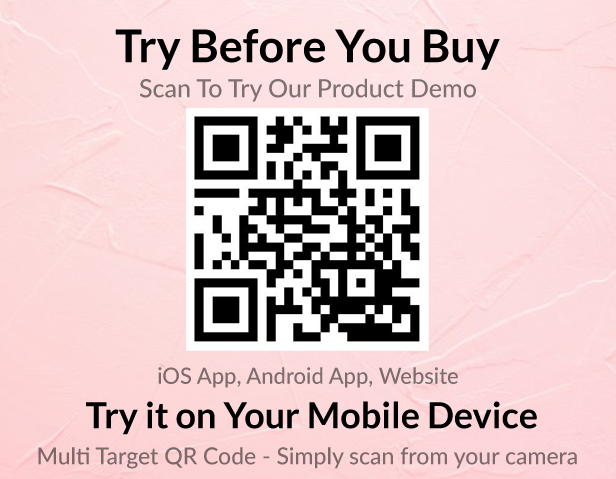 App Screenshots

Features
New Features Added Recently:
- Control Payment Status from Admin (Paid / Unpaid)
- Search for an item directly on Customer App
- Day Wise Product Availability
- Home Page Advertising Popup on Website
- Order Status Feature so users can see their order updates
- Get Directions, Navigate, Contact Customer, Mark as Delivered etc from Owner App
- Make a product unavailable on a particular date
- You can see all the User Addresses from the Admin
- Item Variations Feature (Example: Bunch, Bouquet etc) when ordering from the customer app
- Extra Addons and Options (Example: Chocolates or Perfume) when ordering from the app
- Variations and Addoon Options on Order Center when adding an order
- Variations and Addoon Options on Backend Admin When Adding an Order
- Variations and Addoon Options on Website Orders
- Variations and Extra Addon Options can be FREE or Paid
- Collection Service Bug Fixed (Was not showing collection option even if enabled from admin)
- Sliding Banner Bug on Website Fixed (Banners were overlapping instead of sliding)
- Worldwide Currency Support in Settings Section
- Change to Miles or Kilometres in Settings Section
- Custom Push Notifications - Send custom notifications to boost your orders


FEATURES OF CUSTOMER APP
•  Supports both iOs and Android
•  Touch ID and Face ID Login
•  Forgot Password Feature
•  Phone number as login id (username)
•  Quick and Easy Sign Up Process
•  Cart can be accessed from any screen
•  Manage Multiple Delivery Addresses
•  Pay Using Cash or Card
•  Collection and Delivery Options
•  Order for now or for a future date and ime
•  Apply Discount Codes
•  Clear Cart Option
•  Add more products
•  Prompt to add more items based on Free Delivery Amount
•  Allergen Confirmation before ordering
•  Review Order before confirming
•  Order History / Past Orders
•  Leave Reviews and Feedback
•  Customers get notified about Order Status at every stage Preparing, Out for Delivery, Delivered)
•  60 Minutes After delivery customer gets notification for feedback.
•  Shows Sold Out sticker on out of stock items
•  Excludes out of stock items automatically
•  Send a Event Decoration Enquiry
•  Detailed Product Information
•  About Us Section
•  Image Gallery
•  Video Gallery
•  Our Team Section
•  Social Media Section
•  Opening Hours Screen
•  Various Opening Hours Option for Morning, Afternoon and Night Shifts
•  Help & Information Screen
•  Share App
•  Rate App
•  Contact Details on Website and Apps
•  Setting Screen
•  Pull To Refresh Data
•  And many more..
FEATURES OF ADMIN SYSTEM 
ORDER SECTION
•  Order Center App Supports both iOs and Android
•  Dashboard shows todays orders
•  View All Orders option
•  Manage Order Status at every stage Preparing, Out for Delivery, Delivered)
•  Different Colour Codes for Different Order Status
•  Shows which platform order is made from
•  Assign a driver to an order.
•  Accept orders on the phone
•  Add orders quickly from Admin
•  Existing customer data is automatically loaded


REPORTS SECTIONS
•  Daily, Weekly, Monthly, Date Range
•  Revenue Earned
•  Total Number of Orders
•  Total Card Payments
•  Total Cash Payments
•  Number of Users (iOS, Android, Web, Phone)
•  Top 20 Items
•  Lowest 20 Items
•  Quantity Wise Sales Report


CATEGORY MANAGEMENT
•  Multiple categories & Sub-Categories
•  Pre-Order Category with Time Required for Ordering
•  Create multiple products within a category
•  Display Products Category Wise
•  Search for a single product


PRODUCT MANAGEMENT
•  Supports Unlimited Products
•  Supports Product Variations (e.g Single, Bunch, Bouquet)
•  Supports Addon Extra Options (e.g. Chocolates, Perfumes)
•  Sort Product Display
•  Make Product Unavailable for Today
•  Maintain Product Recipes in Admin
•  Excludes out of stock items automatically
•  Make item inactive for a single day or permanently
•  Shows Sold Out sticker on out of stock items


OFFERS / DISCOUNT MANAGEMENT
•  Create unlimited offers
•  Flat amount discounts
•  Percentage based discounts
•  Discount expiry dates


SETTINGS
•  Worldwide Currency Support
•  Worldwide Timezone Support
•  Miles / Kilometres Support for Local Deliveries
•  Manage Free Delivery Amount
•  Manage Minimum Order Amount
•  Manage Minimum amount for Delivery
•  Manage Opening Hours
•  Manage Delivery or Collection Options
•  Force upgrade app feature
•  Festive themes for Christmas, New Year etc
•  Add upto 3 additional charges/ taxes
•  Restrict Ordering Feature for busy times.
•  Manage preparation times.
•  Manage dicount for first orders


DELIVERY MANAGEMENT
•  Local or National Delivery
•  Set delivery charges based on miles
•  Allow out of miles postcode for special customers


DRIVERS MANAGEMENT SECTION
•  Set Per Delivery Cost
•  Set Fuel Cost
•  End of shift totals
•  On Duty Off Duty indicators


BANNER / ADVERTISEMENT
•  Manage banners on home screen
•  Make Banners Active / Inactive
•  Sort Banners (which one you want to show first)


MANAGE USERS
•  Inventory & Cost Management
•  Buying List Feature
•  Image Gallery
•  Video Gallery
•  SEO Pages
•  Manage Reviews
•  And many more…
Requirements
You will need the following sofwares to customize this template.

Code Editing Software (eg: Visual Studio Code , Sublime Text or Notepad Plus)
Web Browser for testing (eg: Google Chrome or Mozilla Firefox)
FTP Tool to upload files to Server (eg: FileZilla)
To deploy to iOS you need Mac Machine with X-Code (Version 11 or later) installed.
IONIC Framework (Version 5) installed.
Android Studio (Version 4 or later) installed.