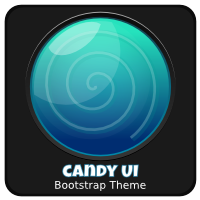 Candy UI Bootstrap Skin
Candy UI -Bootstrap Theme with seven different flavors.
Overview
Candy UI provides an eye catching user interface for your bootstrap web project. It has seven different colors of flavors. We have created clean user friendly documentation with code examples and tutorial for each flavors and their components. 
Features
Booststrap 3.0x
Built with LESS 
Friendly documentation with code examples and tutorials included.
LESS and css file for each flavours included
W3 code validated
Demo web pages included
Instructions
To learn how to use Candy UI theme with bootstrap, simply follow these instructions:

Step 1: Open Candy UI folder after you purchase it.
Step 2: Go to 'Documentation' folder,
Step 3: Open the 'documentation.html' file with your web browser.
Follow the simple instruction and tutorials with code examples for each candy flavor.
Candy UI will make Bootstrap more testy.