Fast Flashlight - Android App Template
Fast,Easy to use,contain practical functions : ability to let the flashlight ON and exiting the app,Stylish and Interactive design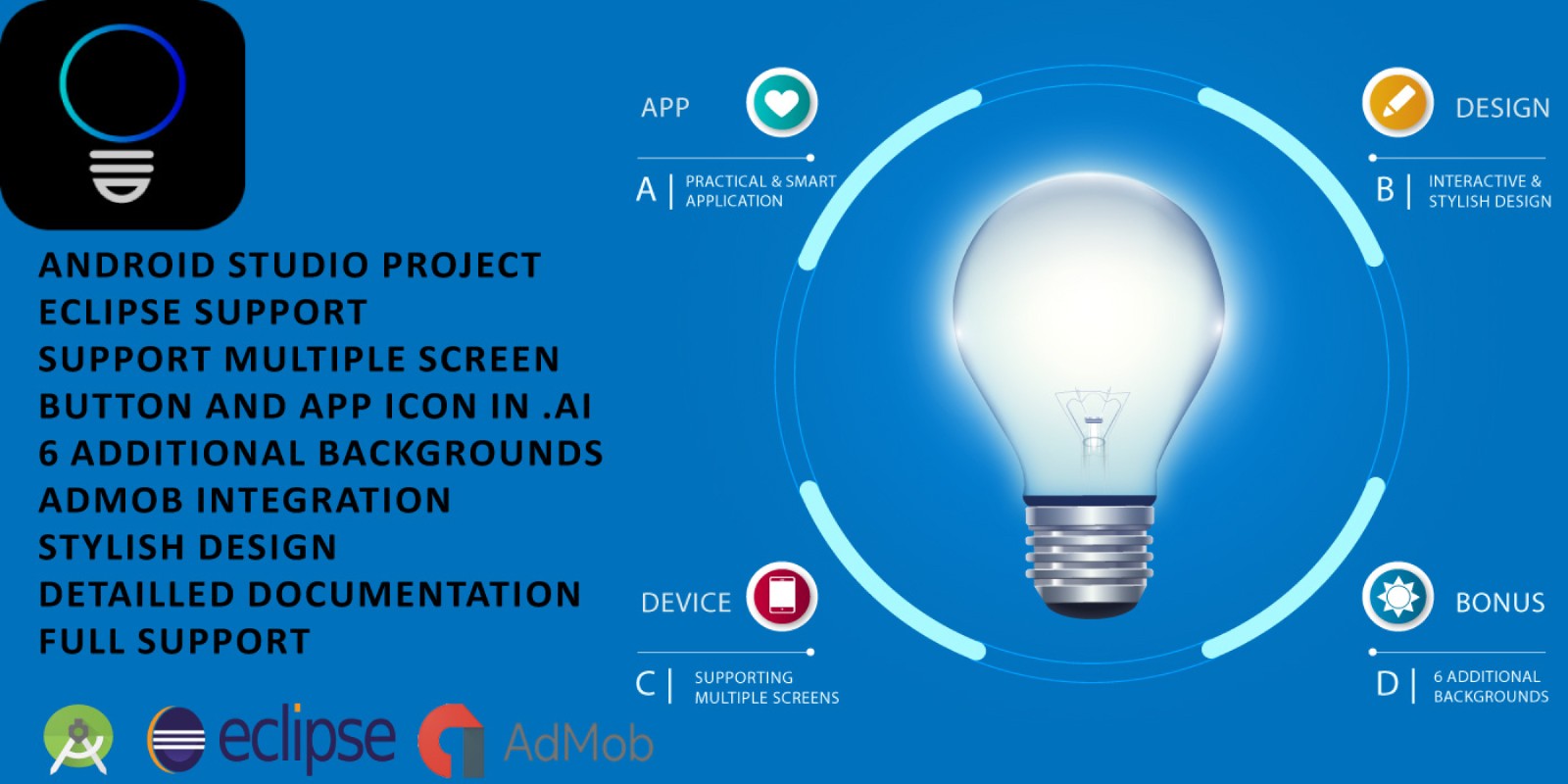 Overview
Fast,Easy to use,contain practical functions : the user of this app able to let the flashlight on when exit the app,in this case a notification will appear remind the user that the flashlight is on and give the ability to enter to the app and turn it off by clicking on this notification.
Contains a stylish and interactive design : the background of the app vary according to the flashlight state (when turn on the flashlight the dark background become more clear and brightness).
Features :
Android studio project (support eclipse) AdMob integration. Fastest startup flashlight. Stylish UI design. Support Multiple Screen. Notification when the flash is on. It's easy to re-skinnig just follow the documentation No Programming & Coding Skills required Full support.
What you get:
Full Android Source Code 6 Ultra HD additional backgrounds for multiple screens. .apk file icon of the app with .ai format button .ai format Step-By-Step documentation
Please do not hesitate to contact us if you have any question e-mail : evelopers.alob@gmail.com">developers.alob@gmail.com THANK YOU !
Features
Fastest startup flashlight.
Interactive and Stylish UI design.
Support Multiple Screen.
 Ability to let the flashlight ON and exiting the app.(in this case notification appear to remember user)
Clear Code.
AdMob code integration.
6 Additional Backgrounds.
Detailed documentation.
Full support
Requirements
To use the app you need
Any android device with flash.
To compile and run the code you need
Android Studio.
Android device to test the app.
Instructions
To reskin the app you need just to follow the instructions in the detailed guide attached (No coding skills required).
you need to create 2 admob Ads unit (create one banner ad and one interstitial add) and add your IDs to the app (Follow the guide attached)
Change the name and the icon of the app,also you can change the backgrounds if needed (detailed in the guide attached)
Then your app is ready to publish to any android app store