OctoBlocks - Drag And Drop Bootstrap Page Builder
OctoBlocks - Drag And Drop Bootstrap Page Builder
OctoBlocks is a no-code drag-and-drop one-page website builder.





Average rating of

5.0

based on

1

votes
OctoBlocks - Drag And Drop Bootstrap Page Builder
OctoBlocks is a no-code drag-and-drop one-page website builder.





Average rating of

5.0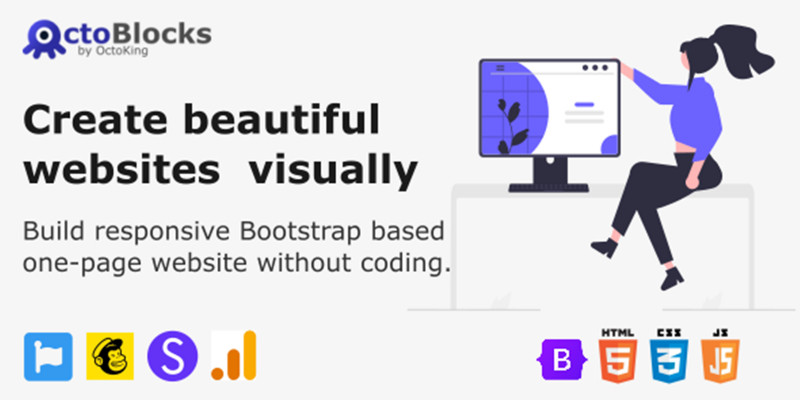 Overview
What is OctoBlocks?
OctoBlocks is a no-code drag-and-drop one-page website builder. You can easily create a fully responsive Bootstrap based single-page website without coding


How OctoBlocks Works
Drag Elements/Blocks: No coding skill is required. Drag-and-Drop elements/premade blocks to the page.
Customize Page: Edit text, customize color, crop image, or just change the order of blocks and elements.
Download Source Code: Download your website directly to your PC and host them on your website's server.
Extract files and upload or host them on your website's server using FTP.
OctoBlocks: https://octoking.com/octoblocks/index.html
If you don't like to use FTP or if you are looking for a simple page builder by which you can easily edit and update the homepage of your site, then you need to buy the self-hosted version of Staticblocks.
With a self-hosted version, just login to your builder, edit/design and update the frontpage with one click. 
For a Demo of this version, contact me.
CHANGELOG: https://staticblocks.com/changelog.txt
V2.1 ================== April 22, 2022
    1: Bug Fixed
    2: Now you can add nested row/columns
    2: Element Hidden option added
    3: Added Reveal Animation On Scroll
    4: 5 New Blocks added
    6: Full height onption added to block and card elements
    7: Built with option added
    8: Added 2 more responsive column options for extra small devices
    9: Added Save option for Staticblocks integration(Self-hosted page builder)
V2 ================== Feb 06, 2022
    Major Change:
    1: Now you can add premade blocks as well as elements.
V1 ================== November 30, 2021
    Major Change:
    1: Block based builder


Features
Why Staticblocks?
Key differences from mainstream website builders:
Automatically Mobile: You don't have to target the mobile version for every element. It will adapt automatically.
Easy-to-use Interface: Drag-and-Drop interface and simple Settings to customize your page.
No Database: Staticblocks doesn't store anything on its server while creating or after downloading the website. It doesn't store your content and images on its server.
One-Click On Scroll Animation: You don't have to set AOS(Animation On Scroll) manually. You can set it with one click.
Edit your Page in the real Browser's window: No shrink or scaledown page editor. You can edit in a real browser window.
Unlimited Export: Yes, you can export unlimited numbers of one-page static websites.
No Unnecessary Assets: It exports only those assets(CSS and JS) used by the current web page.
Integrate with popular services: Collect emails, track website, add YouTube/Vimeo videos and even add Facebook Chat
Built on Bootstrap 5: Create your first Bootstrap-based website or Landing page with Staticblocks.
Easily Create Landing Page and Export its jQuery dependency-free source code in one click.
Requirements
Server/Hosting needed
It is a frontend app, not a CMS
It generates a single-page website only
Reviews
Feb 13, 2022

Rating:

This is a great system and the support gets 5 stars +++++