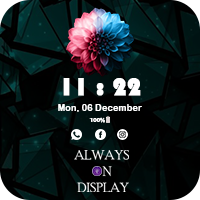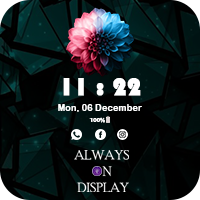 Always on Display - Android Source Code
Always on Display - Android Source Code
Always on Display - AOA - Always On AMOLED - Always on display clock widget - Super AMOLED on Screen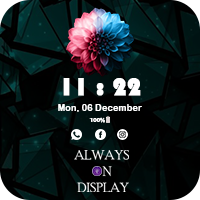 Always on Display - Android Source Code
Always on Display - AOA - Always On AMOLED - Always on display clock widget - Super AMOLED on Screen
Overview
Always on AMOLED (AOA) is a unique always on display which provides you with information about your notifications with edge lighting, clock, date, current weather, music control and much more right on your screen without having to touch your phone or tablet.
Our app is free and was designed to use 0% CPU, and low system resources while keeping your screen on to view all the important details.
To show digital clock always on display we use AMOLED feature of smart phone. This super amoled feature is called ambient display or active display. Always on display (AOD) keep a limited portion of the screen on during sleep mode.
Super amoled lock screen clock widget does not drain battery because, always on display clock on screen just turns on those pixels LED required to show text, image or graphics while other pixels turned off.
Free AMOLED display clock screen saver is used to display clock on screen. This lock screen clock widget have both Analog clocks and LED digital clock templates. To display on lock screen clock download this amazing time widget app.
Download photo clock wallpaper app that provides information about date, time and notification on super amoled screen clock widget. If you have LED digital clock widget app you don't even need to touch your phone screen to see whats going on in your mobile. This analog clock widget is design to show basic info on Super AMOLED screen.
All information on picture clock wallpaper won't disappear from the screen. Even if you have password-protected your screen and it is locked all the info like date, time will be displayed on a lock screen with customized text clock on screen. If you are in search of stylish clock or customized text clock or you want to display quote on screen this photo clock wallpaper will meet your needs.
SUPER AMOLED Live Wallpapers (Display on Screen) is designed for this proposes to show some basic info in black screen whenever you want. All this information will be permanently displayed on your screen.If you want to see what's going on your phone, you can simply take your phone out of your pocket to view all the latest notifications, in a similarly pleasing and minimalist manner by using this best Always on Display app.
Always on Display is an Amoled app that displays basic information like Mobile Time, Date, Notification, Messages notifications
Battery Level and much more on a black screen when your mobile Screen is "OFF".
Amoled Photo Clock Wallpaper Always On Display keep your screen on all the time to show you time in a digital and analog clock.
Clock always on display show information about time, date, notification and many more.
This always on display amoled show all these information without touching your device.
If you have Amoled Photo Clock Wallpaper Always On Display install you don't need for smart watch .
Features
i. Collection of Awesome digital and analog clocks
ii. Amazing UI/UX and very easy to use.
iii. Customized live clock wallpapers.
iv. Show battery level and less battery consumption.
v. Display quote on your mobile screen.
vi. Easily customized text and clock on screen i.e. color and styles.
vii. You can use this app as a Neon night clock wallpapers.
Requirements
Android Studio
Android
SDK JDK/JRE
AdMob Account
Play Store Account
Instructions
Unzip Project File
Open Project File On Android Studio
Run Project
Change UI Design Colors, App Logo And Splash Screen Image For Reskin.