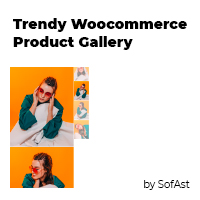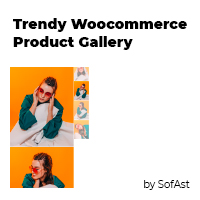 Trendy WooCommerce Product Gallery
Trendy WooCommerce Product Gallery
Trendy WooCommerce Product Gallery with Scroll, Zoom and Fade effects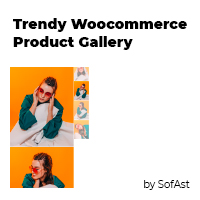 Trendy WooCommerce Product Gallery
Trendy WooCommerce Product Gallery with Scroll, Zoom and Fade effects
Overview
Let me introduce the new amazing Woocommerce product gallery!

Appearance:
This plugin allows you to replace the default WooCommerce product gallery with a more attractive one. Your customers will see all the product images at once, they wouldn't need to click each time they want to see another image.

Customers will also have an opportunity to scroll to any product image they want. For this, they can use the thumbnails column, on the right or left side of your gallery.
You can adjust your gallery: you can choose on which side (left or right) the gallery thumbnails will be shown, and you can turn on/off the Image Zoom.

Options:
The gallery has zoom tools.
You can choose the position of thumbnails for your case, it can be left or right.
The plugin supports RTL (right-to-left) languages. 
Compatible with product variants.

Attention:
For using this plugin you need a WordPress theme, which supports WooCommerce.


Let's be trendy!
Features
Zoom tools
Thumbnails tools
Compatible with product variants
RTL support
Requirements
A WordPress theme, which supports WooCommerce must be installed
WooCommerce plugin must be installed
Instructions
Upload trendy-woocommerce-product-gallery folder to the /wp-content/plugins/ directory.
Activate the plugin through the 'Plugins' menu in WordPress.
Ready to use! You can adjust the plugin according to your needs.