Camera Block - Anti malware - Full Android Source
Camera Block - Anti malware - Full Android Source
Camera Block Free - Anti spyware & Anti malware Prevent spyware, malware and viruses from taking unauthorized pictures and vid
Camera Block - Anti malware - Full Android Source
Camera Block Free - Anti spyware & Anti malware Prevent spyware, malware and viruses from tak...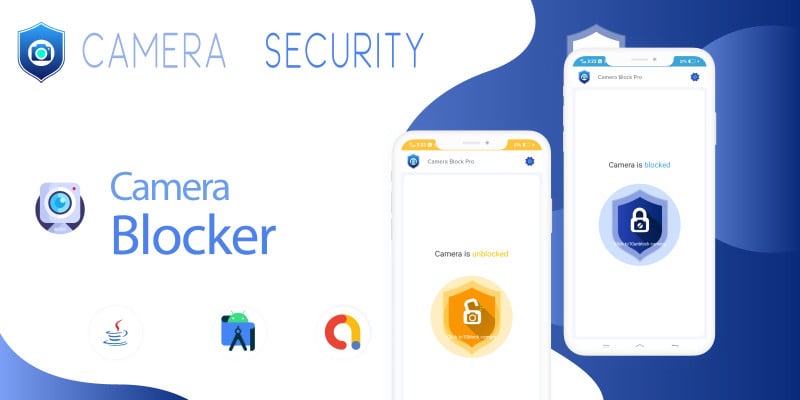 Overview
• App Block All Camera Resources and Disable Access to Camera to Other Apps and Whole Android System [no Root Needed]
- Prevent Spyware, Malware and Viruses From Taking Unauthorized Pictures and  Video  Recordings on Your Phone.
- the App Will Protect Your Phone Camera From Watching and Spying You by Privacy Threats as: Viruses, Surveillance, Spyware and Malware Applications.
- Protect Your Privacy by Protecting Your Phone's Camera From Spying.
- Activate Simply Deactivate the Camera of Your Smartphone.
- Displays the List of Applications That Can Spy on You Thanks to the Camera Permission
Applications That Can Use Your Camera Can Take Your Photo or Film You Without Your Knowledge at Any Time and Then Send These Videos and Photos on the Internet.
Take Control of Your Privacy and Prevent Malicious Applications From Spying on You.
• Why Use Camera Block Pro - Anti Spyware & Anti Malware : 
Secure Camera Blocker to Prevent Spying
Can Prevent Hackers, Stalkers and Spies From Taking Unauthorized Pictures and
Video Recordings on Your Smartphone (No Root Needed)  Monitor Which Apps
Have Camera Permission  Setup Automatic Blocking Periods  Easy to Use Home
Screen Widget for Quick Access  
•FAQ
- Does "Camera Block" Need Camera Permission? Is the App Safe?
- The App Doesn't Require "Camera Permission". Our App Is Also Blocked From Watching You.
This App Uses the Device Administrator Permission. This Permission Allows App to Denied Access to the Camera.
///////////////////////////////////  What's new in version V2 . \\\\\\\\\\\\\\\\\\\
Application support up to Android 12 .
The application works with Android version 4.2 or higher.
Features
App Block All Camera Resources and Disable Access to Camera to Other Apps and Whole Android System [no Root Needed]
An easy easy-to-use interface
Simple and Clear Design With 2 Theme Light & Dark.
Banner Ads
Interstitial Ads
Native Ads
Requirements
Android Studio 3.5.0+
Admob account 
Playstore account 
Android 9 version or less
Instructions
Download Android Studio 3.5.0+
Import project 
Change App Name 
Change App icon 
Change Application Package Name
Change admob id