MusicStore - Music Affiliate Script
MusicStore - Music Affiliate Script
With the MusicStore script you can have an instant and fully automated music affiliate website filled with the best songs.
MusicStore - Music Affiliate Script
With the MusicStore script you can have an instant and fully automated music affiliate website fi...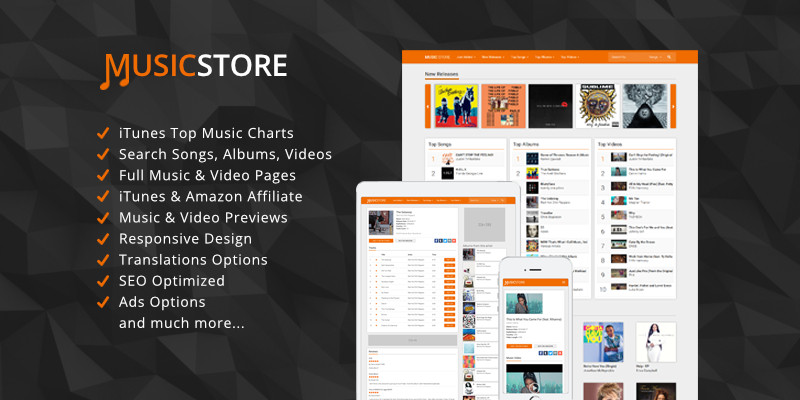 Overview
Discovering new music has never been this fun, with the MusicStore script you can have an instant and fully automated music affiliate website filled with the best and latest songs, albums, music reviews and music videos.
Tons of Music Content
With use of the iTunes api the MusicStore script makes it possible to have a fast, lightweight and huge music store website that is always up to date with the latest and most popular music. The MusicStore script has a modern and responsive design, the homepage features a scrolling carousel featuring the new releases, top 10 charts for songs, albums and music videos and a just added music section, the homepage is also being cached for faster loading.
The users can browse the MusicStore in five categories; just added, new releases, top songs, top albums and top videos, you can also filter the results by genre or use the search function to find any song, album or music video that is available on the massive iTunes music library.
Detailed Music Pages
Single music and video pages contain detailed information about the song or album and provide a 30 seconds music or video preview for each songs and optional iTunes and Amazon affiliate links. If available it will also show sections for the iTunes users reviews and other albums and music videos from the same artist. There is an optional Disqus comments section and also AddThis social sharing buttons and advertisement spots are in place.
130 Countries Supported
You can select to use the iTunes store for your own country to get the most popular music charts in your country, you can see the entire supported country list here. Combined with the MusicStore script translation settings you can easily transform your entire website into any language that you wish.
Make Money
With over 75 million songs and available in nearly 200 countries, Apple Music is the best place to find and experience music. The MusicStore script offers a great opportunity for Apple Music affiliates to promote music and earn commissions from Apple Music memberships by signing up users to the service. Just input your affiliate id and all the links to Apple Music will have your affiliate id attached to them so your sales will be counted with a 30-day cookie window. Read more about the Apple Services Performance Partners Program here.
SEO Optimized
All pages are SEO optimized with OpenGraph meta tags and have a search engine friendly url structure, perfect for search engines like Google to crawl and index your website. You also have the option to add text to create your own unique page titles for improving search engine results. The modern and responsive design is making it also easy for mobile, desktop or tablet users to view and navigate the website.
Features
Top songs, albums and video charts
Search for songs, albums and music videos
Supports 130 iTunes store countries
Detailed music and video pages
HTML5 audio and video player
30 seconds music and video preview
jQuery lazy loading images
Homepage scrolling carousel
More albums from artist section
More videos from artist section
iTunes user reviews section
Browse music categories
Browse music genres
Apple Music affiliate program ready
Language translation options
AddThis sharing buttons
Disqus comments (optional)
Analystics ready
Advertisements ready
Responsive design
SEO optimized
OpenGraph meta tags
Contactform with anti-spam protection
No database required
Runs on autopilot
Easy 5 minute install
Requirements
Apache web server
file_get_contents PHP function enabled
Just simple shared hosting will work fine in most cases.
Instructions
Unzip the package and follow the install instructions in the documentation.