Cartoon NFT Portfolio Wordpress Theme
Cartoon NFT Portfolio Wordpress Theme
You can publish the NFT you have published in the Opensea market in this wordpress theme.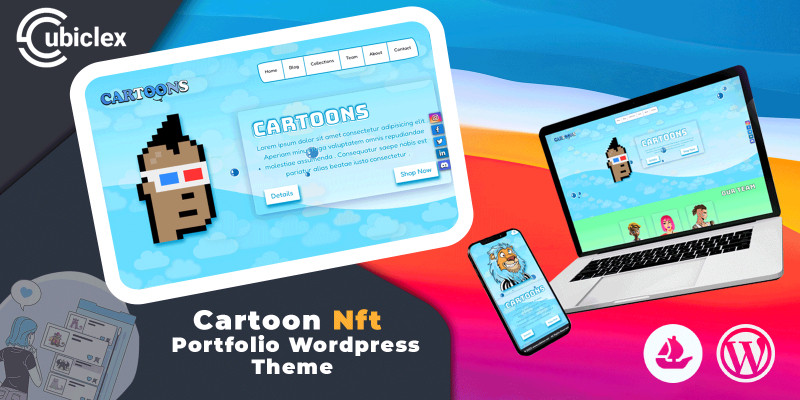 Overview
Cartoon Nft Portfolio Wordpress Theme with unique cartoon design. You can publish the NFT you have published in the Opensea market thanks to our Wordpress Theme. Besides these, there is a blog page. Thanks to Demo Import, the theme is installed with one click and everything comes ready. All you have to do is edit and customize it according to you. You can access everything with a user-friendly interface. You can customize it as you wish with access to all settings.
Features
Compatible interface design with all platforms
You Can Introduce Your Nft Projects To More People.
This theme works in harmony with all popular browsers.
Slider area with animations
Nft coklection showcase area with animations
Shop Now Area
You can reach your nft assets in opensea with one click
Navıgatıon Sectıon
With only one panel you can edit your theme style/parts such as backgrounds, font sizes and colors, borders, shadows and more...
Collection Area where you can display your project
You will interact with more people thanks to this theme that will make your NFT project more institutional and reliable.You can have this theme now with an easy Interface that you can Interfere with all parts
Opensea & Wordpress integration properties
You can list your collections in your theme with only one click. Our theme features make life easier for you.
You will only need a wallet address.
With one click import you will have editable custom post NFT assets. And you can edit them manually...
Properties:
One-Click Data Extraction
Editable Collection Area
Extension Replacement Feature Webp
Collection import with wallet address
Quick collection sharing feature with only a wallet address
Blog Section
You will be able to publish new posts,and people can write their opinions in comments.
You will be able to share any blog post you want on your web site with an easy interface.
In this way, you will be able to increase the interaction with your project.
Comıng Features
Listing your Opensea Nft assets on your website with One Click!
After you mint your assets on Opensea, you would have more traffic thanks to our theme unique Opensea integration features
Footer Section
You will be able to see easily by typing any product name information you want to search on the site with the Search section.
You can see the most recently added articles with the last post section.
You can move your footer widgets with drag and drop. Its that easy.
You can see the latest comments written in the blog section in the recent comments section.
Perfect Design for Mobile Version
In these days, 72% of Users View NFT Projects on Mobile
Easy Access to Social Media and Marketplace
About us section where you can tell yourself and your story
Our Team:
A unique section to show the people involved in your project and honor them
With adding images, backgrounds, social media links you can share more details about people who you working with in your awesome projects
ABOUT US
The story or Purpose of Your Collection VVitn the About Us Section That You Can Explain, You Can Write The Length You Want And Add The Media.
Social Icons
You can have more audience by defining.
Your social media accounts
Can be hide and activated
Gain Reliability With Contact and Google Maps Section
With the Contact Section, you can recruit people you want to be included in your project, or you can reach users who want to present their ideas to you.
Easy Intervention to All Features
Possibility of Intervention on Font, Font Size, Color and Dozens of Features Like This Through a Single Panel
Instructions
Download after purchasing the theme.
Extract the contents of cartoonsnft-all.zip to your desktop.
Select the cartoonsnft.zip file from the Wordpress Theme download section and install it.
Then activate the theme.
Go to the Demo Import section from the admin panel.
Run the demo import.
The theme is ready to use.
Note: If you want to edit the code side, install and activate the child theme in the same way. Make all the code changes you make on the child theme. The reason for this is that when the update comes to our theme, the changes you have applied will not be lost.