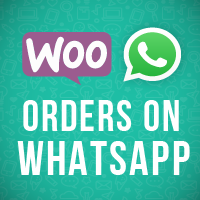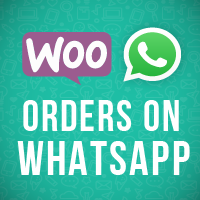 Order on WhatsApp Woocommerce
Order on WhatsApp Woocommerce
Almost everyone these days are connected through their mobile phones. And those who use mobile phones have WhatsApp.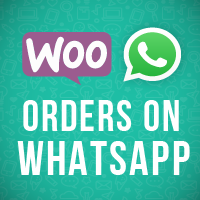 Order on WhatsApp Woocommerce
Almost everyone these days are connected through their mobile phones. And those who use mobile ph...
Overview
Almost everyone these days are connected through their mobile phones. And those who use mobile phones have WhatsApp. In a 2022 survey, it has been reported that there are monthly 2 billion users that are active on WhatsApp, globally.
Looking forward to both the use of WhatsApp and Business markets with online sales and purchases of products, we introduce another fantastic extension/plugin.
Online selling sites are a great way to buy and sell any product but order placement and dealing on WhatsApp using this extension makes it way more convenient. Online selling sites having options of cart and checkout will have another option using this plugin/extension for WhatsApp orders.
This extension will allow you to make an order just by clicking one button, "Buy Now" which will take you directly to the checkout procedure via WhatsApp.
Features
Modifying Title Name of WhatsApp Button
The button that shows its title for WhatsApp order can be modified through configuration settings, as if it is "Buy Now" you can change its title to "Order on WhatsApp" or "Place an Order" etc from your mobile.
Customer Support
For better buy and sell services through this extension, there is another functionality which is to enter salesman details such as "Sales Person Name" and Sales Person Contact Number" so that customers can directly ask for details such as order placement and product current status, etc.
Alternate customer support is also available. One contact is for the salesman and the other is available in case of help or a failed contact with the salesperson.
Pre-Text Message
Another functionality of this plugin is a pretext message that will show up to the customers who place an order. For example, a message says "I would like to buy the following Products" and then the product you place an order for.
Enable/Disable WhatsApp Button
This functionality allows the admin to enable or disable the WhatsApp button for different types of products for E-commerce businesses serving to buy and sell platforms for users. It can be enabled or disabled for all types or only for simple or grouped products or any other external/affiliate products.
Exclude Product
Another feature of this plugin is to exclude certain products from the list of products where there is an option for ordering on WhatsApp. It means you can easily disable the "order on WhatsApp" button for any specific product or many products. Although the excluded products will be displayed in the shop among all other products WhatsApp option will not be available.
Checkout-Sharing Whole Cart Details via WhatsApp
Customers who opt for WhatsApp orders can click on the button for placing an order on WhatsApp and proceed to checkout. There will be a pop-up window asking for address details for further proceedings. Customers can share whole cart product and address using this plugin.
Requirements
WordPress 3/4/5.x.x - WooCommerce 3/4/5.x.x
Instructions
There are 3 ways you can install this plugin

Installing From WordPress Website Dashboard
 To install this plugin from the dashboard, click on -> Plugins and then click on -> add new. You can search for specific plugins by entering the search bar.
 After installation click on -> Activate which takes a few seconds to get finished.
 If you no longer need a plugin you can deactivate or uninstall it by clicking the option -> Plugins -> Installed Plugins.
Installing the Woocommerce plugin Manually
 To install this manually you can download it from any other legal website in a zip file format.
 Then click on the ->Plugins option and add new.
Click on the option in the left corner -> Upload Plugin.
Choose a zip file of the plugin to be uploaded. Then click on the-> Install now -> Activate Plugin.
Installing plugin using FTP
Another way to install this extension is by connecting it with FTP.
Download the plugin from the WordPress website or any other authentic website. You will have the downloaded file as a zip file.
Extract the file.
Now make a connection between your WordPress website and FTP using the FTP client to transfer files.
 After the connection is established, open FTP and sign in with provided username and password.
 After login, open wp folder and upload the extracted file from the ->Plugins.
 After uploading the file, go back to the dashboard and click on ->Plugins -> Installed Plugins and click on ->Activate on a plugin you uploaded.
Our Support
We guarantee the process of the module with a standard pattern.  If you need help with customization or fix, for pricing or any other details please contact us without any hassle.