GamerEgg - Next.js
GamerEgg - Next.js
Find the best freebies in gaming! From free game keys to Steam keys to gift codes for your favorite games.





Average rating of

5.0

based on

1

votes
GamerEgg - Next.js
Find the best freebies in gaming! From free game keys to Steam keys to gift codes for your favori...





Average rating of

5.0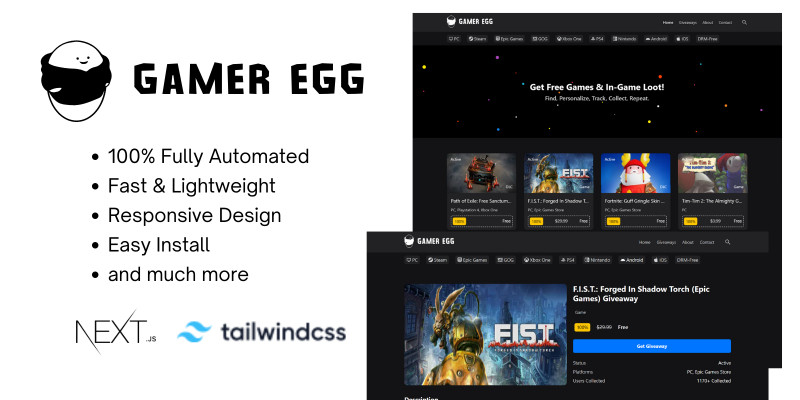 Overview
GamerEgg connects gamers to legitimate giveaways from Official Publishers, Steam, Epic, GOG, Android, IOS, Nintendo, PS, Xbox and more!

GamerEgg  is probably the most overpowered tool for gamers! GamerEgg  is all about helping you find, track and collect the best giveaways in gaming! From free games to beta keys to free in-game loot and currency for your favorite games and more, you won't miss out on a single freebie with GamerEgg by your side!
Features
Built with Next.js.
100% Fully Automated
don't need a database
don't need to pay for the api.
Easy Install
Manage your loot collection and add your favorite loot.
Discover giveaways easily and get introduced to new opportunities.
Get personalized recommendations tailored just for you.
Get exclusive goodies, level up your account, and much more!
Search Giveaways.
Browse All Giveaways.
SEO Optimized, Fast loading, W3 Validated.
Compatible Browsers: Edge, Firefox, Safari, Opera, Chrome.
SEO & sitemap support: access sitemap.xml to see more.
Fully Responsive: Compatible with all screen resolutions.
And much more
Instructions
Next.js project bootstrapped with create-next-app.
Getting Started
First, run the development server:
npm run dev
# or
yarn dev



Open http://localhost:3000 with your browser to see the result.
You can start editing the page by modifying pages/index.js. The page auto-updates as you edit the file.
API routes can be accessed on http://localhost:3000/api/hello. This endpoint can be edited in pages/api/hello.js.
The pages/api directory is mapped to /api/*. Files in this directory are treated as API routes instead of React pages.
Learn More
To learn more about Next.js, take a look at the following resources:
You can check out the Next.js GitHub repository - your feedback and contributions are welcome!
Deploy on Vercel
The easiest way to deploy your Next.js app is to use the Vercel Platform from the creators of Next.js.
Check out our Next.js deployment documentation for more details.