4Mind ChatGPT - Android App Source Code
4Mind ChatGPT - Android App Source Code
4Mind is most powerful AI tool for android. In this app you can send pdf files, images, messages, voice to AI
4Mind ChatGPT - Android App Source Code
4Mind is most powerful AI tool for android. In this app you can send pdf files, images, messages,...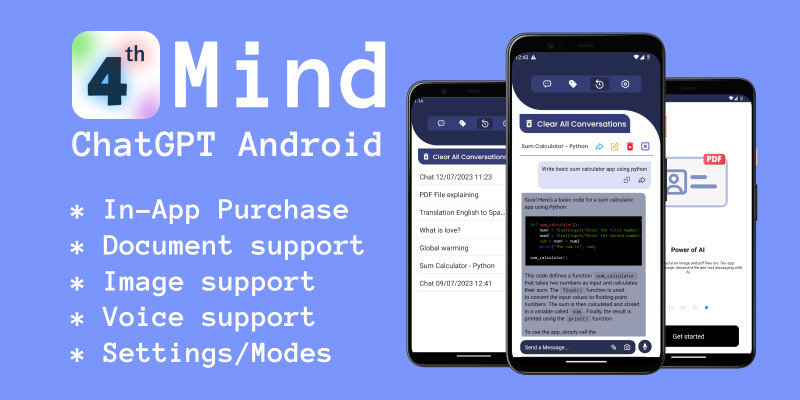 Overview
"ChatGPT Android" is an artificial intelligence bot enriched with OpenAi language model using OpenAI API.
4Mind is most powerfully AI android app created by ioplio.
With our app you can send pdf files, images, messages to AI. You can ask to AI with your own voice and AI can answer to you with voice too


Features
- UI with different Animations
- Rate app feature
- Share app feature
- Email us feature
- Dark and Light Modes
- Material Design UI
- Google Admob Ads
- Android 12 and 13 Support
- Clean documented code
- Android Studio project (Java + Kotlin)
- AI Support All languages
- 4 Mind app support 5 languages
   English, Spanish, Russian, Turkish, Azerbaijani. (New languages will be added)
- In App subscription (with latest version v6.00)
- Credit system (Watch ads get credit) 
- Saved Chat History
- .pdf can be sent to AI
- Can ask qustions with your own voice
- AI can answer with voice too
- You can send images to AI too
- Coupon system for special users
1. Fully Integrated with OpenAI Platform.
2. Integrated with Lottie Animations.
3. Modern UI/UX.
4. Free Lifetime update version.
1. Settings page
2. Free Installation & Support
3. Admob Google Implemented (Monetize Ready) Banner and interstitial ads
4. Share and Copy functionality for ChatGPT response
5. TTS and STT functionality 
6. Firebase for change api online (Admin Panel)
7. Support more android devices! (old & new android versions)
Requirements
Android Studio
Admob Account
Google Play Console Account
Android device (for testing)
OpenAI account for getting API


Instructions
"This app uses the OpenAI API to provide some of its functionality. OpenAI is a third-party service and is not affiliated with CodeCanyon or the developer of this app. The developer of this app is not responsible for any issues arising from the use of the OpenAI API."
⚠️ If you want to get approval from Google quickly Don't forget reskin your app before publish
Contact us

Let me know if you have any questions about the project I would love to answer them
Other items by this author