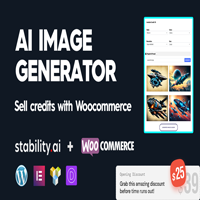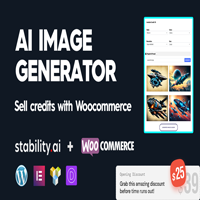 WP Stability AI Pro - AI Image Generator WordPress
WP Stability AI Pro - AI Image Generator WordPress
Offer Stability AI image generation and editing capabilities to website users with seamless Woocommerce integration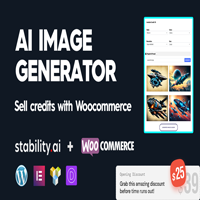 WP Stability AI Pro - AI Image Generator WordPress
Offer Stability AI image generation and editing capabilities to website users with seamless Wooco...
Overview
WP Stability AI PRO - Empower Your Website with AI Image Generation & Editing!
* AI Image pro uses generative image APIs from OpenAI & Stability.ai for generating and editing images. These are paid APIs that incurs costs which you will need to pay as per your usage. For more info about these costs please check OpenAI and Stability.ai


Unlock Limitless Creativity with Stability AI Image Generation and Woocommerce Integration.
Elevate Your Website's Visuals with AI-Powered Image Creation & Editing.
Discover the limitless potential of visual creativity with WP Stability AI PRO. Experience the power of Stability AI text-to-image conversion coupled with seamless frontend form integration and Woocommerce support. Empower your website's frontend users with credits, customizable options, and a dynamic shortcode system, all aimed at delivering an exceptional AI image generation experience.
Features
Key Features:
Stability AI Image Generation: Elevate your website's visuals with AI-generated images, ensuring stability and precision for frontend users.
User-Friendly Frontend Form: A user-friendly frontend form allows customers to create stunning images from text effortlessly. Users can customize styles, colors, detailing, types, and even add negative prompts for personalized creations.
Woocommerce Integration: WP Stability AI PRO integrates seamlessly with Woocommerce, enabling credit-based purchases for users. Admins can assign specific credit amounts to Woocommerce products, and users receive equivalent credits upon purchase.
Credit-Based System: The credit-based system enhances user engagement, encouraging them to explore their creativity. Users gain access to the AI image generation form based on their accumulated credits, fostering a sense of ownership and loyalty.
Exclusive Access & Dynamic Shortcode: Only logged-in users with sufficient credits can access the frontend form. A dynamic shortcode system prompts credit replenishment when a user's credits hit zero, ensuring uninterrupted access to the image generation form.
Admin Management: Admins and store managers have full control over plugin settings, including API key integration, image generation limits, preferred AI models, and user credit spending.
Ongoing Support & Updates: Exceptional customer support, ensuring a smooth experience for admins and users. Regular updates keep the plugin optimized for the latest WordPress versions and AI advancements.
Seamless Installation & Setup: Installing WP Stability AI PRO is quick and easy with a user-friendly setup wizard, guides users through the configuration process.
Secure Credit Management: The credit-based system ensures secure credit transactions and accurate credit assignments, providing users with a confident credit purchase experience.
Optimized Performance & Responsive Design: WP Stability AI PRO is optimized for performance, with minimal impact on website loading times and server resources. The plugin's responsive design adapts flawlessly to all devices.