Lemon - Share Whatsapp And Telegram Groups
Lemon - Share Whatsapp And Telegram Groups
Simple php site for sharing whatsapp and telegram group links
Lemon - Share Whatsapp And Telegram Groups
Simple php site for sharing whatsapp and telegram group links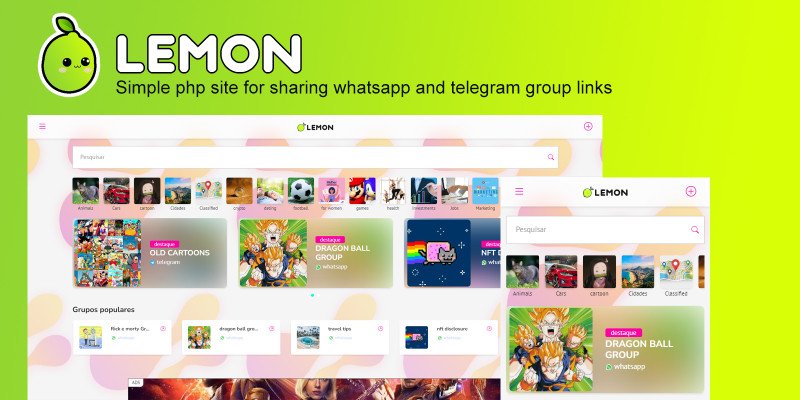 Overview
We present to you our WhatsApp and Telegram group link sharing platform, developed with the aim of making link sharing easier and more organized.
With our platform, users can submit their links and choose the most suitable group category for them, without having to register. Also, our admin panel allows admin to accept or decline groups, add new categories, manage ads and accept paypal payments.
Our platform also features PWA, which means it is mobile friendly and can be added to the home screen of smartphones.
With our product, making Whatsapp and Telegram group link sharing organized and efficient is possible. Don't waste any more time looking for random groups, try our platform today and enjoy an easier and more organized way to share your links.
Our Whatsapp and Telegram group link sharing platform project was developed using various technologies, including PHP, Javascript, jQuery and Bootstrap.
By using all these technologies together, we were able to create a modern, functional and easy-to-use WhatsApp and Telegram group link sharing platform for our users.
Paypal test 
email: [email protected]
password: jBKJQp3.
https://lemon.codigolaranja.com/admincp/
Admin: [email protected]
password: admin12345
Features
Admin panel
Approve, edit and delete groups
Create, edit or delete categories
Create, edit or delete pages
View payments made via paypal
Add, edit or delete admin users.
Configure name, description, logo and website colors.
Search group by name or type.
Configure email.
and much more.
Requirements
Important: PHP : >= 8.0
Extensions: cURL, OpenSSL, mbstring, MySQLi, Mod_Rewrite
Database: MySQL 5.7.3+ or MariaDB equivalent
Server: Apache
GD Image library installed
PHPMail extenton
Keep in mind that other extensions than the ones mentioned here may be required, as these requirements assume you run on a decent, up-to-date server that should have the necessary basic extensions already working.

Instructions
Every step by step necessary for installation is available in the /documentation folder, which follows along with the product.