Facebook Youtube Video Downloader - FB-YT Grabber
FB-YT Grabber is a Facebook and Youtube video downloader PHP script.Download any Facebook video or youtube video.





Average rating of

4

based on

2

votes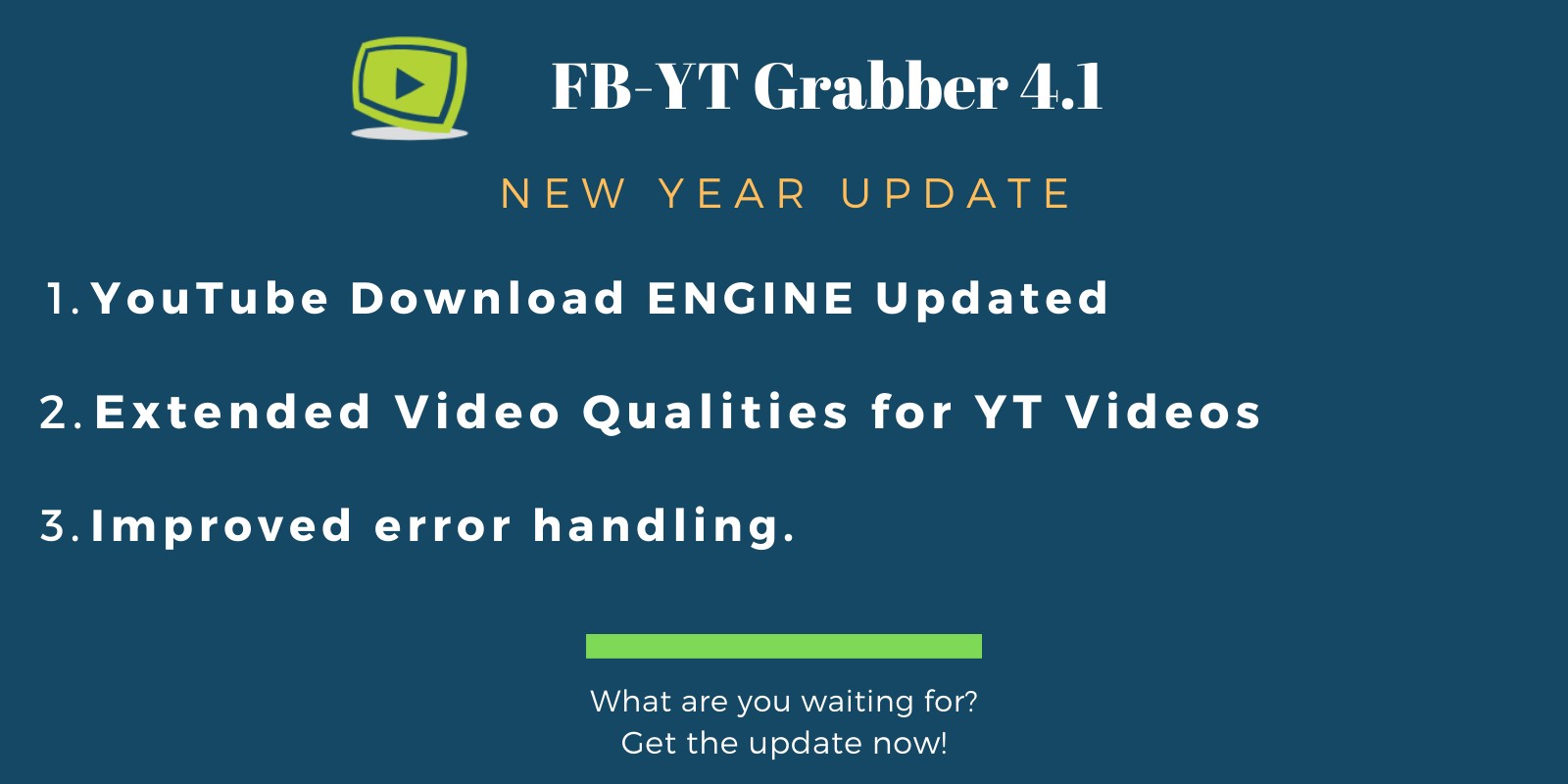 Overview
Facebook & Youtube Video Downloader Script is a powerful video downloader script for both Facebook & Youtube.FB-YT Grabber allows you to download any video in multiple quality.You can also play video before downloading.The script has unique responsive design and built with Bootstrap.
Features
Version 3.1 - 01/12/2018

- Updated Youtube Download engine
- Fixed file size bug.
- Improved downloader speed


Version 3.0 - 30/08/2018

- All videos are available again to download.
- Improved Cipher signature Decrypt Algorithm.
- Added file size for Youtube Videos.
- Fixed some bugs.


Version 2.2 - 04/12/2017

- Fixed downloading issue for some videos.
- Improved Cipher signature Decrypt Algorithm.
- Improved error handling.


Version 2.1 - 08/11/2017

- Added Ads system feature.
- Support 4 types of ads.
- Ads are responsive to mobile and desktop users.
- Added support for Google Analytics for site stats.
- Added some other settings.


Version 2.0 - 09/10/2017

- Fixed issue of downloading error for some youtube videos.
- Removed unneccsary download links for youtube.
- Added title for 720p videos.
- Added signature decrypt function for encrypted videos.
- Improved error handling.


Version 1.0 - 27/09/2017

-Initial release


Download SD & HD quality video in MP4 from Facebook.
Download multiple quality such as 144p, 240p, 360p, 480p, etc from Youtube.
Feature to play video before downloading.
Support multiple types of URL.
Unique responsive design.
Help page for newbies.
Requirements
PHP 5.3 or higher
Server with PHP
No Database need
Instructions
Unpack all files from zip.
Paste all unpacked files to folder allowed for web server.
Open the URL where you just copied the files.
Done!