Short URL Expander PHP Script
Short URL Expander PHP Script
Get long URL from hundreds of URL shortening services
Short URL Expander PHP Script
Get long URL from hundreds of URL shortening services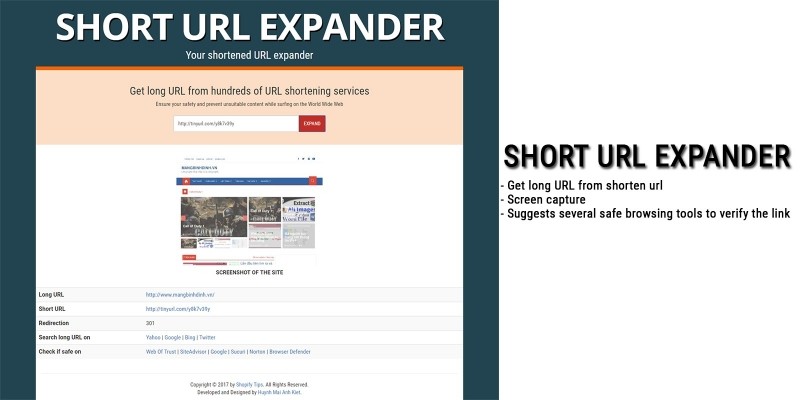 Overview
Short URL Expander is a service where you can find out where the destination of a shortened URL will take you to before clicking on the link. Short URL Expander suggests several safe browsing tools to verify the integrity of your shortened links: thanks to WOT (Web Of Trust), SiteAdvisor, Google, Sucuri, Norton or Browser Defender. By examining the link prior to clicking, you'll have more of a chance of avoiding phishing, malware, and viruses by examining short URLs before visiting them. You'll have more of an idea if this website is safe or not!
Features
Get long URL from shorten URL
Suggests several safe browsing tools to verify the link
Using ajax technology
Unique responsive design
Simple and clean-looking template
Requirements
PHP 5.x or higher
Server with PHP
No database need
Instructions
Unpack all files from zip.
Paste all unpacked files to folder allowed for web server.
Open the URL where you just copied the files.
Done!