Fluky - Random Video And Message Chat for Android
Fluky is our new app template that represents randomly generated chat rooms be it video or message conversations.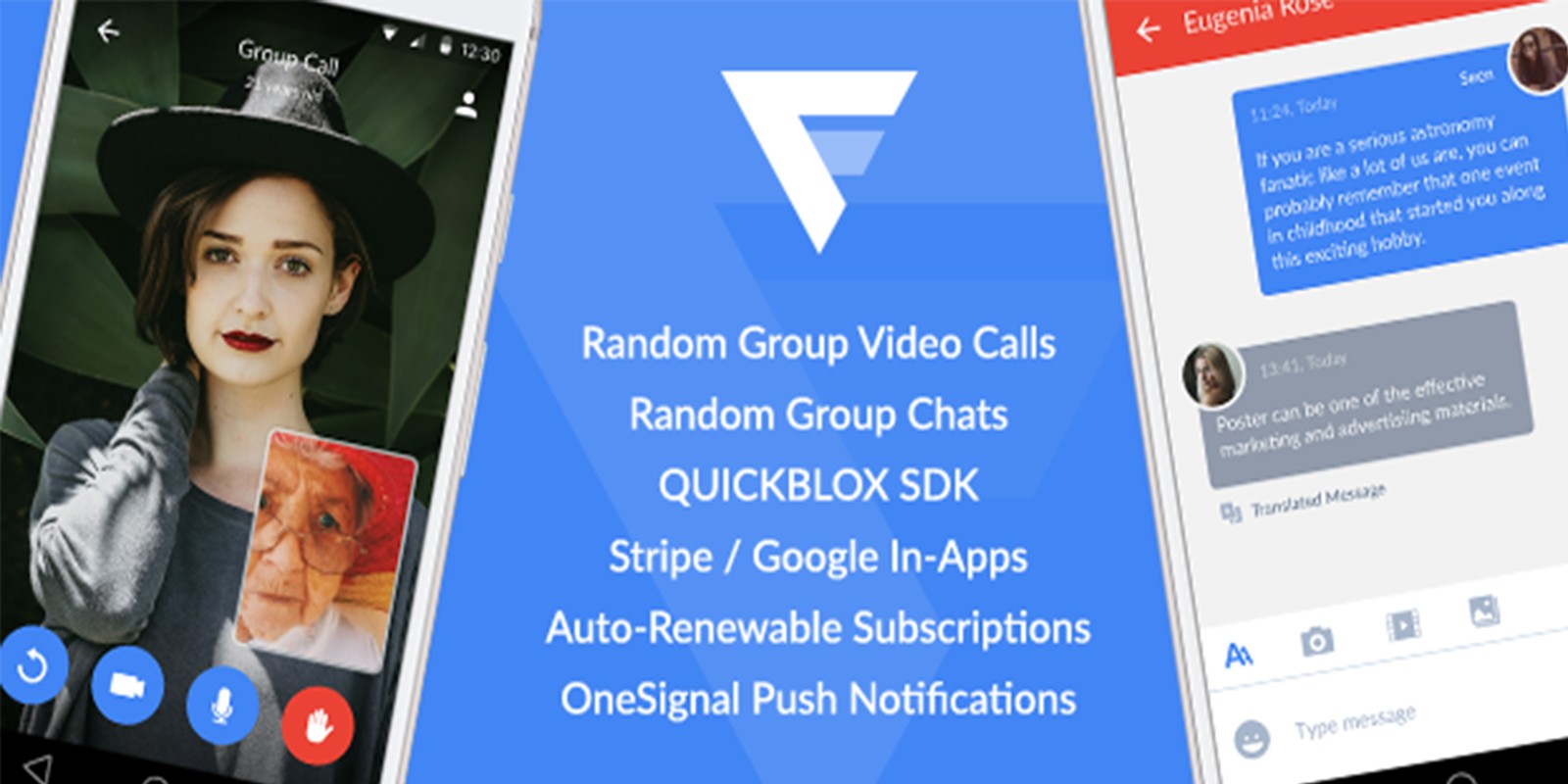 Overview
Fluky is our new app template that represents randomly generated chat rooms be it video or message conversations. The app is working based on QuickBlox SDK (https://quickblox.com/) which is a ready-to-use Chat API and grants the possibility of video & chat connections with random people. The user can configure settings as desired to filter the results when connected to the room. Also the user can add interests which work like tags, and will also have a role at filtering the search results depending on what interests are active. The standard monetization implemented in the template comes as a PRO subscription that grants user access to advanced search settings, unlimited video chat sessions & the access to group chats (up to 4 people, including the user). The advanced search settings are presented as the ability to search by age, gender, interests, country & language. Once the connection is established users are free to engage in conversation, send messages, images & videos.
If someone decides to leave the session, other users can continue (in case of video sessions, if the person that creates the chat room leaves the session is ended). Users can also send reports for inappropriate content or behavior.
User gets to create the account
User can add interests to further filter the search results, which can be activated/deactivated as desired
To initiate a chat room the user must choose the kind of room he'd like to create (Solo/Group & Voice/Chat Room)
Advanced Settings available for PRO: Define the search results by country, gender, age, interests, language
User is available to buy PRO version buy touching the "Get PRO" button in Room Settings
During the chat, user can mute his microphone, turn on/off his camera, stop the chat & re-roll the search, view interlocutor's info
User can report misbehavior of another user
User is available to share: images, videos, messages
Features

- Random Video Chat Calls (1-on-1 & group)
- Random Message Chat (1-on-1 & group)
- Chat Support For Sharing: Images, Videos, Emojies
- QUICKBLOX SDK Integrated
- OneSignal Push Notifications
- CodeIgniter Backend
- Detailed Documentation
- Minimum Android 4.2 Supported
- Stripe / Google In-App Purchases: Auto-Renewable Subscriptions
- Search by: Gender, Age, Country, Language or Interests
 
Requirements
- Latest Android Studio Version
- Google Developer Program
- Everything else is indicated in the documentation
Instructions
*The product file comes with a well-explained documentation on how to reskin & setup the app template.
1. Full Reskin of the Application
Graphic Assets modification
Desired Color Scheme
Minor layout modifications
2. Dedicated Project Manager
Highly responsive manager
Completion in terms of deadline
3. Launch Services
AppStore ASO
Necessary promotional graphics (Screenshots, icon, etc.)
-Complete ready for submission store listing