Offertoro Offers PHP Script
A get paid to PHP script using only Offertoro Offerwall.
×
This item is temporarily not available for sale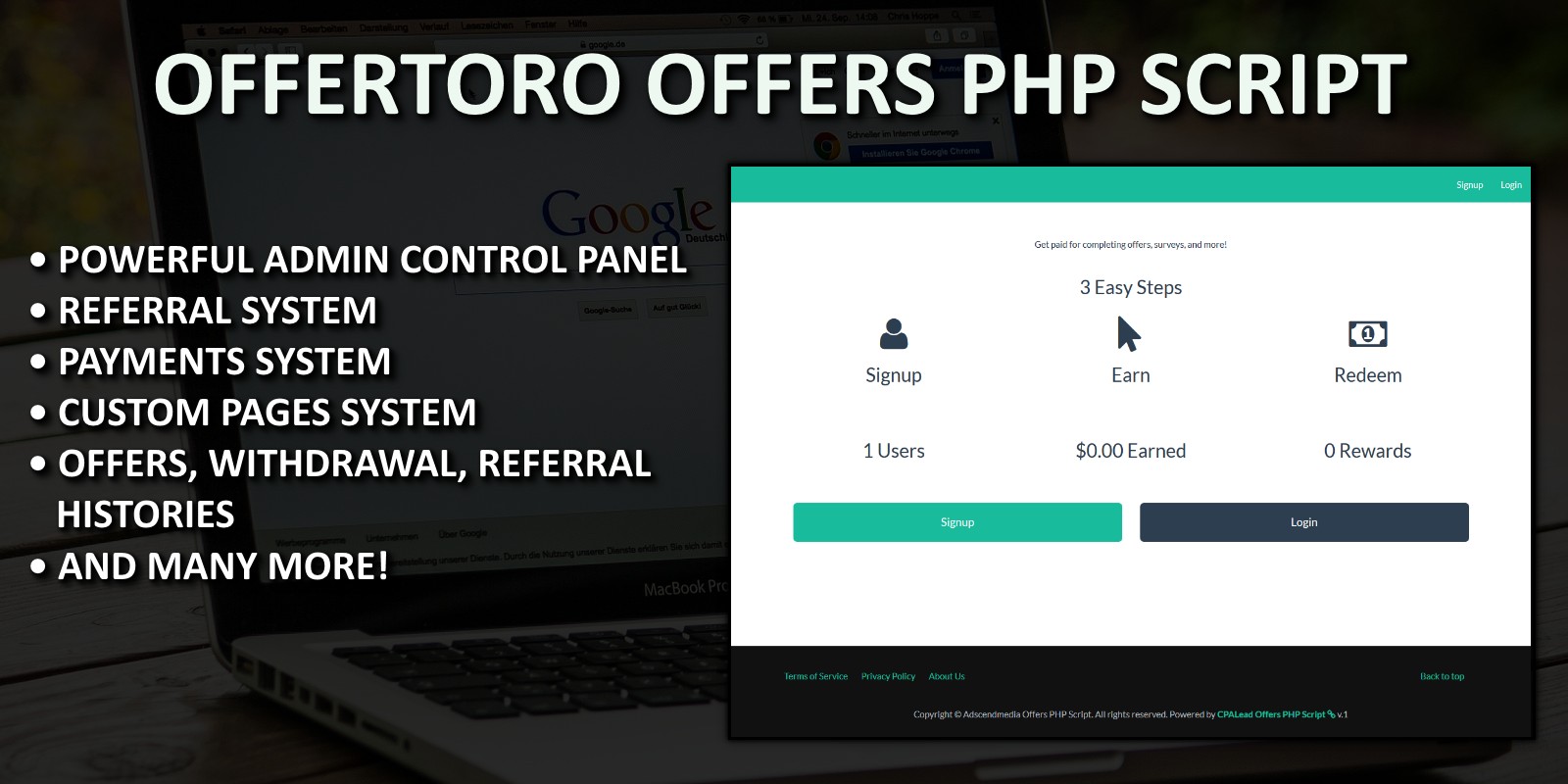 Overview
This script is a offer rewards system. Users can complete offers, watch
videos, view websites, download software, buy trials and complete
surveys via Offertoro then be rewarded with points. The site admin can
earn as much as they would like to via offerwall settings, and by
applying fees on user's payouts.
Features
Admin Panel
Payment Provider Module - Add any payment provider for user cash outs
Affiliate Module - Allow users to refer other users to earn points and have more users join the site and you can earn more!
Theme Switcher- Allow users to change the theme for their account!
Pages Module (NEW) - Add pages like terms of service, privacy policy and more.
Point Conversion Module (NEW) - 100 points = $1, or 1000 = $1k, etc
Statistics (Offer History, Redemption History, Referral History)
Bootstrap CSS
Mobile Responsive
100% open and editable source code (not encrypted)
and many more!
Requirements
PHP
MySQL Database
mod_rewrite module
cron jobs (daily)
Instructions
You'll find an installation.html file, open the file up and follow the instructions.
Information
Category
Scripts & Code / PHP Scripts / Miscellaneous
First release
27 December 2017
Last update
27 December 2017
Files included
.css, .html, .sql, Javascript .js
Software version
PHP 7.0, PHP 5.4, PHP 5.5, PHP 5.6
Database
MySQL 4.x, MySQL 5.x
Tags

php

,

points

,

gpt

,

rewards

,

gpt script

,

offertoro

,

get paid to

,

earn money

,

offerwall