Food Ordering - iOS Source Code
Restaurant fastfood and drink ordering iOS app is completed app in native source code for iOS platform.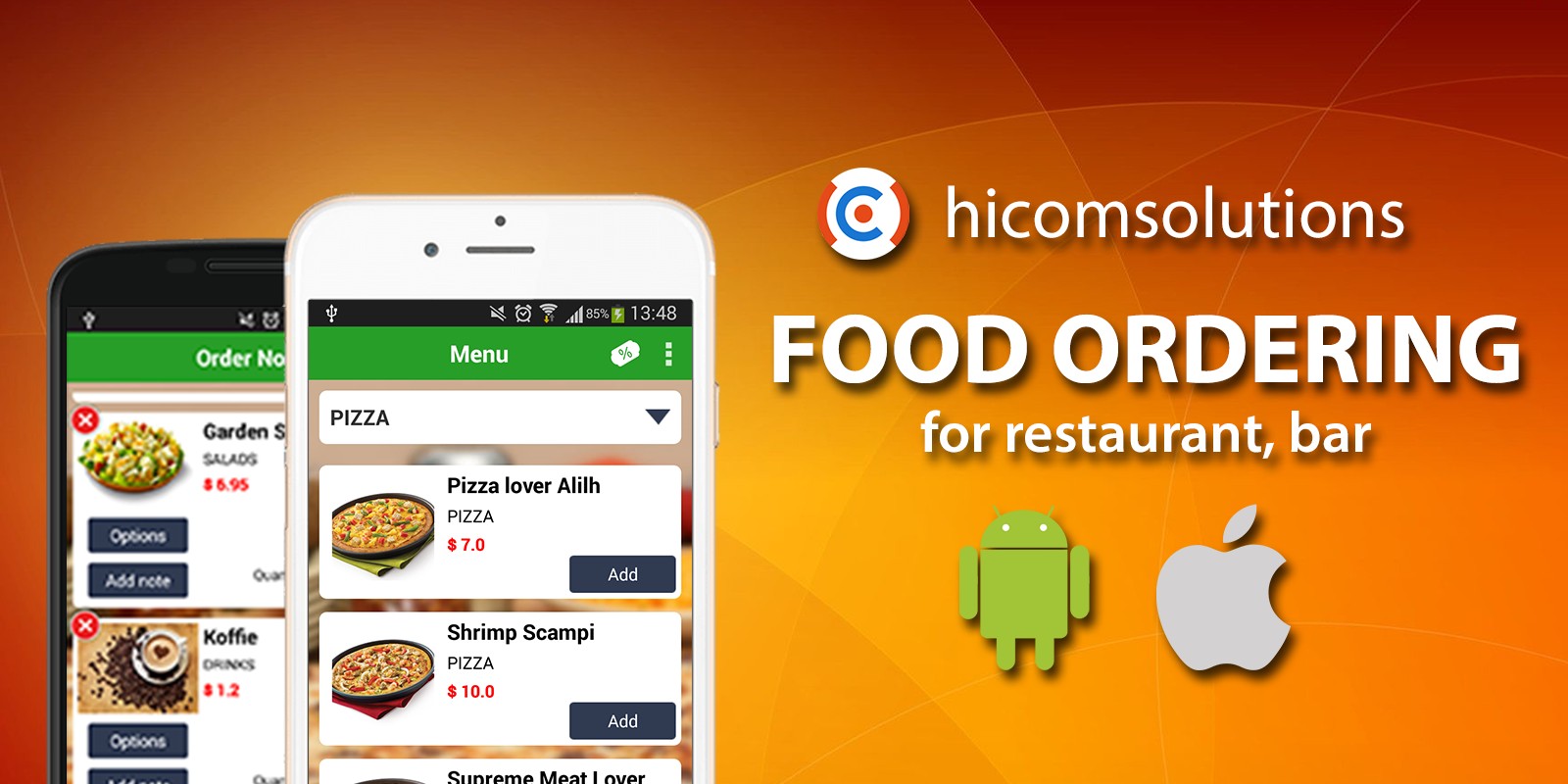 Overview
Restaurant fastfood & drink ordering iOS app is completed app in native source code for iOS platform that help you build ordering app for your restaurant. The fastfood restaurant can be Pizza, Hot dog, Sandwich, Hamburger, Coca Cola, Pepsi, etc. This app enables buyers to find and order food/drink easily. Buyers pay in app via PayPal payment gateway and can track status of each order. We provide not only source code but also custom development services. Contact us to know more.
Demo:
iOS TestFlight: Please provide us with your itunes/apple email address. We will use TestFlight to send you the demo invitation

Backend Demo: click here
This app is for iOS platform only. Regarding Android version, we have separated Android version with the same features & common backend. Find Android version from our portfolio
Features
App Features
Search and select menus (food)
Menus are grouped into categories
Add to cart
Support menu variants (allow buyer select multi options for each menu by category)
Adding notes to each menu
Send orders to backend
3 payment methods: paypal, bank deposit and cash on delivery
Map integrated for direction
Contact the restaurant
4 roles: buyer, chef, delivery and admin

Buyer can login, register and view order history
Chef can update status of an order from New to In process and Ready
Delivery can update status of Ready to Deliveried
Admin can view dashboards which are number of orders by day, week, month and year
Note: we already removed the waiter role

Push notification of order status for buyers, chef, delivery and admin
Backend Features
Manage food & drink, categories, menu options and all orders at web-based backend
Instructions
How to Setup and Reskin:
Download includes:
1 completed app source code for selected platform (android or ios) / 1 purchase
1 web backend source code (full source code)
2 documents to install backend & setup app
BONUS: 5 app HTML landing page templates (just template, not with this app content yet)
BONUS: Full Photoshop files
Note: Single license has documents for the installation & setup but does NOT include our direct support by default. To have our full supports, we strongly recommend the Multiple license or Custom quotation.
BUY TODAY TO GET BIG BONUS:
5 app HTML landing page templates (just template, not with this app content yet) ($100 value)
Full Photoshop files for easier to redesign app ($50 value)
FREE download for future updates
Discount if you buy more than 3 templates from us
Yes, you heard right. We will give away up to +$150 value as the bonus when you purchase this template. Contact for the bonus after the purchase. Thank you!
Premium Services:
Backend setup service
App setup & submission service
Design & Reskin service
Languages translation service
Customization service
Make HTML landing page for users to download app
Make professional promo video & photos for your app
Premium services are not included by default. Please make Custom quotation if you want them.
Why choose HiCom Solutions?
About HiCom Solutions:
We are online business providing reliable Mobile App Templates & App Development services.
"HiCom Solutions" is verified and well-known brand on the Internet (Google Search).
HiCom stands for "Highly Committed Quality Products & Excellent Services".
We provide services worldwide. Be our happy customer, no matter where you are.
Why choose HiCom Solutions?:
Our mission is to save your TIME & MONEY by customized app templates. Choose us with confidence:
As a full-time dedicated agency, we are serious about app templates & customization business in the long-run
We quickly response to your enquires within 4-24 hours to provide the best service
We offer 1 YEAR BUG-FREE warranty to ensure quality
We are trustworthy long-term partner, never give up or run away whenever you need helps or supports
We are available for further setup, reskin or any customization requests from app designing to publishing
We have both NATIVE Android & iOS versions with the common backend
We non-stop improve our templates over time, and you can download any future updates for FREE
We specialize in Android, iOS app design & development. They are our life-time passions.
We have plenty of app templates for any idea to start with
We have discount policy for loyal buyers who purchase multiple times
Click to learn more about us: