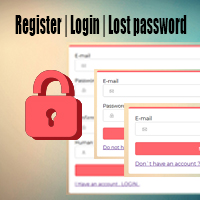 Simple Safe Login System PHP
Simple PHP/MySQL Register / Login / Lost Password PHP script is easy to apply. Once the user is logged system writes a session





Average rating of

4

based on

1

votes
Overview
Simple PHP/MySQL Register / Login / Lost Password PHP  script is easy to apply. Once the user is logged system writes a session
Admin/User demo:
admin: username: admin@admin.com | password: admin
user: username: demo@demo.com | password: demo
or you can to  register a new one. Please use a real email address for the activation link.
Features
New User Registration
E-mail activation link valid for 24 hours
User Login
Lost Password
Unique Token key for every time you ask for a new password
24 hours valid link for the new password form
Restricted area for admin
Restrict Access to User Area
User Logout
Instructions
Edit database.php file in /inc/ folder
Create a database and import users.sql file.
Upload the script your your server.
Run the script
Reviews
Aug 16, 2018

Rating:

Instruction are ok, but after everything is setup i was able to create an account, but unable to login as the user, even after activation process.
Eventually I figure out that you need to delete all the sessions in order to be able to login. After I would login, it would redirect to the login page, by removing the sessions I was able to avoid the redirection and go to the user page.