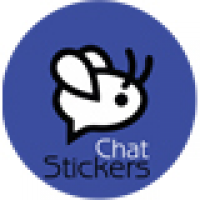 Photo Chat Sticker - iOS Source Code
Make your chat conversations funny and hilarious with amazing collection of chat stickers spread across 10 different genres.
Overview
If you are looking for photo/picture stickers app & want to make
your Facebook & Snapchat more hilarious with unique chat stickers,
Emojis (emoticons) & smileys, then Chat Stickers for WhatsApp &
Facebook is for you. Featuring unique collection of stickers across 10
categories, this chat sticker app is a must have for your iPhone.
Features
* Select the stickers category as per your choice
* Pick your favorite chat sticker from 1000+ unique stickers, Emojis (emoticons) and smileys
* Add stickers to gallery photos and selfies
* Personalize the sticker by adding/writing text in stylish fonts and color on the selected sticker
*
Share customized chat sticker through WhatsApp, Facebook, Instagram,
Snapchat, Hike, Google Allo and other chat messenger applications
* Add sticker to your gallery photos or camera pictures
* User-friendly interface
* Free to download
Requirements
iOS 9.0 version and above
Instructions
* Select the stickers category as per your choice
* Pick your favorite chat sticker from 1000+ unique stickers, Emojis (emoticons) and smileys
* Personalize the sticker by adding/writing text in stylish fonts and color on the selected sticker
*
Share customized chat sticker through WhatsApp, Facebook, Instagram,
Snapchat, Hike, Google Allo and other chat messenger applications
* Add sticker to your gallery photos or camera pictures
* User-friendly interface
* Free to download