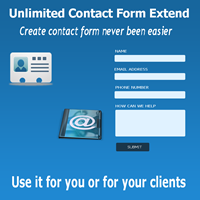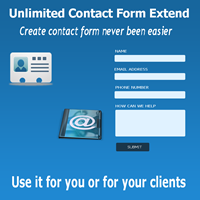 Unlimited Contact Form Extend PHP
Unlimited Contact Form Extend PHP
Create your contact form in few steps. Use it for you or your clients





Average rating of

4.0

based on

2

votes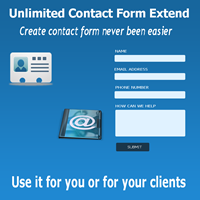 Unlimited Contact Form Extend PHP
Create your contact form in few steps. Use it for you or your clients





Average rating of

4.0
Overview
How many contact form I can create?
Just as the name says UNLIMITED. You are not limited by the number of contact form.
Can I change created forms?
Yes. You can change every part of your forms (id, class, tag, label, placeholder,..). Also you can add new box or change the old one.
Free template for your form
You have available five templates for free for your contact forms. And all what you need is to add a class in the row section.
If you want to create own template you can do that in output/css/cfe-style.css
DEMO
Username: admin
Password: 123
Features
Create contact form in few steps.
You don't need database for Unlimited Contact Form Extend.
Free responsive templates for your contact form.
AJAX request.
If javascript turned off message will be send anyway, because this is smart contact form.
Instructions
How to start?
IMPORTANT! You don't need DATABASE.
Upload Unlimited Contact Form Extend on your server.
Go to core/settings.php and opet this file.
All what you need to set up Unlimited Contact From Extend is in (settings.php) file.
In folder documentation you have included two videos for setting up and about creating form