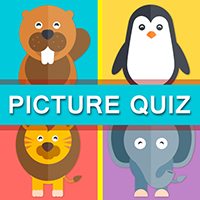 Picture Quiz - Complete Unity Project
Picture Quiz Game full project with Unity (Don't need the programming skills! )
Overview
—————— Ready for publish on Android and iOS! ——————
——————-Don't need the programming skills! ———————–
———— All Plugin SDK have been integrated into the project! ——-
*** Guess hundreds of pictures, train your brain and hunt for coins
and higher levels – Play the picture quizzes in multiple languages now
***Download Picture Quiz puzzle game now and guess from a lot of
pictures from different categories. Is it an image of an animals, a
football, a baseball or a pizza.Easily to add new game modes and
additional game languages. Can you find the words for every picture?
Train your brain and learn new words by solving guessing the pics in
different languages. Play with your kids to learn new words and
languages. Download the Picture Quiz trivia game now and enjoy the
challenging picture puzzle, it is 100% free, the perfect brain training.
Start quizzing now! 
Link APK Demo:
https://drive.google.com/file/...

Features
Unity Engine 5.4.3f1 for Android,iOS
Admob
Unity Ads
Share With Image With data game (Level,score) with link store.Rate game…
132 levels with unique pictures (fruits, spices, sports, tools, foods, vegetables, nature, office, wild animals, flowers…). It is easy to understand and easily change the question.No programming skills required, just drag and drop and type answers on the unity editor interface
Play Picture Quiz in multiple languages (english,spanish).Easily add new languages
High resolution photos
Everything has instructions in the document in the game project
Tutorial Edit,Add New word,New language: https://www.youtube.com/watch?...
Instructions
Google Mobile Ads:In Unity Editor ,Assets->Picture Quiz->Scenes->Select "MainGame" Scene-> Hierarchy ->Select "Admob" object ->Changeyour admod banner,instertialid ->Done!
Unity Ads show video reward ad (Can't skip video when tap Free coins in" Home scene"),when finish video you get 10 free coins;
Rate :
Share : Unity Editor , Assets->Picture Quiz->Scenes->Select "MainGame" Scene -> Hierarchy ->Select "ShareGame" object->Insert your url game for share!