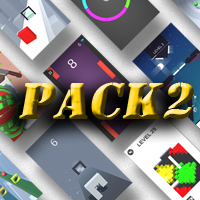 Unity Games Bundle Pack 2
Fun casual games developed in Unity. Games are completely ready to be published.
1 Support questions or comments
1 month ago

There is some errors in all games especially in car Merge. Cars are overlapping. So its not working smoothly. And no back button action for all games. Please help or refund the amount.

1 month ago

Hey,
I think the problem might be that for some reason Unity does not add the Tags that I am using in the game.
Please play the game inside Unity (2019.1.1f1 version) and check the console for any error messages.
If I am correct error messages like "XY Tag is missing" should appear.
All you need to do to fix it is adding the tags manually. You can do it by clicking to any gameobject, and in the Inspector click to its tag, click on Add Tag, and then type in the missing tag.
It should work perfectly after that.

1 month ago

worked fine,How to add more cars ?