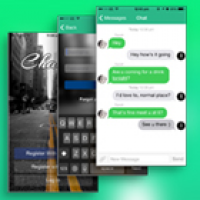 Chatter Messenger Chat App - iOS Source Code
Chatter is a basic instant messenger app for iPhone.Chatter uses Parse as its backend which is amazing, free, and easy to use.





Average rating of

2

based on

1

votes
3 Support questions or comments
11 months ago

your app have a problem no body can register
Feb 10, 2016

The Chatter app don't find any registered users? How can I resolve that?
Dec 20, 2015

Sorry for the late reply, this is something you would have to message Codester about.