Jancuk - Anonymous Social Network Android
Jancuk - Anonymous Social Network created for anonymous communication. With this platform you can publish anonymous posts, make co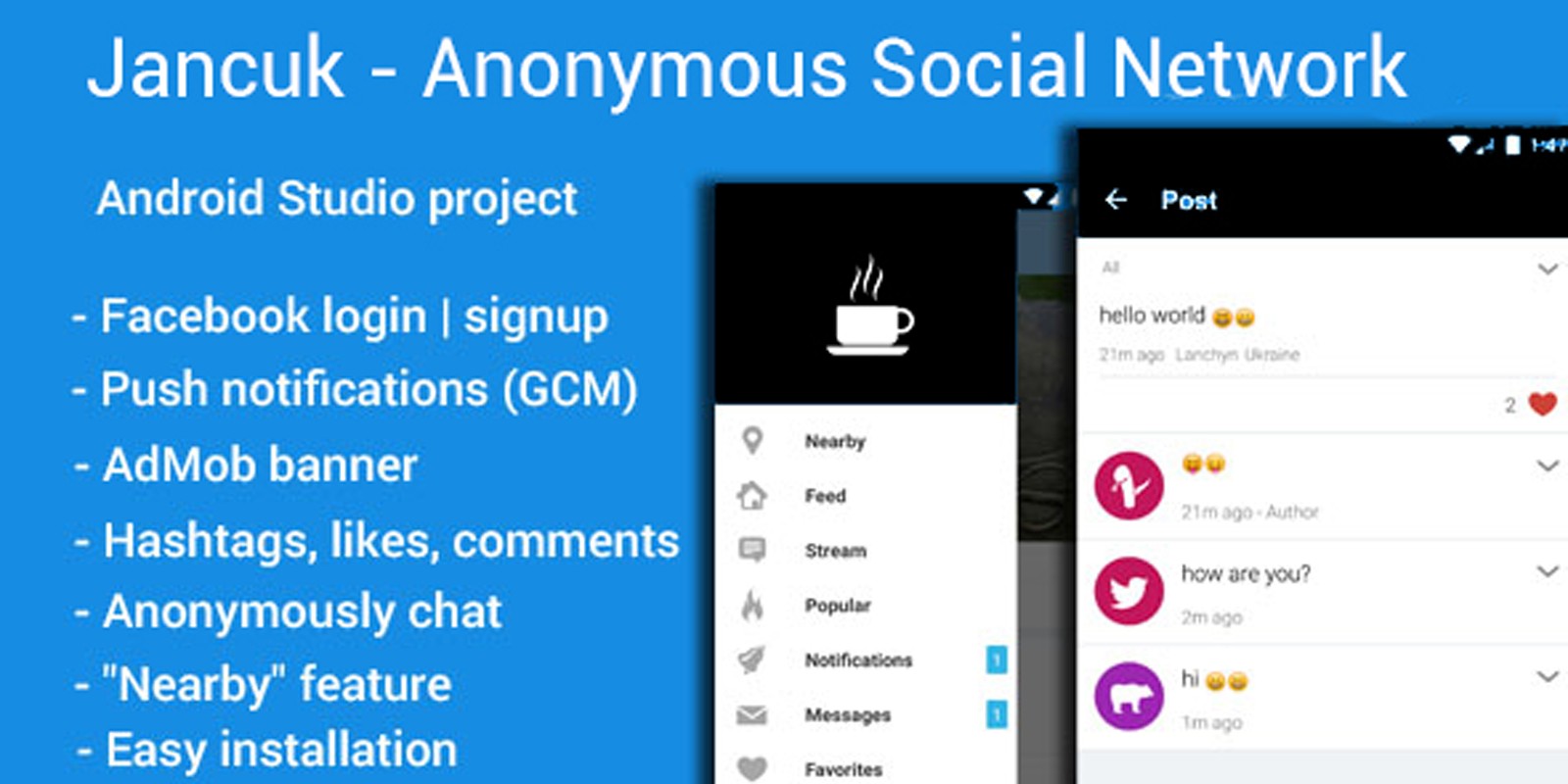 Overview
Jancuk - Anonymous Social Network created for anonymous communication. With this platform you can publish anonymous posts, make comments to the posts, as well as an anonymous communicate via messages in real time (anonymous chat). With the function "Nearby" you can see the user posts that are near you.
Jancuk - Anonymous Social Network application is built in Android Studio. The server side is built on object oriented php with a MySQL database. Installation of the server part is done quickly in a few simple steps.
Apk demo: Link to download the apk
About admin panel:
The full-featured admin panel allows you to manage user accounts. With sections Stream and Messages Stream You can see in real time what is happening in your anonymous social network now. Also, the admin panel has other important features: view personal conversations of users and advertising management in the application.
Admin panel demo: Link
Login: AinulMaker
Password: LAMONGAN123
Requirements:
Hosting with PHP, MYSQL
Features
Application Features:
Hashtags
Likes
Comments
Delete posts
Anonymous subscribe to user posts
Posts categories
Block users
Feed section
Nearby section
Favorites section
Personalize your notifications
Anonymous communication using Direct Messages
Direct Messages with images/photos (Real time)
Submitting tickets to support from application
Abuse reports to posts
Facebook login|sign up|connect|disconnect
Images and photos in posts
Images and photos in messages
Push notifications about new comments, likes, comments replies, messages
AdMob banner
And much more …
Admin panel Features:
Statistics
Posts Stream (View and Delete)
Messages Stream (View and Delete)
View abuse reports to post
Support section
Edit user profile
Block|unblock user profile
View personal user conversations
On/Off AdMob banner for all users or for an individual user
View recently sent messages (GCM)
Send push notifications (GCM) to all users or for an individual user
Requirements
Android Studio 
Firebase Console Account
Google Admob
Web Hosting
Instructions
Documentation file is provided in the main file, 
And customize as you want