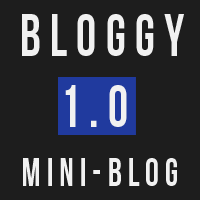 Bloggy - CMS Mini Blog Script PHP
Bloggy is a mini blog for to share your experience or your life on internet





Average rating of

4

based on

3

votes
Overview
BLOGGY__ is the ideal way to start out your personal blog and share your life around the world.
Detach existing CMS and get a unique rendering, different from other existing CMS.
This script includes simple and complete features.
Features
Admin Panel
Add & Edit Article
Add Category
Cookie System
Password secured with BCrypt
Edit profile for member
Login / Register Member
PHP PDO
Instructions
Read the documentation for more details.
Reviews
1 month ago

Rating:

best and its best and so cheap you can use it for private use also thx admin its the best

1 month ago

Rating:

It's good, but some important functions are missing...
1. No validation of the registration form, adds several same users.
2. Visible login and registration form when the user is logged in.
3. It is not possible to change the profile picture.
3. You can not hide pages for guests.

Of course, these options I managed to do, but I do not have validation of the registration form...


7 months ago

Rating:

A great script...with a modern look. I recommend it to everyone. A Good support also from the author.