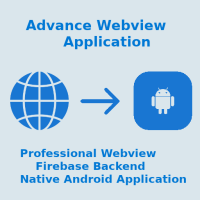 Webarjun - Android Webview App With Firebase Backe
Professional Native Android Application with Firebase backend + admob.
Overview
Webarjun-Webview with Firebase Backend and Admob for Earning money.

Convert Your Website into Android Application in some Simple Steps.
Website URL store in backend so you can change URL any time
Demo APK :- https://drive.google.com/open?...
Push Notification setup in App
Easy to use this Webview Application
Features
Firebase Backend
Push Notification
Admob for Earning
Material Design
Well Written documentation
Offline Web Application
Firebase Sign In
Firebase Sign Up
Term & Conditions 
Requirements
Latest Android Studio & SDk
Firebase Backend
Admob Ids
Instructions
Download Project Main files
Exctract main files and follow documentation