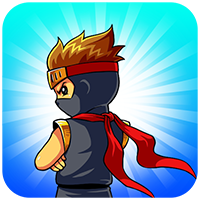 Ninja Runner - Buildbox Game Template BBDOC
Ninja Runner is an amazing game full of adventures.
Overview
Ninja Runner is a classic platform adventure game.
Ninja Runner is suitable for all ages, it's a Running Adventure game where you need to cross different obstacles,
overcome dangers, Along the way, Try to collect as many as possible coins you find, You will love this game too.
+ This game has been created with buildbox 2.2.5 (BBDOC file included)
Features
This game has generated by buildbox 2.2.5 software
Easy Resking with [Spritesheet Editor]
Support newest API 27 or latest API Version
There are Help Documentation for easy reskin
Requirements
Android Studio 3+
Buildbox 2.2.5
Instructions
In the Documentation you can search detail information on how to re-skin this project.
You can change settings all of game process, it's easy, you just need to change value in settings file.
Also you will be able to setup Ad-Mob in just a minute by inserting your ads IDs and nothing else!
Project have good documentation and you can contact us for solve your problem! Thanks for stopping by. If you like our work and purchased one of them , don't forget to rate and follow to receive all our new work For Support : Feel free to contact us bgalaxy623@gmail.com Give us feedback or any advises.