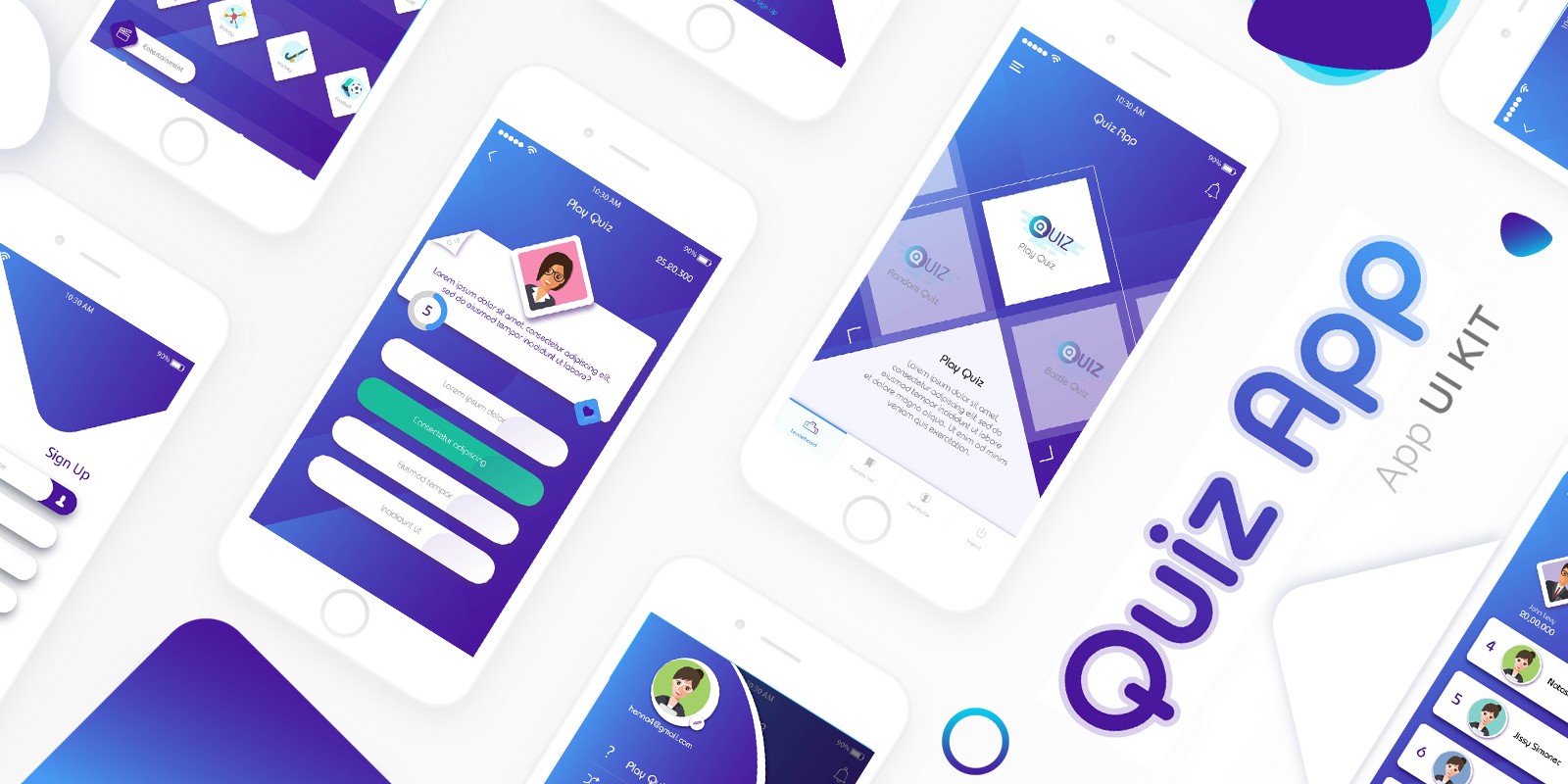 Overview
Quiz App is form of game in which the player attempt to answer the questions correctly. The UI Kit is available vector file with all the icons which used in the quiz. From this UI Kit you can create amazing app with dashing UI Design.
Which attract the user to use the application more and more. The most important benefit of this UI kit is you can implement this UI for both app platform: Android & iOS. The flow of the quiz app is as simple as easy to use with a clean modern design using the latest Trends Styles of Design With a Purple and Light Blue gradient Color and elements, colors can easily be changed to any color you want ! Minimum color is makes app more clean and standard UI Design. 
A gorgeous set developed to inspire Your next world's quiz game/app, and it's totally based on Minimal Modern Design Standards. This UI Kit is useful for design the any type of quiz like, Educational Quiz, General Knowledge Quiz, Reasoning Quiz, Logical Quiz, Maths Quiz, Logo Quiz, Image Quiz, Entertainment Quiz, etc. This single UI Kit design is useful for multiple quiz, with Category, Multiple Choice Question, Review of Question - Answer, Leaderboard.
This UI kit contains 14 highly customizable AI Files along with the logo source file and you can easily change color style and images with Smart Objects Just by One Click. Enjoy it !

Features: 
15 AI Files Retina-display (1242×2208) and resizable everything is fully vectors and layered. Totally based on Latest IOS Design Standards with colorful backgrounds and Rounded Buttons & Textfield with shadows, Fully Layered & standard fonts with gray text color.
AI file are well organized with grouping and layers makes it easy to customize. You can easily change the color from Gradient option in AI File, In Photoshop Double click on layer and change the color from Inspect Elements. You can use your fonts just by select the text and choose specific font from the font list. You can export icons easily as all icons with custom size. Icons are vector, they are expandable without lose of quality of icons.
Quiz App screens
Splash Screen
Login Screen
SignUp Screen
Home Screen
Navigation Drawer Menu
Choose Category
Play Quiz
Play Image Quiz Screen
Battle Quiz
Score View
Leaderboard
Review of Question - Answer
View Profile
Change Password
Score History
Thank you for your time… Please don't forget to rate my item
Features
AI File with High Resolution Screen
Fully Layered with grouped
For both iOS and Android app
Vector based Graphics Elements
Modern & Dashing Design
100% Editable Vectors 
Customised Designed Vector icons
Pixel Perfect and Easy to edit

Requirements
Adobe Illustrator CC
Fonts : Bahaus & Typo Round Demo
Understanding of Illustrator required. UI Kit Only, knowledge of App Development required to implement design
Instructions
Simply open the ai Adobe Illustrator CC
Edit the text layers to match your own text by double clicking on the text and typing.
Change the Gradient Color from Window -> Gradient and change the color