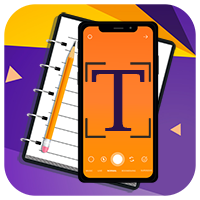 Text Scanner - Android Source Code
Best (Image OCR) text scanner tool. Scan and convert any document, pdf, image business card or photo into text. Detect and extract





Average rating of

5

based on

2

votes
Overview
Text Scanner : Image to Text converter convert all Language is a basic and simple to
utilize application that can extricate any text on image and let you convert
your preferred content substance to any language. A to Z Words scans photo to
text convert. Best (Image OCR) text scanner tool. Scan and convert any document,
pdf, image business card or photo into text. Detect and extract text from any
document, image, paper, book, newspaper or whiteboard. A simple and reliable
optical character recognition tool.
Features
Converts an image to text.
Features
Features:
Open camera in this, 
Scan your text on image, label, visiting card & etc,,
Covert to real text,
Copy text and save
Save & easy share
 Converts an image to text.
Instructions
- Read "Guide" in the folder