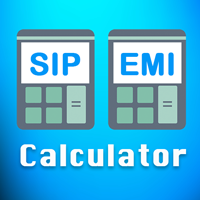 SIP And EMI Calculator
SIP in Mutual Funds is one of the best way to save money and invest. This easy SIP calculator helps you plan your SIP investments
Overview
SIP & EMI Calculator 
SIP in Mutual Funds is one of the best way to save money and invest. This easy SIP calculator helps you plan your SIP investments. With SIP calculator app you can see estimated gain across different mutual fund categories. You can see both SIP returns as well as one-time (lumpsum) returns.
This Smart and handy app is used to calculate EMI(Equated monthly Instalment ) of car, home and other Loan entities/ Mortgage Calculator. Track your income and expense using this app. Calculate how to manage money by calculating emis, sip and in loans.
1. Calculate monthly emi of loan amount with interest 
2. Calculate loan affordability(How much you can pay monthly emis) 
3. Compare two loan amounts with monthly emis.
4. EMI Calculator
5. SIP Calculator
Example:
Monthly SIP Amount: 5,000
Tenure (Years): 20
Rate of Return (%): 15.0%
Investment Amount: 12,00,000
Return on Investment Amount: 63,79,775
Maturity Value: 75,79,775


Demo apk : https://www.dropbox.com/s/obz2...
Features
1. Calculate monthly emi of loan amount with interest 
2. Calculate loan affordability(How much you can pay monthly emis) 
3. Compare two loan amounts with monthly emis.
4. EMI Calculator
5. SIP Calculator
Example:
Monthly SIP Amount: 5,000
Tenure (Years): 20
Rate of Return (%): 15.0%
Investment Amount: 12,00,000
Return on Investment Amount: 63,79,775
Maturity Value: 75,79,775
Instructions
- Read " Guide" in the folder