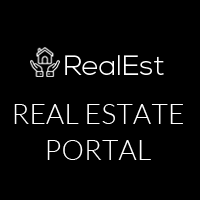 Realest - Real Estate Portal Script
Highly Customized Real Estate Portal Script
Overview
Modern Real Estate Portal solution with industry innovative features, specifically designed for easy customization. with Fully Responsive design i.e. the content automatically fits the viewer's computer screen. It consists of all part which is required while creating a new website for real estate Portal. Script have features like Adding Properties and Projects. This website can be managed from an admin panel.
Admin Demo
Username : [email protected]

password : password

Features
Responsive Design
Secure Script
Build in Codeigniter Framework
All needs of listing real estate inventory
Requirements
Above PHP 5.6
mod_rewrite module enabled (Apache 2)
Mysql
Image GD Library
Instructions
Installation and Guide is available on Download Folder.