Clinic Management System PHP Script
Sanjibani-Clinic Management System Software, Clinic, Laboratory, Diagnostic Center Software, Medical Test Centre Software,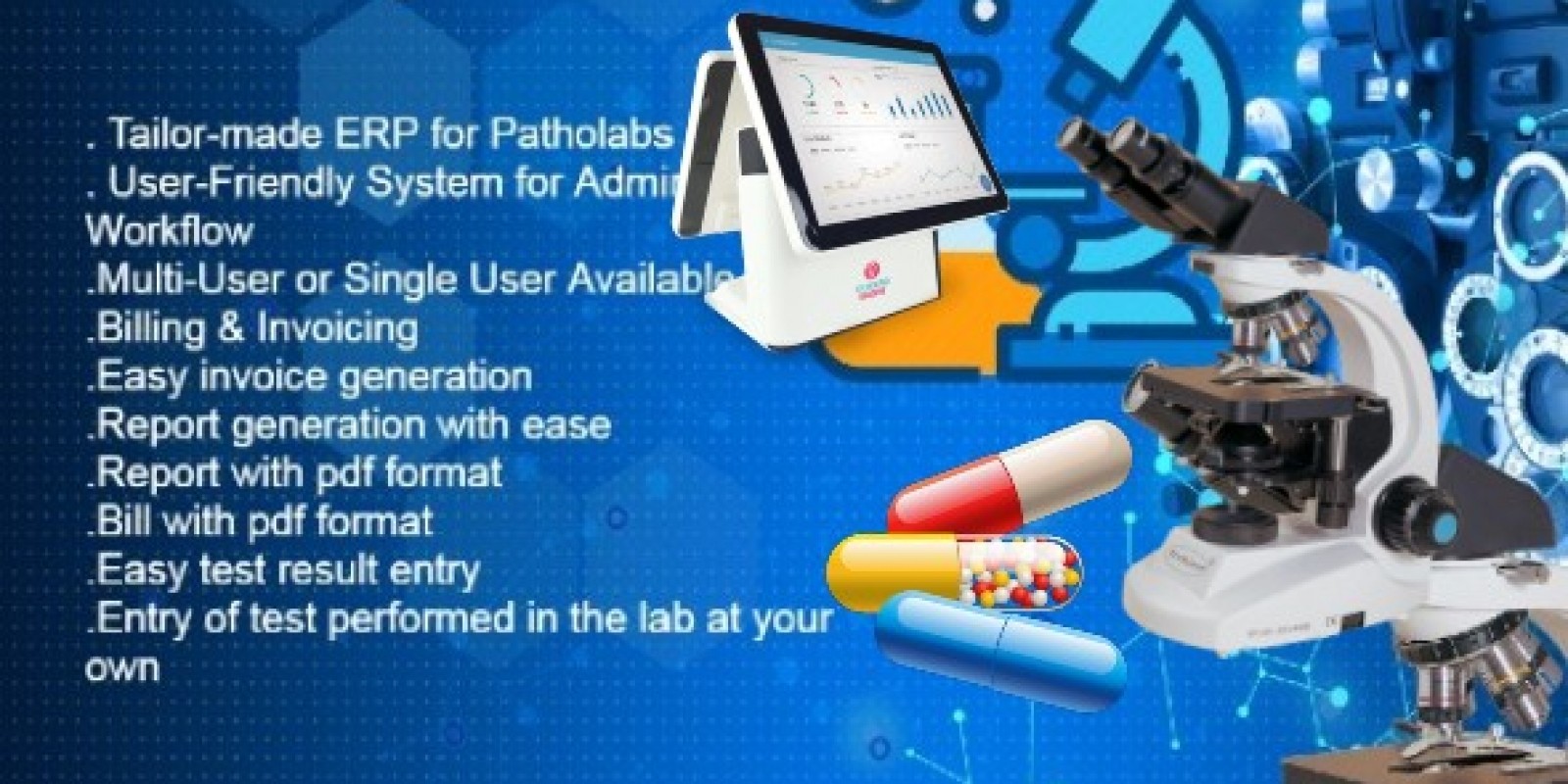 Overview
Sanjibani-Clinic Management System makes laboratory operation got simpler & convenient,Today, laboratories are getting crowded thus, to manage reports, billing are time-consuming tasks. To operate labs with a greater level of efficiency and quality work, Pathology Management Software is the best suit to recent requirements and future needs. Healthcare access has been transformed in the digital age with an easy software installation at diagnostic centers. Where Sanjibani-HIMS comes with a complete understanding of your clinical, operational requirements and support the pathology labs for ease the work. Being a user-friendly digital application has proven its excellence in multiple ways.
Sanjibani-HIMS keeps a record and diffuse information about tests and examinations recommended by the doctors or healthcare experts. This software is user-friendly with its affordable modules supports allowed to get full control in your hand. With an amazing facility of bill & report generation. This enhances privacy and accuracy of right treatment & test results with clear doctor's interpretation allows diagnosing diseases at the right time.
Clinic Management System is applicable as Pathology Software, Clinic, Laboratory, Diagnostic Center Software, Medical Test Centre Software, Billing, Lab Reporting, Blood Test Report Printing Software, UrineTest Report Printing Software. Lab Technician Software,
Features
Pathology Software Includes Following Features
Tailor-made ERP for Patholabs
User-Friendly System for Administration Workflow
Multi-User or Single User Available
User-Friendly & Very Easy Software
Billing & Invoicing
Easy invoice generation
Report generation with ease
Report with pdf format
Bill with pdf format
Easy test result entry
Entry of test performed in the lab at your own
Printing of report and bill facility
Increase Productivity
Easy & Customize Data Entry Forms
Helps To Run Entire Laboratory Functions Smoothly
Efficient & Cost Effective
Key Features
Pathology Test Management

Creating new test with category,adding test particulars
Entry test results and generate report
Create invoice for pathology tests

Doctor Management

Doctor Registration
Setting doctor commission
Report of doctor commision

Test Invoice Generation

Create invoice of test performed
Printing invoice
Report of invoice generated

Pathology Report Generation

Pending reports
Entry result of completed test
Printing of completed report

Doctor Management

Doctor Registration
Setting doctor commission
Report of doctor commision

Patient Management

New Registration
Medical History
Visit Details
Profile
Total Billing

Purchase Management

Item Master
Creating vendor
Item Inward
Purchase Details
Printing purchase bill

Human Resource

Employee Registration
Fully integrated attendance system
Salary scheme
Salary Generation
Printing Salary slip
Leave Management
Leave Application
Salary Advance
Security Deposit

Accounting

Ledger Creation
Automated Sales and Expenses
Voucher Entry
Day Book Details
Trail Balance
Loss and Profit

Settings Management

Lab Name
Header Printing Management
Select Currency
Address etc
Report foot note entry

User Management

Integrated multi role user
Permission creation
User creation
User link to employee
User group creation
Requirements
To installing Sanjibani-HIMS, Your web server must be running PHP 5.6 or higher(recomended 7.x) and Mysql 5.1 or higher. We have tested it with Windows, Mac and Linux but for optimum performance we will recommend to use Linux with Apache webserver. Below are a list of items you should ensure your host can comply with.
PHP 5.6+ (recomended 7.1.8)
MYSQL 5.1+
mod_rewrite Apache
MBString Extension
MYSQLi Extension
Zip Extension
CURL Extension (recommended)* In most hosting accounts, these extensions are enabled by default. But you should check with your hosting provider.
After installation Sanjibani-HIMS to work properly, you must make few directories/files writable. Below are a list of directories/files you should ensure that have write permissions.
installation_dir/application/config/config.php
installation_dir/application/config/database.php
installation_dir/application/config/autoload.php
installation_dir/application/config/routes.php
Instructions
Documents is provided in the downloaded source code