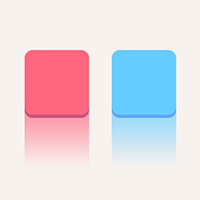 Blockz - A Unique Brain Teaser Buildbox Template
A Minimalist brain teaser game with fun challenges made with buildbox !
Overview
Blockz is a fun puzzle game where you control two blocks and you need to guide them to the gate by simply swiping in the four directions .. The two blockz need to enter the gate at the same time or you will start again !!! And be carefull you need to avoid all the obstacles and use your brain to find the right way to the gate .. in blockz there are many obstacles which might change your distination or block your movement but withthe great music that helps you to relax you can find the right way
Available on Google Play : https://play.google.com/store/apps/details?id=com.booboo.blockz
with 30 levels and more to come Blockz is a perfect buildbox puzzle game template ready to be published
Features
❖ Full Game Template 
❖ AdMob Interstitial
❖ Universal game resolution
❖ Unique Gameplay and Sound Effects
❖ 30 Levels and you can add more by yourself !!!
❖ Watch ad to skip feature
❖ Complete User interface Share (Rate - Sound Option...)
you will get this files:
❖ The full Buildbox-Projectfile (BBDOC FILE)
❖ Android Source Code
❖ iOS Source Code
❖ Including all Images (png Files)
❖ Including all Sound (mp3 Files)
❖ Step by step Documentation 
Requirements
For Android - You will need Android Studio or Eclipse.
For iOS - You will need macOS with Xcode 8+.
Buildbox software (2.3.8+).

Instructions
INSTRUCTION : 
Change Package ID, App Name, icons, all graphics and sounds
Set up Ads ID