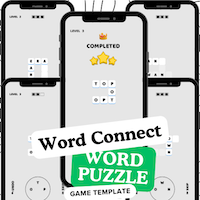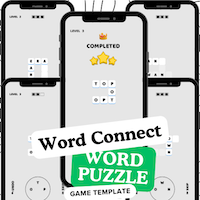 Word Connect Puzzle Game Buildbox Template
Word Connect Puzzle Game Buildbox Template
Word Connect: the ultimate puzzle game for iOS and Android! Connect jumbled letters to form words. Improve your vocabulary skills.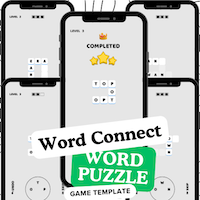 Word Connect Puzzle Game Buildbox Template
Word Connect: the ultimate puzzle game for iOS and Android! Connect jumbled letters to form words...
Overview
Introducing our latest addition to the puzzle game world for iOS and Android - Word Connect! Challenge yourself by solving a series of jumbled letters to form meaningful words, providing a fun and stimulating workout for your vocabulary and spelling skills.
Featuring an intuitive and uncluttered interface, Word Connect is easy to learn and play, but tough to put down. Whether you're in the mood for a quick mental workout or a more challenging brain teaser, this game caters to all skill levels.
As you progress through the levels, the word combinations become increasingly complex, and you'll need to tap into your creative thinking to discover the correct answers. With a vast array of possible word combinations, every round is a thrilling and unique challenge that will leave you craving more.
With eye-catching graphics and seamless gameplay, Word Connect offers an immersive audio and visual experience that will keep you entertained for hours. So, if you're a puzzle enthusiast or seeking a fun way to pass the time, download Word Connect today and start connecting those words!
Features

What's This Product About ?
This is a complete game template that will help you to make word connect puzzle game or any games that you desired using the nodes present within don't have to build from scratch nor break your head figuring it out. This product contains source code i.e. bbdoc made with Buildbox 3d that will ease your time to make a word connect puzzle game from scratch.
What's Inside ?
You will get a complete source code (bbdoc) with documentation that will guide you to understand about this game template.
Requirements
An Active Buildbox 3 Paid Subscription with latest version 
Xcode
Android Studio
Instructions

How to Play:
Tap the letters in the box below.
Find the correct letters to complete a word.
Advance to the next level.