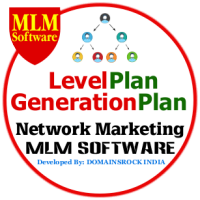 Level Plan or Generation Plan MLM Software
Based on Referral and Affiliate Networking Plan and Concept of the Networking is Based on Generation Plan
Overview
Plan Details and Concepts :
This MLM Software is Totally Based on Referral and Affiliate Networking Plan and Concept of the Networking is Based on Generation Plan. According to The Concept of this Software Each Member will Refers to Other New Members and Each New Members is Joined Under his Sponsors Only and Same as this Process New Joined Members should Refers Others New Members and Creates his Own Downline. There are No-Limits for Referrals and Any Member can Refers Unlimited Members and can Creates Own Downline Networks According to Capability. Those Members who has More Referrals, will Earns Higher than Other Members.
There are Only Login Functions for Administrators and Members and There are Registration Form Under Administrator Panel. Administrator need to Add New Members by Using Any Registered Members Id. This System is Based on Product Plan, So Administrator need to Create A Product First and need to Update the Commission Distribution Percentages of Product Amount from Admin Panel. There are 12 Level of Commission Distribution between Referrals and Upline Referrals Upto 12 Levels. So Admin Need to Calculate the Profits and Share Amount of Product Price and Update Commission Charts.
Example : Suppose U is the First Id and U Refers 5 Members A, B, C, D, E then these Five Members Joined Under U and U will Gets the Level 1 Commission from these 5 Members. Now A Refers 5 Members F, G, H, I, J then A will Gets the Level 1 Commission from these 5 Members and Also U will Gets the Level 2 Commission from these 5 Members. Now F Refers 2 Members K, L then F will Gets the Level 1 Commission form these 2 Members and A will Gets the Level 2 Commission from these 2 Members and U will Gets Level 3 Commission from these 2 Members. According these Concepts of Example the Commission will be Distribute till Level 12 Upline Sponsors.
Concept of Ranking System :
There are an Additional Ranking System in this MLM Software in which You can Set the Ranking of the Members According to the their Earnings Slabs and Ranking System can be Created from Administrator Panel.
Wallet Balance :
Wallet Balance is Just Like Your Balance or Money. Using this Wallet Balance Members can Transfer Balance to the Others Members from Members Panel But Remember that Each Transfer of Balance to Other Members will be Charged Some Fees As Defined by the Company as Admin Fees and TDS Fees on Amount and the Remaining Amount will be Credited to the Others Wallet. Members can also Send Request for Release Balance using Withdrawal Balance Option and Administrator will Approve Members Withdrawal Request and Send Payments in Members Bank Account or Other Methods As Available on Members Profile.
Features and Controls in Members Panel :
Login to Members Panel
Profile View and Update
Details of Referred Members Under Self (Directs Referrals)
Details of Referred Members Under Total Team (Indirect Referrals)
Details and Statement of Wallet Balance and Pending Earnings and Total Earnings
Features and Controls in Administrators Panel :
Administrator Login
Administrator Dashboard
List of Today and Total Registered Members
View and Update Members Profile
View and Update Commission Share Charts
Add Products from Administrator Panel
Add New Members Under Any Registered Members
Details of Members Earnings - Earnings, Paid & Pending Earnings
Domain Name Registration Offers
.in - Rs.499 Per Year up to 10 Years
.co - Rs.399 Per Year up to 10 Years
.xyz - Rs.149 Per Year up to 10 Years
.fun - Rs.199 Per Year up to 10 Years
.space - Rs.199 Per Year up to 10 Years
.website - Rs.199 Per Year up to 10 Years
.monster - Rs.199 Per Year up to 10 Years
.best - Rs.299 Per Year up to 10 Years
.life - Rs.399 Per Year up to 10 Years
.live - Rs.399 Per Year up to 10 Years
.email - Rs.399 Per Year up to 10 Years
.digital - Rs.399 Per Year up to 10 Years
register your domain here: www.domainsrock.in
new year special .in domain registration offer
.in at Rs.499 for 1 Year and Rs.3999 for 10 Years
(there are no any hidden fees or charges on any orders)
Features
Bootstrap 3.x Used (Open Source)
Admin LTE 2.x Used (Open Source)
Responsive for All Devices
DateTimeControl Function included Free worth $10
Unlimited and Free Accounts Registration
Refers Unlimited Members
Powerful Admin Control Panel
Powerful Members Control Panel
Earning System from Commission Distribution
Advanced Controls in Projects to Make Easy Actions
Edit Profile, Bank Details, Payments Details and Change Password
100% Easy and Secure Installation Process and Easy Plan Configurations
Requirements
Windows Hosting or Visual Studio
MSSQL Database or MSSQL Studio
Instructions
Download Code and Upload on Windows Hosting in httpdocs or domain path
Now Extract the Source Code
Now Create Database of MSSQL v12
After Creating Database, Import Database File
You Can Select file from Your Device or From Server where You Uploaded Code
After Import Success of Database, Return to File Manager Location
Now Open Folder App_Code > SiteConfiguration
Now Edit DatabaseConfiguration.cs and Update Database Details of MSSQL
Now Edit SiteConfiguration.cs and Update Details for Site and Configurations
Now Visit on YourDomain and Installation of MLM Software is Completed and Live