Ionic 4 Doctor Appointment Booking App UI Kit
Ionic 4 Doctor Appointment Booking App UI Kit
Ionic 4 doctor appointment booking app template (Android , IOS HTML/CSS)
Ionic 4 Doctor Appointment Booking App UI Kit
Ionic 4 doctor appointment booking app template (Android , IOS HTML/CSS)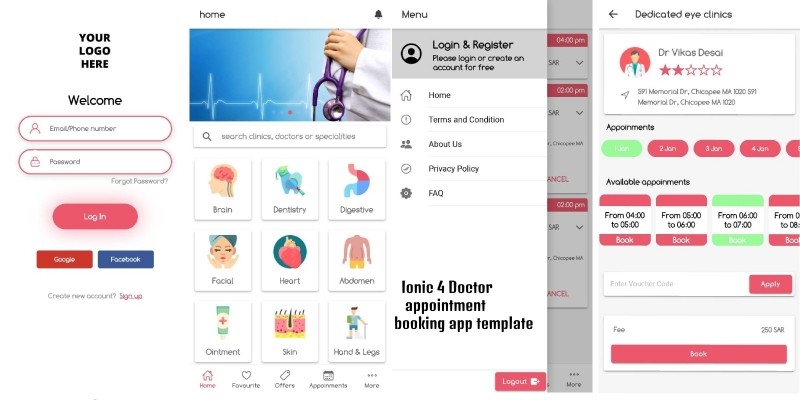 Overview
This is only UI. if you want to integrate this app with back end and admin panel than message me at [email protected] or skype: nikunjpagada197 so we will discuss about your requirement and give you time and cost estimate.

Are you looking for develop doctor appointment booking app? than you 
can use this template to develop app in both android and IOS.
What include in this template
1) Login, signup and forgot password UI
2) Home screen with category
3) Find and search doctor and clinic
4) View doctor profile and other information
5) Book appointment
6) Appointment list
7) Favorite Clinic or doctor
8 ) Content page like about us , contact us
Features
1) Login, signup and forgot password UI
2) Home screen with category
3) Find and search doctor and clinic
4) View doctor profile and other information
5) Book appointment
6) Appointment list
7) Favorite Clinic or doctor
8 ) Content page like about us , contact us
Instructions
Document already added inside code