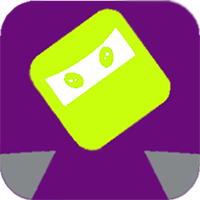 Square Ninja - Unity Complete Project
Tap, jump, move forward and dodge obstacles in Square Ninja and prove that you are a worthy ninja!
Overview
Prove that you are worthy square ninja by progressing as much as you can in your path! You have to tap (or click) on the screen to make your square ninja jump and move forward. There are many different obstacles on your way and you have to time your jumps perfectly to avoid them. Your score is based on the number of obstacles that you have passed. You will lose the game as soon as you touch one of the obstacles, so do your best to avoid them!
Features
Made with unity
Cross Platform(Android, iOS)
Easy to reskin
Document included
Requirements
Unity 3D version 2018.4.11 or higher
Instructions
Install unity 2018.4.11 or higher version to load up the project and 
see the read me file for details about editing, reskining and etc.