Status Saver For WhatsApp With Flutter And Admob
Status Saver For WhatsApp With Flutter And Admob
Easily download WhatsApp Status videos, images and gifs!





Average rating of

5.0

based on

1

votes
Status Saver For WhatsApp With Flutter And Admob
Easily download WhatsApp Status videos, images and gifs!





Average rating of

5.0
×
This item is temporarily not available for sale
Overview
50% OFF FOR THE FIRST 20-BUYERS GET IT NOW!
Status Saver for WhatsApp with Flutter and Admob is an application that helps you to permanently save the status of your WhatsApp contacts on your mobile phone.
Features
Download WhatsApp Status Easily
Save images, videos and gifs status
Share saved status natively
Play videos in app
Earn money while you sleep with Admob Ads
Admob Banner Ad Support
Admob Interstitial Ad Support
Cloud Firestore for Version control: Get back all your users when you update app on Google Play Store.
Android Studio/Visual Studio Code Support
Flutter framework & Dart language
12 + plugins in project
Requirements
Flutter Framework
Android Studio or Visual Studio Code
Instructions
How this app works?
Very simple, only three steps to follow!
1*) View your WhatsApp Status
First open your WhatsApp messenger and view all status that you want to save.
2*) Save WhatsApp Status
Go back to Status Saver for WhatsApp app and click on "IMAGES/VIDEOS" to view all status of your WhatsApp contacts and then click on "SAVE" button to permanently download the status on your mobile.
3) View Saved Status
To view all the statuses saved on your phone, open the Status Saver for WhatsApp and click on "SAVED" there you can Share the status with your friends on any social network or post again on your WhatsApp.
****** End of guide ******

---
Use case
Would you like to earn an extra income? Or
Do you want to learn more about Flutter mobile apps?

If YES: This "app source code" is for you, get it now!
---
Extra Services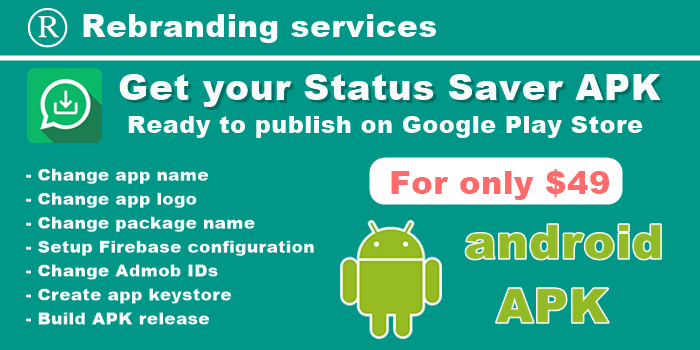 ---
Get Demo App on Google Play
Download now and see it in action
---
About Flutter
Flutter is Google UI toolkit for building beautiful, natively compiled applications for mobile, web, and desktop from a single codebase.
Buy Now this "app source code" and learn more about flutter framework.
Reviews
Oct 12, 2020

Rating:

awesome app, great profesionalism and good termination.