Drink Water - Reminder Tracker - SwiftUI
Drink Water - Reminder Tracker - SwiftUI
SwiftUI - iOS app for water tracking | Full iOS app template
Drink Water - Reminder Tracker - SwiftUI
SwiftUI - iOS app for water tracking | Full iOS app template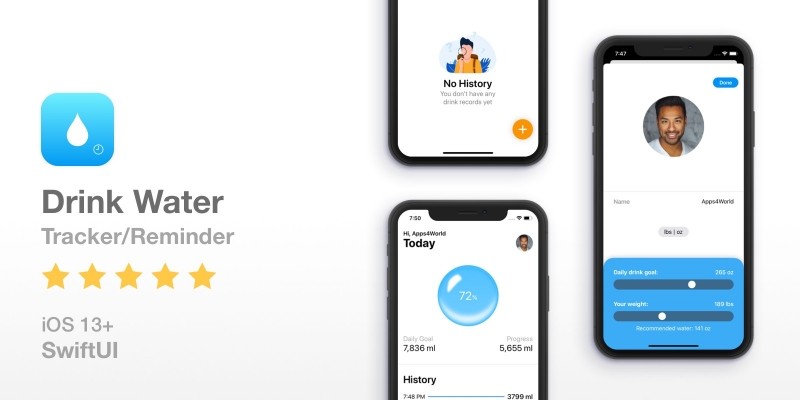 Overview
Requires iOS 13+ & uses SwiftUI
Drinking enough water each day is crucial for many reasons: to regulate body temperature, keep joints lubricated, prevent infections, deliver nutrients to cells, and keep organs functioning properly.
VIDEO DEMO
https://www.youtube.com/watch?v=g0EqP6MA1U4

WHAT DOES THIS PRODUCT OFFER YOU
The app as shown in the video demo. This app was built with Xcode and requires iOS 13 or higher and SwiftUI.
WHAT DO I NEED TO GET STARTED
You will need a Mac computer with Xcode 11.4 installed.
HOW DOES THIS APP WORKS
It's a very simple app that you can use for any other ideas you may have or just change the app icon, any text that is necessary and you're set. The app will send a push notification 3 times a day to remind the users to track their water consumption. You can switch between Oz or Ml (great for users from the U.S. and other countries).
FEATURES
- Built with Xcode using SwiftUI
- Supports US and EU metrics (ex.: oz/ml/lbs/kgs)
- Local Push Notifications (sent 3 times a day to remind users to check-in a set their mood)
CONTACT US:
Skype: Apps4World
E-mail: [email protected]
GET LOWER PRICES HERE:
https://apps4world.com/
Features
SwiftUI
iOS 13+
Local Push notifications
Instructions
Some instructions are provided with the app. Very simple and easy to understand code. We offer support if needed.