Spaces - Directory A Coworking Space Near Script
Spaces - Directory A Coworking Space Near Script
Spaces - directory A Coworking Space Near You Script
Spaces - Directory A Coworking Space Near Script
Spaces - directory A Coworking Space Near You Script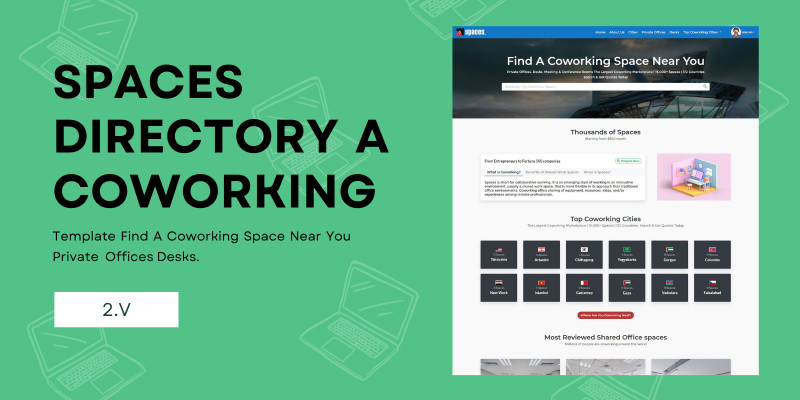 Overview
Template Find A Coworking Space Near You Private
Offices. Desks. Meeting & Conference Rooms The Largest Coworking
Marketplace | Spaces | Countries Search & Get Quotes Today Spaces -
directory A Coworking Space Near You Script Template Easy to Use
Compatible with almost all latest Browsers.
Features
Animated Preloader Section
Creative Interaction UI
Categories: category name, slug, description and feature image
image: easily upload multiple images with ajax
Documentation file included
Easy to use and customize
User: name, email, password, profile picture and description
Setting: general setting such as logo, blog title, website icon, home page
Template, pagination, xml sitemap, comment(Disqus comment)
Supports multi-languages (Default languages: english and arabic and turkey)
Send Message From User to admin
User Management
3 User roles
Official Multiple Coworking Space
Access the control panel via Login/Register features
Reports – (for admins and managers only)
Manage Multiple Coworking Space (Add/edit/remove Multiple Coworking Space)
Manage Countries (Add/edit/remove Countries)
Manage Private Offices (Add/edit/remove Private Offices)
Manage Conference Rooms (Add/edit/remove Conference Rooms)
Manage Desks (Add/edit/remove Desks)
Manage Roles (Add/edit/remove Roles) (for admins and managers only)
Manage ads (url/image/google ads) (left for you option)
Made with security in mind (Stable version)
Header Fade Effects
Wow Scroll Animations
Category Management
Tags Management
Advanced Video Coworking Space System
Membership System
User Login & Register System
RTL & LTR Support
404 Page
Cross Browser Compatibility
HTML5 Validation
Animated Navigation
Flowless CSS transition
Cross browsers support
Video Backgrounds Page Header
SVG + Image icons
Google Fonts
Favicon Options
Advertisement Options
Social Media Options
Translation Ready
100% Responsive Design
SEO Friendly
Contact Form
Navigation Options
Layouts & Elements
Boxed Layout Design
Adaptive Images System
Optimized Codes
Comment System
Fancybox Support
Support & Documentation
Requirements
You should update your php last version (ideally to 7.2.5) To learn
more about the system requirements needed to run a Laravel script
checkout the following Requirements.
Instructions
General Design
Themes: you could add more themes to it if you have knowledge in laravel framework.
Folder Structure
When you unpack downloaded archive from codester.com/Meteors you'll get folder containing 2 folders.