Plumber - Complete Unity Project With Toolkit
Plumber - Complete Unity Project With Toolkit
Connect all pipe and complete the flow of energy! Connect all the pipe to give the robot the energy simply by touching them and co
Plumber - Complete Unity Project With Toolkit
Connect all pipe and complete the flow of energy! Connect all the pipe to give the robot the ener...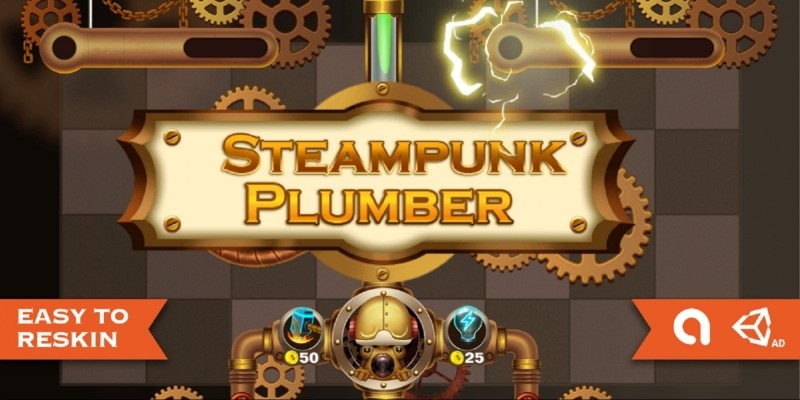 Overview
Connect all the pipe to give the robot the energy simply by touching them and connect them together to form a complete pipe. There no time limit, but with each time you touch the pipe, the water in tank will reduce. Make sure the flow is optimize to reach 3 stars every level.
Features
- Smooth and delicate animation
- Fun and attractive graphics
- Easy to customize and modify
- Admob and Unity Ads Implementation
- Cross-platform support Android/ IOS
- Export tt .apk and .aab
- 300+ Level Design
- 100+ Challenges Design
- Custom Level without knowledge about programming with our implement Toolkit
- Support 64-bit(IL2CPP)
Requirements
Unity Version : 2018.4.9f1 or higher.
Instructions
In the Documentation you can search detail information on this this project, included how to change value and re-skin this project.
Free support
Future product updates
Quality checked by Codester
Lowest price guarantee

Buy Now
Buy this item with 50% discount for limited time. Grab it now before you are too late!
Information
Category
App Templates / Unity / Complete Projects / Casual
First release
18 November 2020
Last update
18 November 2020
Operating Systems
Android 7.0, Android 8.0, Android 9.0, Unity 2019, Android 10.0, Android 5.0, Android 6.0
Files included
.cs, .csproj, .unityproj
Tags

android

,

iOS

,

Unity

,

Puzzle

,

Puzzle game

,

water

,

unity 3d

,

unity 2d

,

plumber

,

pipe

,

unity complete project

,

pipes