E-Results - Student Results Management System
Alternative solution to the conventional paper-based exam results evaluation, reporting and distribution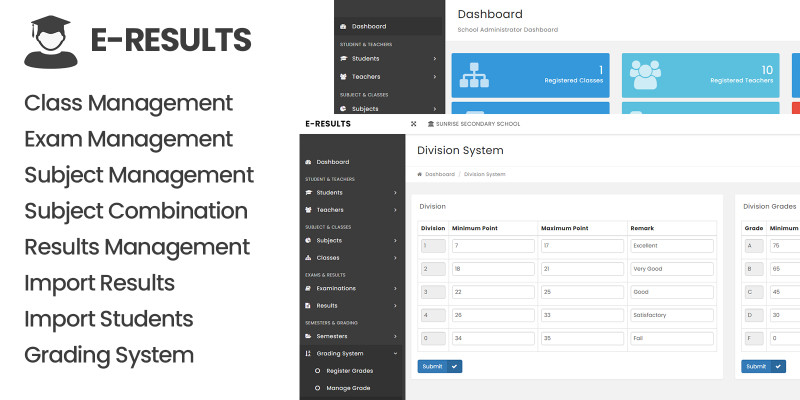 Overview
E-Results (Student Results Management system)
For schools and coaching centre institutions searching for a secure, simple and alternative solution to the conventional paper-based exam results evaluation, reporting and distribution.
Features
Class Management
Exam Management
Subject Management
Subject Combination
Results Management
Import Results
Import Students
Grading System
Requirements
Apache 2 or higher, with:
PHP 7 or higher, with:
MySQL 5 or higher
Instructions
Import the database.SQL file from the "MySQL" folder into your MySQL database using the import function available in MySQL.
With a text editor open the following file located inside the 'Script/db/' folder: config.php, and replace what's between the quotes (e.g: 'localhost') with your MySQL settings:

//Database Server Name:
DEFINE('DBHost','localhost');

//Database Username:
DEFINE('DBUser', 'root');

//Database Password:
DEFINE('DBPass','');

//Database Name:
DEFINE('DBName','srms');

//Character set:
DEFINE('DBCharset','utf8mb4');

//Database Collation:
DEFINE('DBCollation', 'utf8_general_ci');

//Database Prefix:
DEFINE('DBPrefix', '');

    




Upload the files from the "Script" folder on the FTP server (usually public_html folder when installing it on a domain).
Set the CHMOD to 777, 775 or 775 (depending on the server configuration) to the following folders: '/Script/imp'.